Roomswalk
>
Bathroom
>
Bathroom accessories – which are essential?
Bathroom accessories – which are essential?
You need about 4 minutes to read this article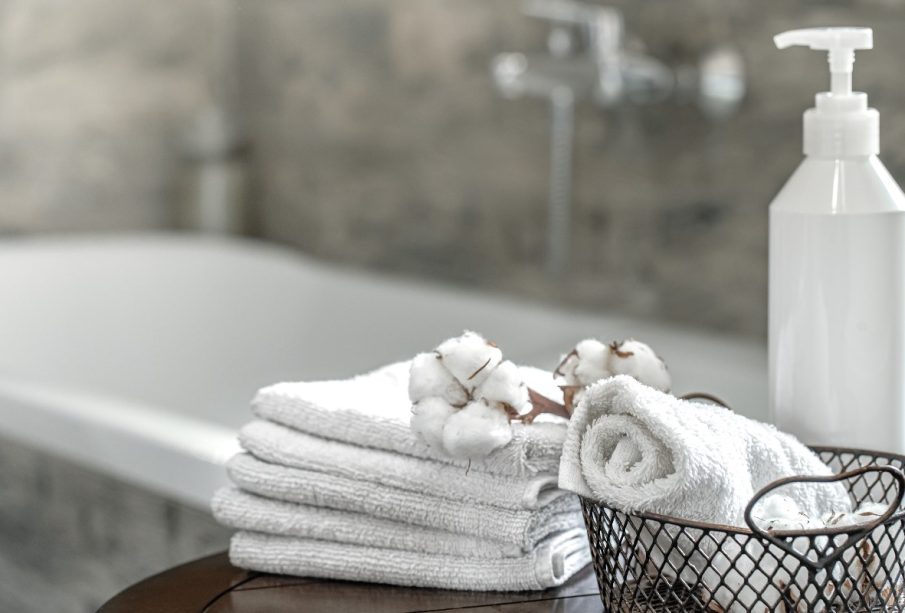 Arranging a bathroom is not an easy task. The often small space must contain all the elements allowing to use it in a functional way. And you can't forget about the useful accessories. That's why we present six accessories that no bathroom should be without!
Absorbent towels
The first item that no bathroom should be without is towels. When choosing them, it's best to go for absorbent models made of high-grit cotton, such as 500g/m2. Thanks to this will provide high absorption, and in addition will be pleasant to the touch when using them after a bath, and also resistant to damage. In fact, each bathroom should have at least two sizes of towels
50 × 30 – ideal for wiping the face and hands,
100 × 180 – so-called bath towels useful after leaving the shower or bathtub
Their color is a matter of individual preference. The important thing is that they can be washed at high temperatures to maintain complete hygiene
Soap dish and toothbrush and toothpaste holder
Another indispensable element of every bathroom are the items that are most often placed on or near the sink. These are a soap dish and a toothbrush and toothpaste holder. Regardless of whether you use bar soap or liquid soap, a soap dish is a must have for every bathroom for obvious hygienic reasons. And when it comes to toothbrush cups, they make it easy to keep things neat and tidy
When choosing this type of accessories, it is best to bet on those that match the color and style of the interior design. Soap dishes and cups made of bamboo will suit rustic style bathrooms, whereas ceramic accessories with shiny surface will suit glamour style bathrooms
Paper holder
Moving smoothly from the bathroom area, where the washbasin is located to the toilet, in this place, first of all, the toilet paper holder should not be missing. There is nothing more annoying than having to search for it during a visit to the bathroom. Therefore, it is best that it is fixed close to the toilet and the paper supply is not far from the toilet
Toilet brush
Another item that you should place next to the toilet is the toilet brush, it is nice to choose it to match the paper holder for a cohesive effect. It is good to choose a toilet brush that matches the paper holder for a cohesive effect. It will also come in handy during your weekly bathroom cleaning, to thoroughly clean the inside of the toilet with liquids
Waste basket
A wastebasket should be a must in every bathroom, even the smallest one. Running around with every piece of trash, cotton swab, tissue or cotton bud to the trash can in the kitchen can be a nuisance. That is why it is worth taking care of it in this room as well , choosing a small, covered model that will not spoil the interior
Laundry basket
The last of the elements, which are counted among the mandatory accessories in each bathroom, is a laundry basket. Thanks to it, dirty clothes will wait patiently for their turn in the lock before they are put into the washing machine. What's more, it will keep the entire house in good order
You can find various laundry baskets in stores. From those made of plastic to rattan models and fabric ones. The choice depends on your individual needs and tastes.
At this point you can finish equipping the bathroom with the necessary accessories. To the list we could add towel holders, as well as typically decorative elements. However, the listed accessories are the bare minimum, without which it will not be possible to function comfortably in the bathroom.