Roomswalk
>
Bedroom
>
Beige bedroom – inspiration, decoration and furniture
Beige bedroom – inspiration, decoration and furniture
You need about 3 minutes to read this article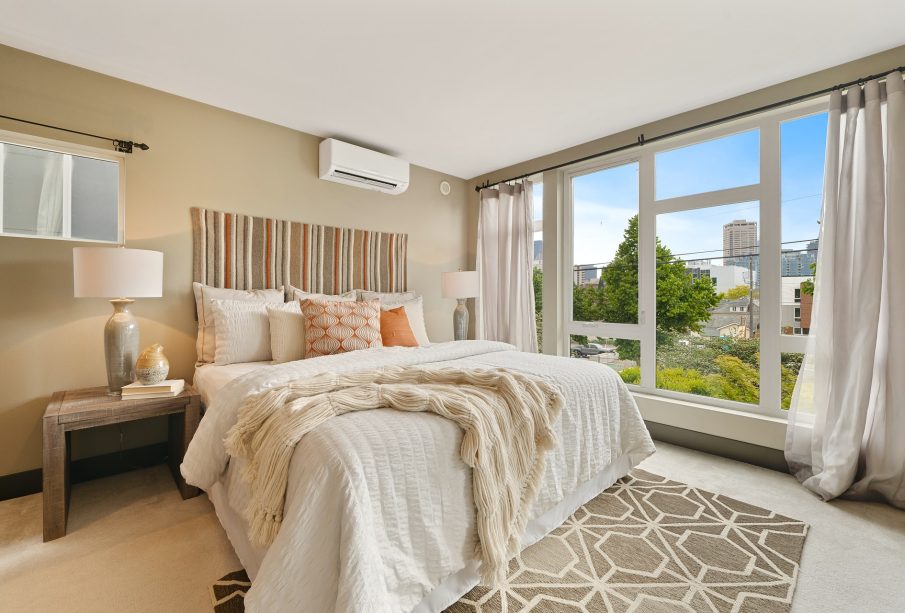 Bedroom is for many people the favorite room in the house. It is a place where we rest, sleep and can indulge in blissful laziness. It is important that we feel comfortable in it. This is what a beige arrangement can provide, which will soothe our nerves, but also allow us to introduce energetic details, which will motivate us to action. Get inspired and create a beige bedroom of your dreams!
Perfect base
Beige as a color seems to be a safe solution, although some say that it is simply boring. In our opinion, this color is always fashionable classic, which creates a perfect base to create a perfect arrangement of almost any interior. It makes staying in the room a real pleasure, which is extremely important – we found out about it acutely during the pandemic closure in our homes. Beige will work in almost any style, being in it the background, but also the main character, if we let him
Beige bedroom, but in what style?
Thanks to its versatility and wide range of shades, beige will fit perfectly in many arrangements. Its delicacy will be a perfect match for natural materials used in Scandinavian or boho style, which are gaining more and more followers lately. When you decide on one of them, you can put light wood paneling on the walls, complement it with linen sheets and curtains, and put a seagrass rug on the floor by the bed, which will give the bedroom a cozy character. Fill the interior with flowers such as monstera, cactus or ficus – it will allow you to be closer to nature. Place a simple vase of clear glass on your dresser and place some ornamental grasses you brought from your walk. If you want to optically enlarge the interior, opt for white or cream-colored furniture. Also try to limit their number. Too many elements can overwhelm. A bed, a bedside table, an armchair or a chest of drawers are really necessary in a bedroom. Ladies, of course, can also invest in a dressing table
Glamour style
Beige will also work well in glamour style. In this type of arrangement you can put on the walls wallpaper with a delicate pattern or interesting texture. Consider placing stucco on the walls or ceiling, which will phenomenally finish the space, give it a decorative and rich character. When choosing accessories, bet on Parisian chic and elegance. A quilted armchair in grey shades, a pouffe with glittering elements or satin pillows will make your bedroom tasteful and cozy. Brighten up the interior with gold, silver or rosegold lamps. Mirrors and polished surfaces of furniture or accessories will reflect light phenomenally and will make the interior shine even more.
Minimalism and design
Interiors kept in a modern, minimalistic style, sometimes broken with loft elements, are still popular in trends. Beige will also work well here, it will perfectly match black, dark brown or gray. Going in this direction, it is worth to bet on a combination of raw, metal bed frame with soft beige bedclothes, wire, geometric flower holders and original accessories. On the walls you can place line art style graphics in pastel shades
Main photo: Im3rd Media/unsplash.com