Roomswalk
>
Bathroom
>
Bath and shower in one – how to arrange it?
Bath and shower in one – how to arrange it?
You need about 4 minutes to read this article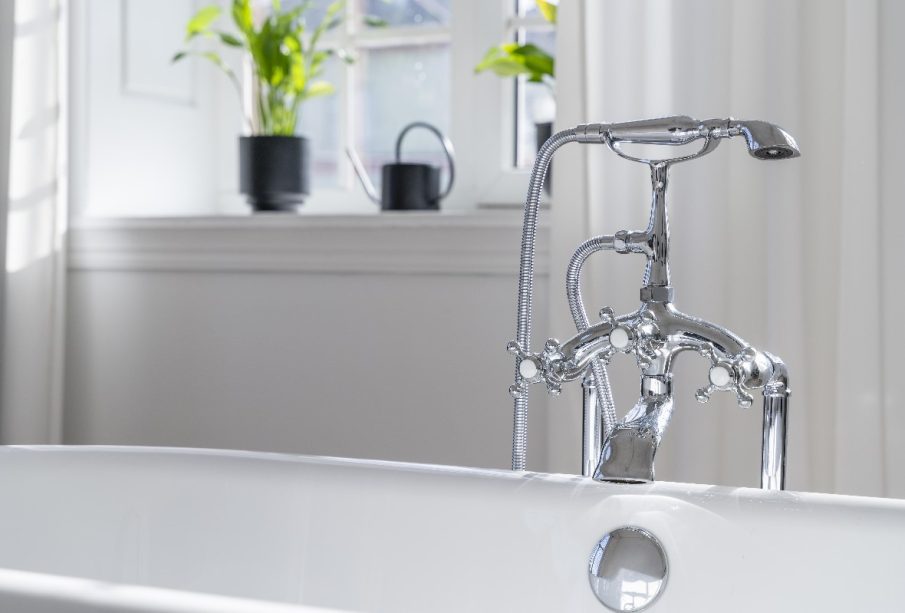 A tub and shower in one is a great compromise for people who like long evening baths and quick morning showers. What are the ways to arrange a bathtub with a shower? Why should you decide on this solution? What are the disadvantages of this solution?
7 ways to combine a bathtub and a shower
1. Bath tub with glass screen
A glass screen fits into every style of bathroom, enlarges it optically and protects against splashing during showering. The glass partition can be installed "rigidly" (without tilting) or the glass partition can be installed "rigid" (without tilting), or it can be opened from both sides. This solution allows you to separate the bathing space in the bathroom.
2. A clearly defined bathtub screen
A bathtub screen can form a cohesive whole with the rest of the bathroom. That's why it should be color-coordinated with it. Stronger colors for the frame of the bathtub screen emphasise the dominant function of the bathing area in the bathroom.
3. Walk-in shower enclosure with bathtub
Combining a walk-in shower enclosure with a bathtub is an innovative solution. A low entrance and a blockade inhibiting the flow of water are its main advantages. Such a cabin is a great solution for the elderly and disabled people.
4. Freestanding bathtub with shower
In large bathrooms, you don't have to install the tub and shower separately. Simply mount a shower panel on the wall and place a freestanding bathtub underneath it, which will be surrounded by a screen of clear glass. This way, you can avoid splashing the bathroom while taking a shower.
5. Shower curtain
Many interior decorators recommend shower curtains as a way to quickly and economically arrange a bathtub and shower in one. Such a curtain is hung on a decorative metal rod. It is worth buying a curtain with a fashionable design, which will give the bathroom a unique character.
6. Corner bathtub with a shower
A corner bathtub with a shower panel is an unusual solution in which there is no need for a screen. Thanks to the large dimensions of the bathtub, the bathroom is not splashed when taking a shower.
7. Bathtub in the shower space
If there is a lot of space in the bathroom, you can place the bathtub in the shower space. Thanks to this, the bathing area is clearly demarcated. This method is dedicated to people who prefer extravagant and unusual solutions.
Bathtub with shower – a functional solution
A bathtub with a shower is ideal for people who want to have a bathtub and a shower at home, but have too little space to put them separately. The panes of the shower can be located in only one part of the bathtub or surround it all around. When the panes are only in one part of the bathtub, the bathtub is usually widened in that area, so you can freely use the shower. The shower panes are connected to the bath with small connectors or steel profiles that are unobtrusive. The shape of the cabin depends on the shape of the bathtub. A bathtub combined with a shower can be shaped:
wall-mounted,
corner,
free-standing.
In fully enclosed models, the shower enclosure door is sliding, and in partially enclosed models, swinging doors prevail.
Advantages of this solution
The advantages of the bathtub and shower in one is very many. However, the most important of them are:
the elimination of conflict between household members;
space saving – this solution is particularly beneficial in small bathrooms;
great solution for small children and elderly people;
very aesthetic and modern look.
The disadvantage of this solution
The only disadvantage of this solution is the price. The simplest models cost several thousand zlotys.
Luxurious version of a bathtub with a shower
In the most luxurious models of bathtubs with showers, a home spa option is built in, namely hydromassage, underwater massage, aromatherapy. These solutions are enriched with an electronically controlled panel and a CD radio with speakers, LED lighting and a fan. The price of luxury versions of the bathtub with shower ranges from 6 to 36 thousand zlotys.