Roomswalk
>
Other
>
How do I choose good roof windows?
How do I choose good roof windows?
You need about 4 minutes to read this article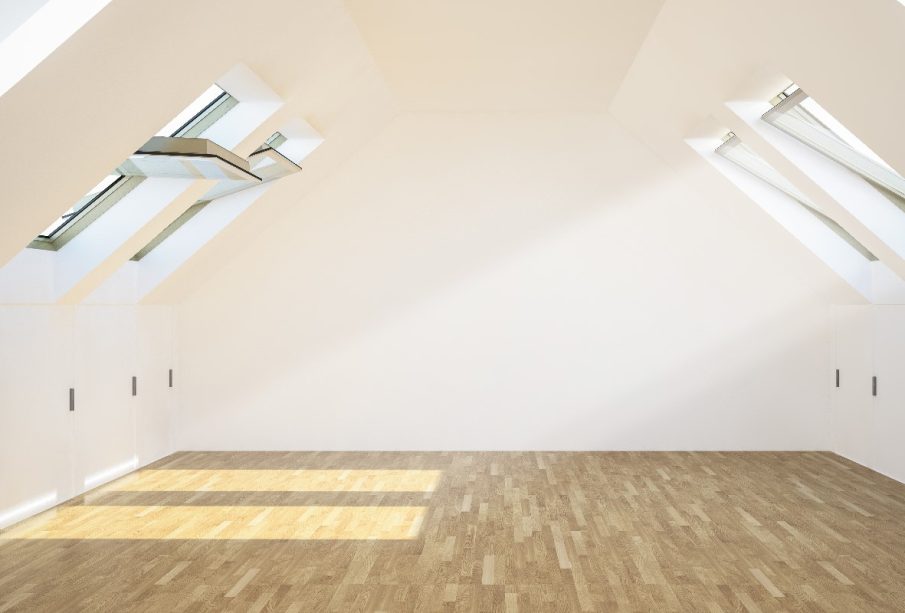 Roof windows are a great way to light up the attic. Thanks to this we gain additional lighting and an interesting arrangement. What should you consider when choosing a roof window?
What should you consider when choosing roof windows?
1. Adequate room illumination
Consider roof windows with large glazing units which bring more light into the room. We spend almost 90% of our free time indoors.
2. Choosing the right way to open a roof window
You can buy roof windows with different opening systems – this parameter determines the comfort of using roof windows. You can choose between:
top hung,
pivot – they can be rotated 180° and locked. This makes them easy to keep clean;
top hung and pivot windows,
balcony windows – modern double sash windows with two sashes forming a balcony. The upper sash opens upwards and the lower sash opens downwards. Side rails are integrated with the lower sash and slide out during opening – this provides safety when using the window.
the window is equipped with a raised axis of rotation.
3. Supporting ventilation of rooms
Air exchange is very important to maintain the correct level of humidity in the room. That is why it is important to choose roof windows that will ensure trouble-free ventilation and will have vents supporting ventilation.
4. The right material
Depending on the purpose of the room you may choose:
aluminium-wooden windows – wooden windows shielded from the outside by aluminium profiles;
aluminium-plastic – made of PVC, reinforced with steel profiles inside and shielded from outside with aluminium profiles.
Aluminum-plastic windows can be used in any type of room
Wooden-aluminium windows are not recommended for rooms with increased humidity such as kitchens and bathrooms.
4. Roof pitch
When choosing roof windows, stick to the rule: "the lower the roof pitch angle, the higher the window height should be" – this makes the roof window more convenient to use and better illuminates the room.
5. How to open the window
Handle located at the bottom of the window ensures comfortable use – it is always within easy reach.
Energy efficiency of roof windows
According to the latest requirements concerning thermal efficiency, you should choose roof windows meeting the WT2021 standard – windows with a heat transfer coefficient not exceeding 0.9 W/m2K, and in skylights not exceeding 1.1 W/m2K. This standard is met by 3-pane windows. Such windows have a built-in ventilation system, which allows ventilation of rooms – even when they are closed.
Intelligent roof windows
Increasingly popular are electronically controlled windows – either by remote control or automatic programming. Communication between the window and the remote control can be either wired or wireless (using radio waves).
Shuttering for roof windows
Modern roof windows effectively prevent heat escaping, which is why it is so important to use roof window shades – rooms in the attic heat up very quickly in summer.
We recommend solar awnings which are powered by solar energy and can be controlled by remote control or smartphone. By controlling awnings remotely, you can create the ideal conditions in your attic.
Roof windows ─ which is the best manufacturer?
Roof windows are an investment for years. That is why you should choose products from only the best manufacturers, such as:
FAKRO – products of this manufacturer are:

very high quality,
meet thermal insulation requirements,
have acoustic insulation,
are at a good price;

VELUX – leading manufacturer of windows on the Polish market, whose products are based on the most modern solutions;
MAGNETIC – affordable windows with a 10-year warranty;
MAGNETIC – affordable windows with a 10-year warranty;RoofLite – window producer known in Western Europe.