Roomswalk
>
Bathroom
>
XXL tiles – where do large format tiles fit in?
XXL tiles – where do large format tiles fit in?
You need about 4 minutes to read this article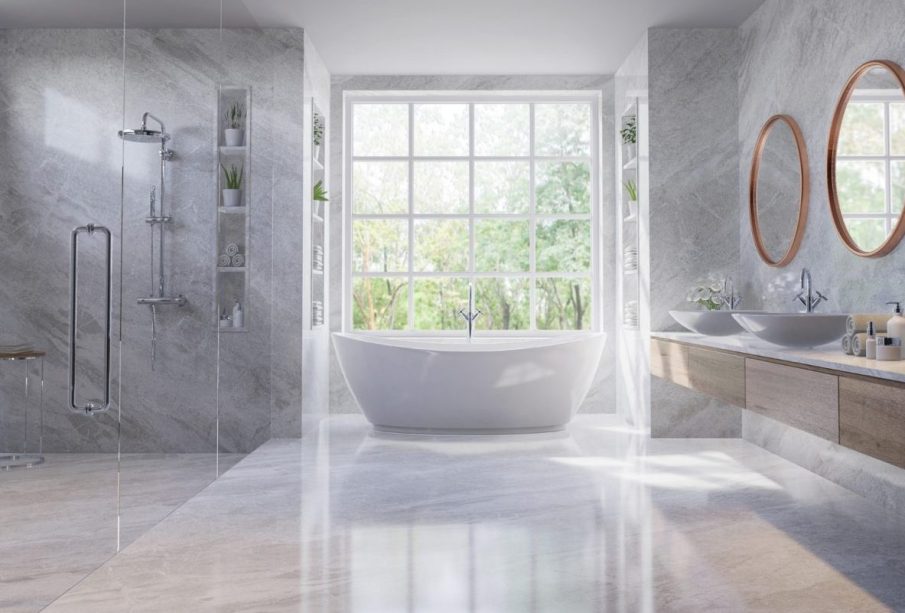 Recently XXL size tiles are becoming more and more popular. However, they do not work in every room. Before you decide to buy tiles, make sure whether your space is suitable to finish it with large format tiles
Large format tiles – general information
XXL tiles are a trend that many interiors are finished with today. Specialists are of the opinion that this is a practical and stylish solution. It meets the most important criteria when it comes to finishing apartments and houses
Tiles are considered large format, if their dimensions exceed about 30 cm. On the market, however, products of this type are characterized by a slightly larger size. XXL tiles can be much larger than 45 cm. Leaving aside the formal requirements to qualify tiles for this group, they are definitely fashionable today and recommended by interior designers
>> See also: Open or closed kitchen – which to choose?
Thethickness of large format tiles ranges from 3 mm to 5 mm. Extremely popular are tiles with a thickness of up to 10 mm. Thinner tiles are used primarily for room walls. Then a special reinforcement made of mesh and fiberglass is used. Tiles in this format can be composed directly on ceramic or stone coverings. Thanks to that, during the renovation process, we can minimize the time spent on scraping the surface. Tiles, which are thin, do not take up much space in the apartment, which is their unquestionable advantage
XXL tiles are made primarily of glazed tiles, terracotta or stoneware. Manufacturers try to have many of them in their offer. An important consideration when deciding on a tile format is that their size affects the overall arrangement and layout of the grout. As a result, finishes in this style have an aesthetically pleasing appearance, and the effect is stunning
XXL tile layout
Unlike standard and small tiles, it is quite an effort to sensibly arrange and layout tiles of large size. If we arrange them wrongly, unevenness or poor leveling will be visible at first glance. Perfect installation of XXL tiles requires hard work of at least two people and appropriate surface preparation. In order to make the work with such tiles easier, specialized, liquid adhesive mass and a rubber hammer are often used. These are materials and tools, which enable the tiles to be secured during work and in a way protect against various shortcomings
Grouting
The larger size of the tiles is related to the changes that can occur due to temperature differences. Therefore, it is worth taking this into account when installing and not planning narrow grout. This way, even if the tiles expand, they will not crack. Cement joints should be around 8-9 mm if your tile is between 50 cm and 65 cm. Epoxy grout is definitely more expensive, but at the same time more effective and the tiles can be placed much closer together. If you plan to lay your tiles on a floor that is heated, you should increase the planned grout width
Colors and motifs
In the offer of stores that distribute large format tiles, you will find many different color proposals. In addition, it is also popular to use specific motifs on the tiles. Tiles that imitate marble or wood are worth attention. However, the choice should be motivated by the general nature of the interior.
Large format tiles – application
Large format tiles can be placed both in the bathroom, and in the kitchen, and on the veranda, and in the bedroom, and in the living room. It all depends on the specifics of the room. If, for example, there is a frequent change of temperature in it, it is worth taking this issue into account during installation. However, this is not an obstacle to interior design using XXL tiles. The advantages of large format tiles are their elegance and minimalism. If we apply such a solution in our home, we will certainly be pleased with the effect