Roomswalk
>
Living room
>
Yellow sofa in the living room – what to combine with?
Yellow sofa in the living room – what to combine with?
You need about 4 minutes to read this article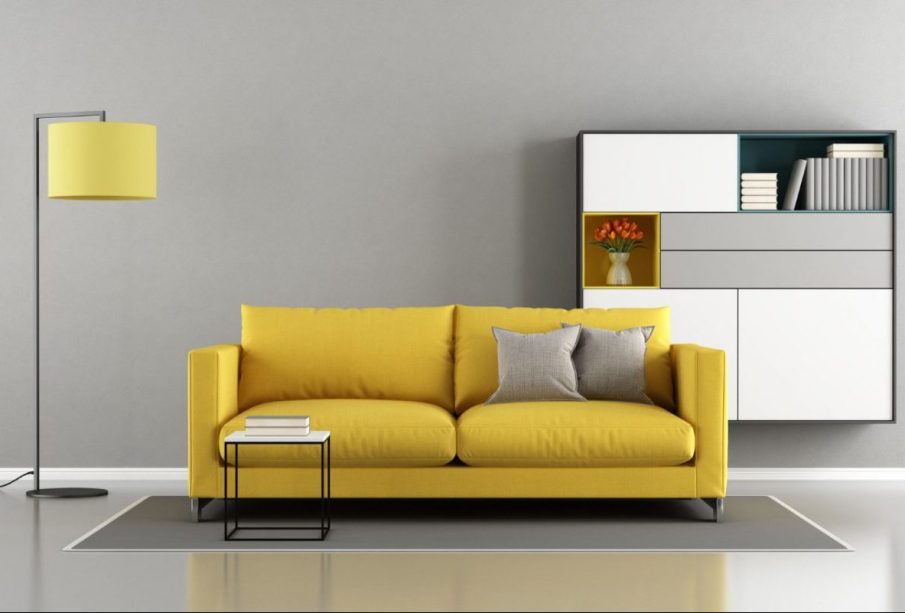 Thinking about making a change in your living room decor? A colorful accent will certainly liven up your space. How to choose accessories for your yellow sofa?
If you are thinking about choosing a sofa in this color, think about the right accessories. Yellow is a flashy color, but at the same time we associate it with sunshine and relaxation. Such an accent will surely bring freshness and energy to your apartment
It is important to choose the right colors to prevent chaos. A living room is a multifunctional place where we rest, receive guests and sometimes work. The right colors are supposed to give us comfort while working and a sense of relaxation. This is not an easy task, but it can be achieved!
Color combinations
A piece of furniture in such a bold color will attract all the attention. It will play the first fiddle in your living room interior. Make sure it is made of durable material, with attention to detail. Leather in this case will look very elegant, and its shine will emphasize the intensity of the color
>> See also: How to paint the living room? 4 proposals
Deciding on such a solution, you can bet on muted colors on the wall. A yellow sofa will look great on a wall in shades of gray and brown. It will also go well with an industrial design with a raw finish. Combine yellow with blue accents, such as decorative pillows.
A functional addition to your living room is a standing lamp with a large blue lampshade. An unusual shade of blue is cobalt, a noble and elegant color, which is an alternative to classic navy blue.
Coffee tables are an essential element of every living room and can amaze your guests with their appearance. In the stores you will find modern tables made with colored tempered glass. This is a great opportunity to subtly incorporate a color accent in the form of blue or white
Raw interior
White on the walls brings to mind order and tidiness. It gives a sense of space and freedom, even if we are talking about a small area. Living room arranged in such a way will give energy to people staying in it.
Yellow color is a joyful embodiment of sunshine, happy memories and happiness. When designing a room with a raw concept, exposed light bulbs, a combination of metal and exposed brick, adding a yellow sofa will only emphasize this bold style. Following the principle of contrast, choose sofa armchairs with white upholstery.
In Scandinavian style, a yellow sofa can also be the main character. Blue color, lying opposite yellow on the color wheel, will skillfully add contrast to the whole arrangement. It can be complemented with cushions in navy blue or turquoise.
Accessories
Modernistic paintings will match the austere interior with a yellow sofa. When creating a modern space, be guided by avant-garde and minimalism. On your wall, let abstract works of art with a touch of sunshine colors hang. Live plants can be an addition, which will undoubtedly improve the quality of your air. Monsters, palm trees or cacti will enliven the space, while matching their greenery with the surroundings
Yellow goes well with grey, beige and black. A carpet with a specific texture in such shades will come off elegantly in such conditions. A black armchair bedspread broken with gray will certainly change the living room decor.
Don't go crazy with too many colors, because then the room will become overwhelming and it will be difficult to focus in it. If you don't like bright shades, there are plenty of colors to choose from
By opting for a pastel yellow sofa, you will have much more room to maneuver when it comes to choosing colorful accessories. Pastel colors suit you whether it's red or green because they are all created from white
Sunshine yellow and mustard yellow are for those with finesse while liking order and tidiness. Derivative colors to these shades are browns, so you can confidently combine the sofa with cabinets and bookshelves imitating wood