Roomswalk
>
Bedroom
>
Large bedroom design inspirations
Large bedroom design inspirations
You need about 4 minutes to read this article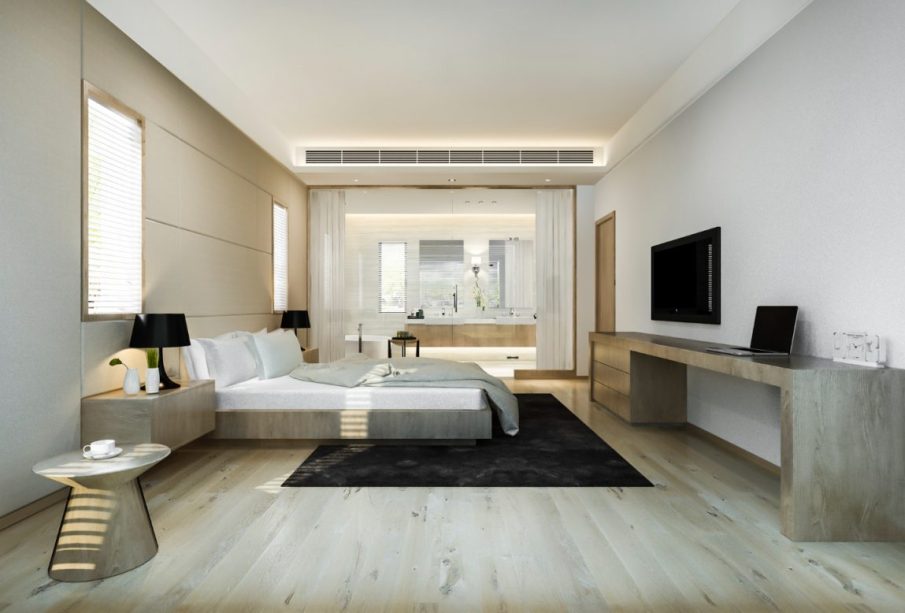 Internet is full of ideas for arranging small spaces. It is commonly known how to optically enlarge a small room, but how to organize bedroom, if it seems to be too big? Despite the fact, that not many people like to feel overwhelmed by furniture, an empty space may even look raw and devoid of soul. This is especially unpleasant in a bedroom, which is supposed to be the place where we can truly relax from everyday worries and which is only ours. This impression is often deepened by high ceilings in loft type apartments or tenement houses. Here are some ideas on how to wisely arrange a large bedroom.
XL size furniture
When you plan to decorate your large bedroom the right way, you have to remember the most important thing. The furniture you choose for your private temple must not be delicate, small pieces of furniture. Accompanied by a large space and often high ceilings, the whole thing will take on a caricatured doll's house look. A big bedroom means big, massive furniture. You have options, so use them wisely! Besides, why decide on a small bed when you can enjoy a king size one? MKS furniture can provide great inspiration.
Clever placement
Now that you know to give up on choosing small furniture the next time you visit a furniture store or browse online, you should know a few simple, but always proven rules as to where to place which piece of furniture. First of all, without having to worry about the small size of the room and saving space, let a little air between the furniture and the wall!
You'll do best if you place your new huge bed against the longest wall. To best fill the room, if possible, place it between two windows or against a wall without them. The best place for the closet will be opposite the bed, unless you plan to put a TV in the bedroom – then this should be its place.
Clever storage
While for small bedrooms it is often suggested to get rid of larger furniture altogether, in the opposite case, there is no reason to limit yourself. Large bedroom closets offer great opportunities for organizing space. Combined with fabric boxes and vacuum bags, they will make it easier to stay organized and store quite a few items
Two or three door closets are also a great way to store all your clothes in a way that is least likely to crease. Adequate space to hang shirts or dresses, drawers for underwear, comfortable, spacious shelves – and all this in one piece of furniture. Also closets with mirrored doors are a great way to add variety to your bedroom arrangement. It's also good to choose a closet that matches your interior color scheme.
Bet on your dreams
Have you always wanted an elegant, ornate dressing table or maybe a chaise longue sofa? If you have a lot of square feet in your bedroom, this is your chance to make those dreams come true. They will decorate your interior in an interesting way and at the same time they will be practical. A toilet will eliminate problems with painting yourself in the bathroom, and a sofa or extra room will make dressing up easier
A large bedroom is also a great opportunity to play with lighting. Big, standing lamps will take up a bit of space and at the same time allow you to light up the part of the room where you need extra light without having to light up the whole room. So you can read a book in a corner of the bedroom while your partner sleeps