Roomswalk
>
Bedroom
>
Intense wall colors in the bedroom – is it a good idea?
Intense wall colors in the bedroom – is it a good idea?
You need about 3 minutes to read this article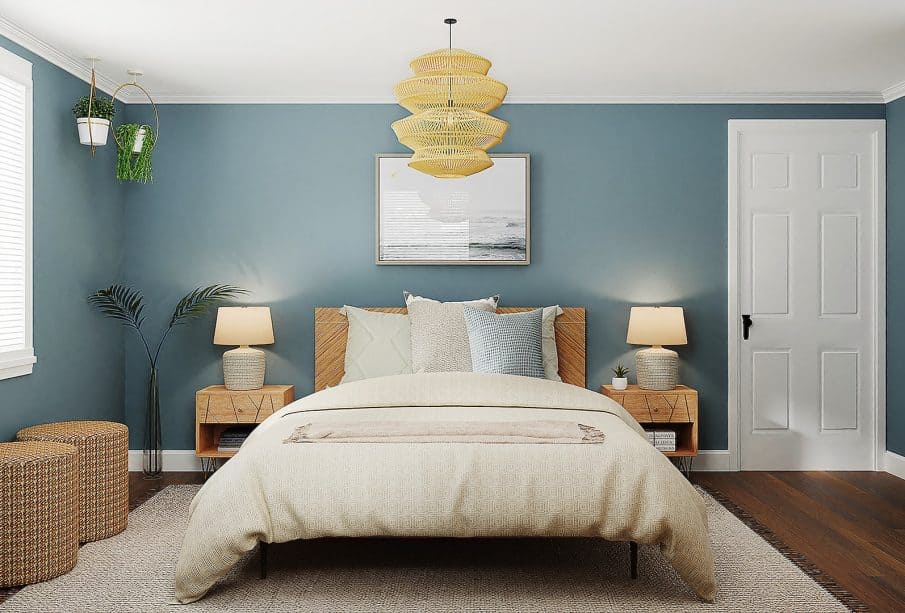 The choice of wall color in the bedroom is particularly important. It has a big impact on our mood. We suggest in what situations it is a good idea to reach for intense colors.
Think about what you need
Wall colors have an impact on our mood. The bedroom is associated with relaxation and rest, which would suggest that it is best to reach for subdued colors in it. Cool, slightly pale colors are a guarantee of tranquility. However, not everyone has to be a proponent of such a solution. Some may opt for intense shades. They are stimulating and will release hidden energy deposits. They will increase the likelihood that you will wake up ready for action. So the choice is up to you. If you want to treat your bedroom primarily as a place of rest and meditation, you'd better go for pastel, subtle shades.
Correct the height of your apartment
Wall color can be used to visually adjust the height of the room. A bedroom kept in a light tone will appear larger than it really is. It will become brighter and more spacious. In addition, shades of white and gray will add elegance to the room.
On the other hand, you can also bet on intense, darker walls. They will make the bedroom seem cozier and lower. Such strong colors are best broken with contrasting furniture. They will brighten the room a bit and avoid the effect of overwhelming, which is not difficult with such a wall color. Intense tones will therefore work well in larger rooms that need visual lowering.
What are the advantages of intense colors?
Vibrant wall colors are less often chosen than classic white or gray. However, this does not mean that it is always worth going the easiest way. Many people do not consider how many possibilities painting in intense colors reveals. If the color is slightly darker, it will make it easier to fall asleep. However, you need to be careful not to choose too light, bright tone – the effect would then be the opposite. In addition, intense colors are great for summer. A darker, saturated color, will also improve the quality of sleep. The room will then resemble a cozy, but cool cave. Nevertheless, it should be reminded that vivid colors should be used with caution. A small room furnished with dark furniture is not the best candidate for repainting the walls in an intense color. On the other hand, a tall, brightly decorated bedroom will benefit from the many advantages of contrasting vivid color.
Think about the composition
Intense wall colors can be a great idea if they work well with the tone of your furniture. Consider whether the shades you choose lie on the opposite side of the color wheel. Be careful to guard against an overwhelming effect. A combination that is too intense can have a bad effect on the perception of the bedroom. Take advantage of apps on your phone that allow you to visualize the new look of the room. Make sure everything will blend together as planned. Skillfully chosen, contrasting colors are sure to please the eye, creating an interesting composition in the bedroom.
main photo: unsplash.com/Spacejoy