Roomswalk
>
Bedroom
>
Decorating the wall above the bed – how to arrange?
Decorating the wall above the bed – how to arrange?
You need about 5 minutes to read this article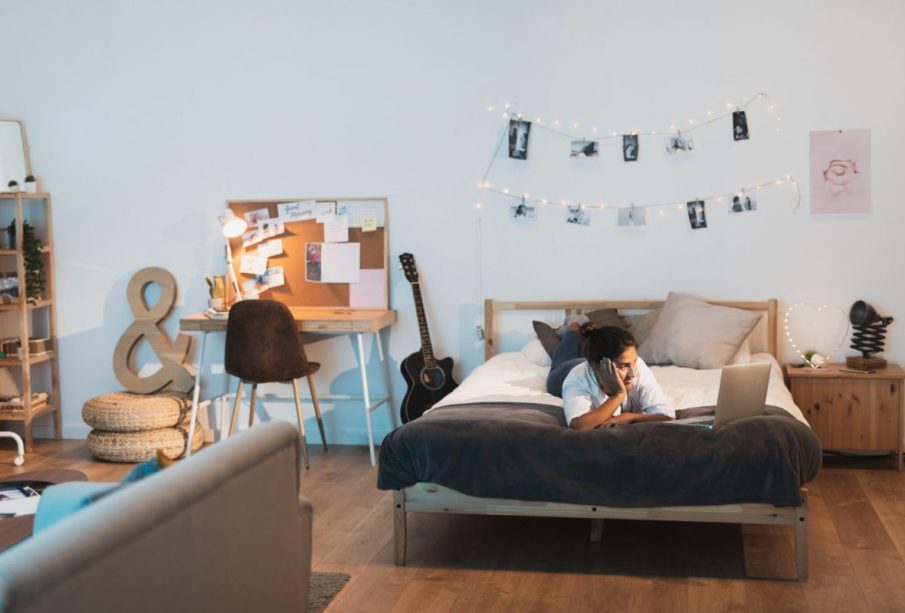 Comfortable and functional bedroom is a dream of each of us. Comfortable bed is a base. But we all know, that the atmosphere of a room is determined by skillfully chosen accessories. So how to use the wall above the bed in your bedroom? We'll show you how to easily arrange this space. Check it out.
Decorating ideas for the wall above the bed
A wallabove the bed does not have to be difficult to decorate. A wall above the bed doesn't have to be difficult to decorate. If it's well exposed, it will emphasize the dignity of the bed itself and its important place in the room. See what we can suggest for the wall above the bed in the bedroom.
Paint the wall a different color than the other walls in the bedroom have. This can be a contrasting color, dark or in a similar color palette, such as a darker shade of gray, beige or green.
Decorate a painted wall with shelves or impressive paintings, photographs or graphics. For a small cost we can change the wall behind the bed into our private space of memories. Let there find its place beautiful photographs from the wedding session, a graphic given as a birthday present or a picture painted by a talented friend.
Wallpaper with a distinctive pattern, exotic leaves, a view of a waterfall, etc. will become a beautiful decoration dominating in the bedroom and giving it an original character. A decorative wall is a decoration in itself, the bedroom no longer needs many accessories. An interesting option is also to put on the wall a wall mural with a beautiful view.
Wooden or wood-like panels are perfect for our floors, but they can be successfully used as a wall decoration. An interesting solution are also recently popular lamella panels (openwork, linear), they will be an attractive finish to the wall.
Veneer (veneered panels) – thin, elegant slices of wood are a premium wall decoration. It gives the whole interior a unique, exclusive character.
Thebrick wall behind the bed is a perfect proposal for modern style lovers. The raw coolness of the brick gives the character, interesting design, nicely composed with elegant bedding or fluffy pillows. Supporters of minimalistic style will also like concrete slabs and structural plaster, which can also be used as a wall decoration in the bedroom.
Aheadrest made of velvet, quilted elements or a whole wall above the bed in a bedroom lined with soft, quilted panels is a very decorative finish. An additional advantage of such solution is soundproofing of the bedroom and a feeling of great coziness. Option for lovers of romantic style.
Why to choose wall decoration in the bedroom and what to pay attention to
The bedroom is a special place – we want to relax here, to rest after a hard day, to sleep peacefully. The room must be appropriately calm and cozy. It is worth taking care of the right decor to put us in a relaxing mood. The arrangement of the wall behind or above the bed plays an aesthetic and functional role (see the mentioned fabric panels). It is pleasant to rest in a cozy interior. A photo wallpaper (e.g. with a soothing view of a misty forest), a soft headrest or delicate openwork panels will help us to do that
What we use on the wall above the bed in the bedroom should harmonize with the aesthetics of the whole room. If we prefer Scandinavian style, a minimalist concrete wall or an elegant, navy blue quilted headboard will go beautifully with pure white or gray walls. For the owner of a bedroom in the romantic style, a perfect solution can be a striking wallpaper with a pattern depicting large flowers, birds, leaves, etc. Or white, stylized retro shelves that give an idyllic atmosphere and cozy character. Even a small bedroom, thanks to a skilful use of decorative materials available in stores, may change into an attractive interior.
What else can we do with the wall above the bed?
The space above the bed offers many design possibilities. The above suggestions require a certain amount of effort and some elements need to be installed with precision. What if we want to change the design of our wall in a few moments? The solution will be simple shelves, rectangular, square, hung at different heights. They will become a perfect place for favorite books, potted flowers, candlesticks or other trinkets. Installing the shelves will take a few moments, and the effect will be very interesting.
An interesting, but more demanding solution is to build in the whole wall above the bed with a system of cabinets creating a furniture module, which allows to obtain a lot of storage space. It is worth to commission a professional carpenter's company, which will take measurements and make a piece of furniture ideally suited to our bedroom.