Roomswalk
>
Bathroom
>
Wooden countertop in the bathroom – what should you know?
Wooden countertop in the bathroom – what should you know?
You need about 4 minutes to read this article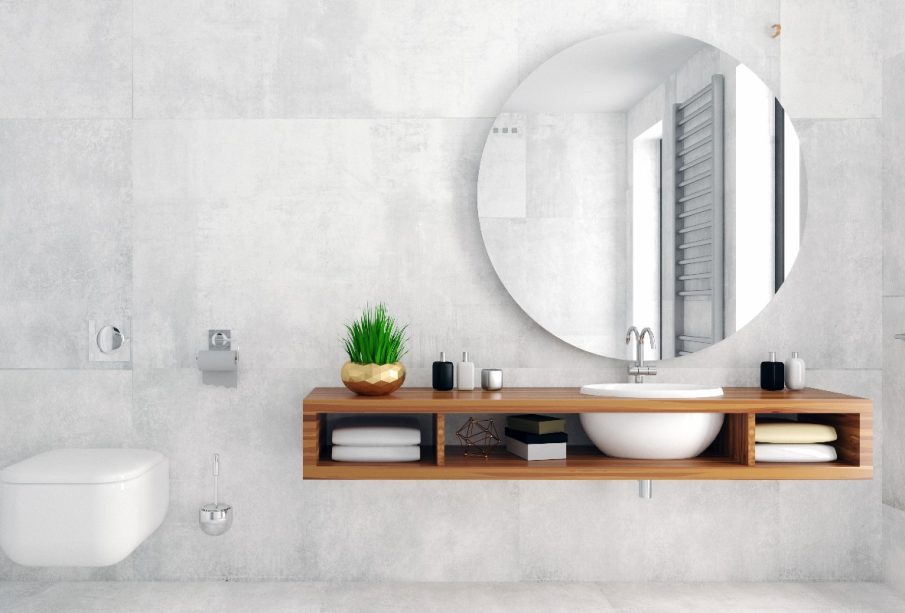 Wood has recently become a popular element in the design of rooms, kitchens and even bathrooms. Thanks to it we can add some design and warmth to our decor. There are several important factors that we need to pay attention to when choosing the right material, especially if we want to use wood in the most unfavorable place for it, the bathroom.
What to look for?
When choosing the right material, before focusing on aesthetic qualities, you should research the material that will be best in the conditions that prevail in bathrooms. You should be familiar with the concepts of swelling and shrinkage, water absorption and moisture content of wood. This will allow you to clarify which species to choose in order to avoid possible damage
Materials that are ideal for countertops in the bathroom include: beech, Douglas fir, alder, elm, walnut, cherry and larch.
Exotic woods like jatoba or merbau are also recommended, but you should consider buying them because they have a red dye that can leave stains. Other species worth considering are padouk, iroko, doussie or teak.
Price
The amount you spend on a wood countertop for your bathroom depends on many factors, such as the material of construction, thickness, stability, hardness, length and width. Among the most expensive countertops will be exotic woods, such as teak or merbau, and their cost varies between 500-900 PLN/m2. Definitely cheaper you will pay for beech or alder, as their prices may start within the limits of 200 PLN upwards. In addition, you should include in the cost the installation rate.
Care and maintenance of wooden elements
If you want to avoid unsightly changes and prolong the life of our wooden countertops, you should know how to take care of them. The best method is impregnation, that is, saturating the material with agents that make it resistant to fungi, water, etc. In addition, you will strengthen the characteristics of the wood and give it a shine, preserving its natural appearance. For impregnation you will use oil, the price of which oscillates around 50 zł/0.75 l.
Over time, oiling will have to be repeated because of the darkening of countertops covered with impregnation, and it is best to do it 1-3 times a year. Countertops can also be varnished and waxed. Varnish will effectively emphasize the qualities of wood, but it should be mentioned that it is also susceptible to abrasion and tarnishing. Waxing makes the material resistant to moisture, but it is not resistant to contact with dirt and high temperatures; in addition, wax takes 30 days to harden
Be sure to clean your wood countertop daily with a damp, preferably cotton cloth and wipe with a dry cloth afterwards. There are also special cleaning products, such as all-purpose milk for cleaning. If the wood is treated, don't leave wet things on it, as this can result in fading and staining. Also, be careful if by some miracle you find a hot object in the bathroom, because it too can damage the countertop, leaving marks. You can remove them, as well as stains caused by water, by making a mixture of olive oil and salt. Apply the prepared liquid to the stains and leave it for 3 hours, then gently wipe it off with a cloth and clean the place again with a damp cloth.
Compositions
With wooden countertops in the bathroom , you can create unusual and original compositions. An interesting idea is a kind of return to nature. Tiles imitating concrete, some plants, wooden accessories and soft lighting will make you feel as if you were taking a bath in a mountain stream
It is also a great idea to bring balance to toilets. Wood will be a great counterbalance to the cold colors of tile, ceramic and glass, giving the room a warm and cozy feel in the first place.
When deciding on a countertop made of wood, you should think about other elements, such as cabinets or shelves. As a result, the bathroom will stop resembling an unpleasant and cold laboratory.
Do wooden countertops lose their qualities over time?
Wooden countertops in the bathroom can be a delight to the eye for a very long time, but only if you take good care of them through the aforementioned maintenance and daily cleaning. If you follow a few simple guidelines, you don't have to worry about unsightly stains and dulling of the countertop.