Roomswalk
>
SEE TRENDS!
>
Blackout curtains for the bedroom – an overview
Blackout curtains for the bedroom – an overview
You need about 3 minutes to read this article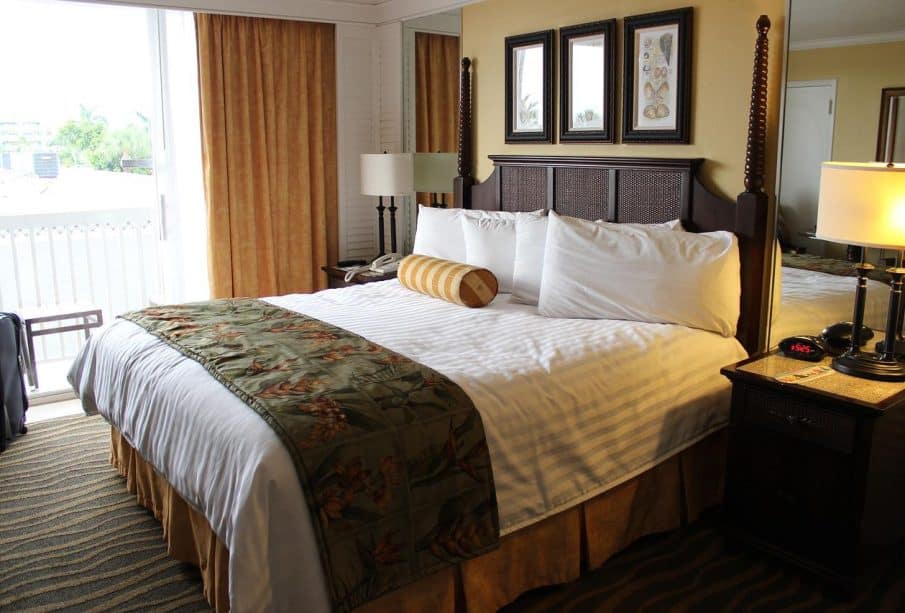 If the light coming in through the window is keeping you awake or you want to keep the neighbors' nosy eyes off you, consider getting blackout curtains.
They come in lots of patterns and colors – so there's plenty of choice!
Is it worth buying blackout curtains?
Anyone who needs to get away from the outside world sometimes should hang blackout curtains in their bedroom. Not only do they give you a sense of privacy and keep out the outside light, but they also prevent the room from heating up on a hot day, getting colder from a leaky window in winter and dampening the noise a bit.
Plus, they come in a multitude of patterns and colors, different trim styles, and in some cases, even certified non-flammable (perfect for guesthouses and hotels!). Blackout curtains have many advantages, and their only drawback we discovered is their weight – the curtains are relatively heavy, and when you wash them as they soak up water, hanging them up can be a bit of a hassle.
Which blackout curtains to choose? See our subjective ranking.
Blackout curtains – Ikea
You think interior design, you say Ikea? If so, you will certainly start your search for blackout curtains by browsing the offer of this store. And rightly so! You will find there decent blackout curtains at a decent price. Ikea offers mostly solid blackout curtains, but lovers of patterned fabrics will also find a few models suitable for themselves.
Almost the cheapest blackout curtains in Ikea (MAJGULL) are very popular and in the opinion of customers deserved a rating of 4.9/5 (this is the average of 154 ratings). People who have purchased these curtains, among other things, praise them for the effective darkening of the room even on a sunny day, as well as for the fact that the material does not shrink during washing. MAJGULL curtains are currently available in 3 color versions, which are in line with current trends (dark turquoise, red-brown, gray).
Blackout curtains – Eurofirany
Our second choice are blackout curtains of Eurofirany brand. The price of these curtains is similar to the blackout curtains from Ikea. It is worth noting, however, that in Ikea the price given on the website refers to a set of 2 blackout curtains, while on the Eurofirany website it is 1 blackout curtain. However, the cost of the set is similar in both stores.
The advantage of blackout curtains from the Eurofirany store is a multitude of patterns and colors. We have a much larger selection here than at Ikea. In the Eurofirany store, we will find blackout curtains smooth and structured, glossy and semi-matte, one-coloured and patterned. The number of available styles is sizable. When choosing a blackout curtain from Eurofiran, the filter available on the website regarding blackout strength makes it much easier (we can choose from large, medium, semi-transparent and small).
Unfortunately, none of their blackout curtains on the Eurofiran website have as many reviews as the curtain from Ikea. However, the reviews that have been added by customers are as flattering as possible.
Blackout curtains – where to buy?
Blackout curtains can be bought in many stores that offer textiles for the home. Therefore, it is worth looking not only at Ikea or Eurofiran, but also at other popular stores: Jysk, Home&You, Castorama, Obi etc. Surely everyone will find a blackout curtain that meets their expectations.
main photo: pixabay.com/LLBartlett