Roomswalk
>
Kitchen and dining room
>
U-shaped kitchen – tips and tricks
U-shaped kitchen – tips and tricks
You need about 3 minutes to read this article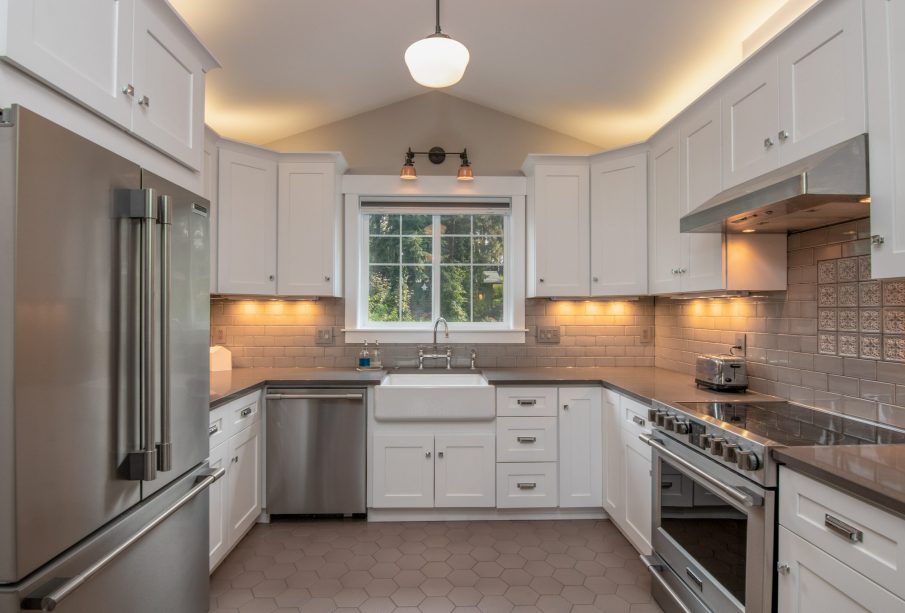 U-shaped furniture layout is one of the most popular ways to arrange a kitchen. See how to successfully arrange a U-shaped kitchen.
This is a practical and functional solution, thanks to which we maximize the use of space and gain plenty of room to work.
Two parallel rows of furniture connected perpendicularly by a third row in the middle is an arrangement often used in kitchen arrangements – it allows you to create an ergonomic and comfortable kitchen, in which we have plenty of workspace. What should you follow when arranging a U-shaped kitchen? What should you pay attention to? Here are some useful tips to help you create a functional kitchen.
U-shaped cabinets – in which kitchens will they work?
Despite appearances, this shape is not reserved only for large kitchens. It's also suitable for smaller spaces, especially for those who like functional rooms and like to have everything they need close at hand – in this case a U-shaped kitchen is ideal
This furniture layout is also beneficial for kitchens open to the living room, where connecting elements may be e.g. double-sided cabinets or a dining table top.
How to arrange a U-shaped kitchen?
A well thought-out design is the basis for success. In the case of kitchens, you need: working space, ergonomic layout, and proximity to tools and appliances. These three elements determine the functionality and convenience of the kitchen. Aesthetics will come second
The most important points of a kitchen
The kitchen should be divided into zones – in one place it's a good idea to find sufficient main worktop space for preparing meals, in another – space for cooking, in another – a zone with a sink and dishwasher, space for storing the necessary equipment, and possibly a dining zone.
A good basis for ergonomic kitchen layout is the work triangle: The three key points of your kitchen are the fridge, sink and stove – place them on the triangle's plan so that they formthe apex.
It's best to arrange the zones according to the order of your usual kitchen activities, e.g. near the fridge there should be a piece of worktop where you can put the products you've taken out, next to the sink where you'll wash the ingredients, and then the stove separated by a piece of worktop. This arrangement ensures smoothness and convenience during daily work. Moreover, it is worth placing a piece of countertop between each of the individual zones – it will be useful both next to the stove, sink and refrigerator.
U-shaped kitchen – sample arrangements
A popular solution for such kitchens is to place the sink under the window. Then the stove and refrigerator should be placed in two rows of cabinets on opposite sides. It is necessary to separate the sink with a countertop on both sides. If our kitchen is not big, it's worth resigning from hanging cabinets in one of the rows – they might overwhelm the room.
In the case of a kitchen open to the living room, a great idea is to connect both spaces with a row of double-sided cabinets or a dining table top, at which we can place, for example, spectacular bar chairs – such a dining area can coherently blend into the living room.
Main photo: Clayton/unsplash.com