Roomswalk
>
Kitchen and dining room
>
Copper kitchen faucets – is it worth it?
Copper kitchen faucets – is it worth it?
You need about 3 minutes to read this article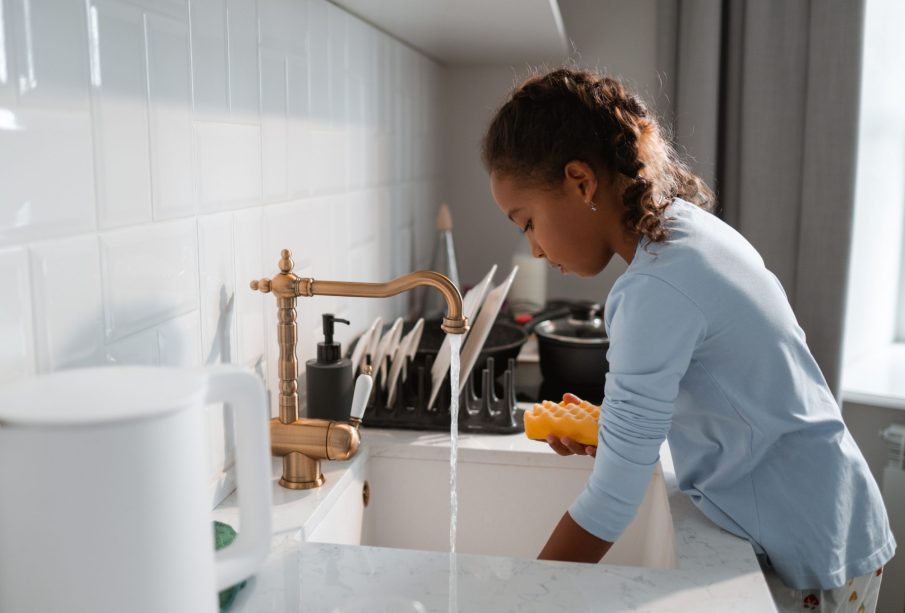 We suggest which types of rooms you can choose copper faucets for. In this text you will also learn what are the advantages of copper faucets and which accessories they go with. Read on!
Advantages of using this type of faucet
Copper faucets have a primarily decorative function. They can decorate your kitchen perfectly, provided that you match them with a particular style. Their main advantage is the interesting color and the effect of reflected light. Besides, they give the impression of luxury and a really amazing effect. This is an aesthetically pleasing and extremely stylish addition, which is increasingly common in modern interiors
The great thing about copper faucets is that you can match them to any kitchen. Copper blends well with other colors to create a cohesive whole. It's a less obvious color than classic gold and silver. This is an ideal option for people who like to experiment with interior design.
Such faucets also have a few advantages, which additionally influence the decision to purchase them for many people. Very often they are made of brass, covered with a copper coating. This is a material that can be in constant contact with water and does not corrode. This is an important property that affects its popularity.
The color of such faucets depends, among other things, on the content of copper in their composition. It can fall into different shades, so each version will look slightly different. Thanks to this, it will become an original and unique addition.
Copper faucets – what to combine them with?
Such faucets will go well with black elements, such as the sink or kitchen tiles. Then they will give a sophisticated yet modern effect. They also go well with a matte finish, because then they create an interesting contrast. Copper taps go well with all natural materials like wood and stone. You can also match them with many vintage or glamour style items.
You can choose copper taps if you have classic white or black furniture with stone worktops, for example. It's worth getting matching handles in the same shade if you want a harmonious look. You can also match them with decorations in a similar color.
Copper accents can be found on lamp shades, for example. This color also works well on pots and decorative vases. There are lots of options because accessories in these shades are so popular now and available in many stores.
Some people also opt for a copper-colored sink. It goes well with the kitchen faucet. You have to be careful to match these elements properly so as not to get an overdone effect. However, if the kitchen will be decorated in a minimalist style, this set will look brilliant in it
What kind of kitchens can these mixer taps go with?
Copper mixer taps can actually fit into many interior design styles. It's all about ideas and creativity. They will match industrial, Scandinavian and even classic styles. It is their shape and accessories that play the most important role.
They are even ideal for glamour style kitchens, due to their intense shine. Such faucets will also work very well in minimalist kitchens, which rely on innovative solutions. Architects often use them in such rooms. They are often chosen by people who like unobvious and original ideas. If such a faucet will be aged, then it will be used successfully in rooms in a retro style
Main photo: cottonbro/pexels.com