Roomswalk
>
Children's room
>
Lamps for children's room – we choose!
Lamps for children's room – we choose!
You need about 3 minutes to read this article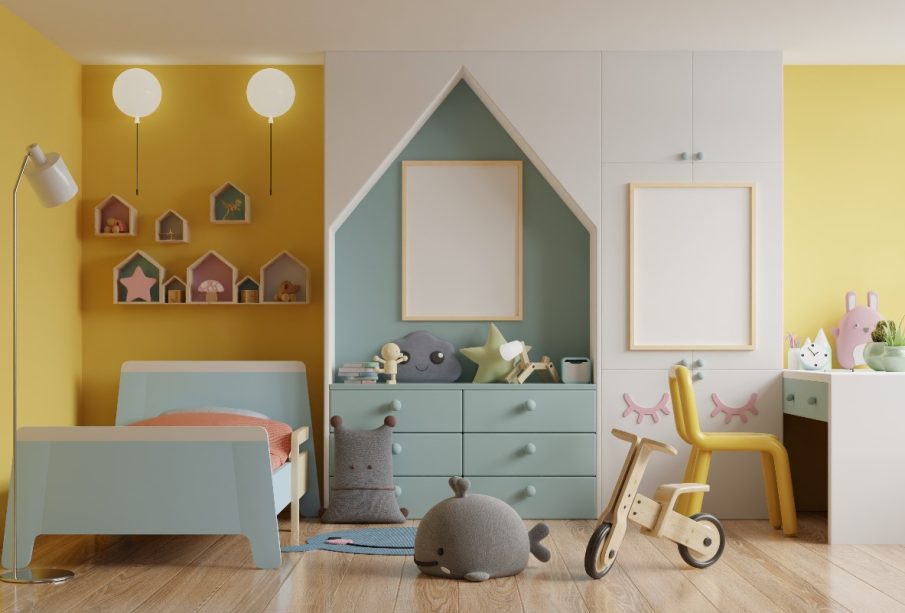 There comes a time when a child appears in our lives, for which we need to organize an appropriate space so that it feels safe and comfortable. In addition to furniture, accessories and wall color, parents must in this case also take care of lighting, which largely determines the mood in the room and allows you to use it freely at any time of day or night
What to keep in mind when choosing lighting for a children's room
Facing the choice of lighting for children's room, you should first of all know that one chandelier is often not enough to illuminate the room well. Therefore it will be necessary to have a lamp serving as the main source of light and at least one additional one in the form of a wall lamp, a standing lamp or a desk lamp
Most often children's rooms are divided into several functional zones such as the place to sleep, to play and to study. Each of these zones requires a separate source of light for the child to feel comfortable.
Another issue is also the color of the emitted light. In the case of children's rooms it is best to choose such lamps which will emit a warm color, with a yellow tint, favoring tranquility and relaxation
Which lamp to choose?
Knowing already that when choosing a lamp for a child's room, we need to purchase at least two models. It is also worth knowing what types of lamps manufacturers offer
Main lighting
In the case of main lighting, it is best to bet on hanging lamps and ceiling lamps. They differ in construction. The former usually consist of a separate lampshade, which is suspended on a mount under the ceiling. Ceiling lamps, as the name suggests, adhere to the surface of the ceiling and have a much lower height than hanging models. Therefore, the choice between these two types really depends only on the arrangement of the child's room and its size
Additional lighting
When it comes to additional lighting we have many more types of lamps to choose from. The first of them are wall sconces, mounted on the walls, which are perfect for beds, as an alternative to bedside lamps. The second type are standing lamps that you can use, placing them by the corner with toys. The last models are desk lamps, indispensable in the room of every older child who spends time at a desk, drawing or studying
The number of lamps implementing additional lighting, which should be in the children's room, depends primarily on its dimensions and the number of zones separated in it . Sometimes only a touch wall lamp or a standing lamp is enough, and sometimes it may be necessary to use all three of them
In the case of children who are afraid to sleep in the dark, it is worth supplying the room with a small lamp, giving a dim light, preferably with LEDs, which consume little electricity
Decorative lighting that becomes part of the interior design
Looking for children's room lighting in stores, you may come across models that fulfill their basic task, which is to illuminate the interior and, in addition, perform a decorative function. It is worth investing in them. An example of such lamps are all kinds of airplanes or cars which are perfect for children's rooms or flower or fairy lamps which will conjure up a fairy atmosphere in every girl's room.