Roomswalk
>
Bedroom
>
Loft style bedroom – examples of arrangements
Loft style bedroom – examples of arrangements
You need about 4 minutes to read this article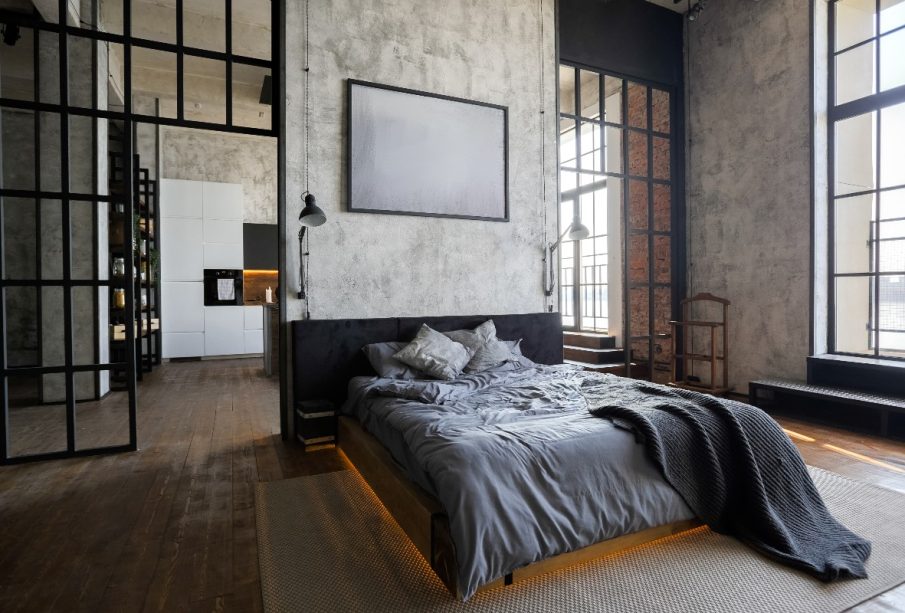 Loft style has definitely won the hearts of many. It is safe to say that the Scandinavian interior design, which has been adored for years, has found a strong competitor. Loft is maybe not so cozy, but we must admit that it gives room for experimentation. It will certainly be loved by amateurs of unconventional solutions and experiments in interior design. Is it possible to arrange a warm bedroom in loft style? We prove that it is!
Where does loft style come from?
Its origins date back to 1960s, when residents of the United States, in response to the prevailing crisis, began to rent old factories and production halls, to convert them into living quarters. At that time no one was disturbed by the cables hanging from the walls or the bulbs without lamp shades. This makeshift state has evolved into a style that today has many lovers, and to arrange a loft apartment, you do not need high walls and metal pipes on the ceiling. Everything is a matter of arrangement!
Loft style bedroom – how to arrange it?
Industrial style bedroom really can be cozy! There are several tricks, which will help to furnish it fashionably, but also warmly. It is worth remembering that loft is mainly about raw materials – brick, concrete, wood, metal. How to combine them in the bedroom?
You do not have to sleep in raw walls to enjoy the view of bricks on the wall. You can easily get ready tiles with imitation of natural bricks in DIY stores – don't worry, they look really natural. For a bit more demanding, we recommend real bricks, coming for example from the demolition of old buildings. In the loft bedroom, they can serve as decoration of one of the walls – they are perfect behind the bed. Another idea for the headboard is old, raw boards – we can varnish them and glue to the wall with mounting glue. However, wood will definitely be found in the bedroom through the furniture
Currently, many manufacturers in response to great interest in industrial style have on sale beds, closets or bedside tables, which combine wood and metal. Lovers of handicrafts have room to show off – a piece of wood and thick enough wires or metal pipes are enough to create a piece of furniture on their own. Such a handmade element of interior design will certainly add character to it. It is also worth mentioning here about the architectural concrete, also very popular recently, thanks to the loft style
We do not have to be afraid that it will be too cool in the bedroom – red bricks and natural look of wood will certainly warm up the room. You can find on sale paints, which imitate the look and structure of concrete, as well as ready panels, which can be mounted on the wall surface.
Small bedroom in loft style
It may seem that if we have a small room, industrial style will be too overwhelming for it. Nothing more mistaken! Although its strength lies in strong accents, nothing stands in the way to arrange a small bedroom in loft style. It is worth to illuminate the interior additionally, hang a lamp for example over the bed or in the wall. The mentioned brick or concrete accents can be smuggled into the room in a small amount. The brick does not have to be on the whole wall – it will decorate its fragment in an interesting way. Metal legs of a wooden bedside table or a chandelier made of bulbs hanging loosely on wires are only a few elements of the decor, which gathered together will create a unique interior.
Loft style can be a leitmotif of the whole apartment or an idea for decorating one of the rooms. Industrial bedroom is an idea not only for brave people. We can smuggle into it as many loft style elements, as we want. Such a room does not have to be as cool as the New York interiors of the second half of the last century, but of course it can be. Everything is really up to the owners.