Roomswalk
>
Bathroom
>
What tiles to choose for a small bathroom?
What tiles to choose for a small bathroom?
You need about 3 minutes to read this article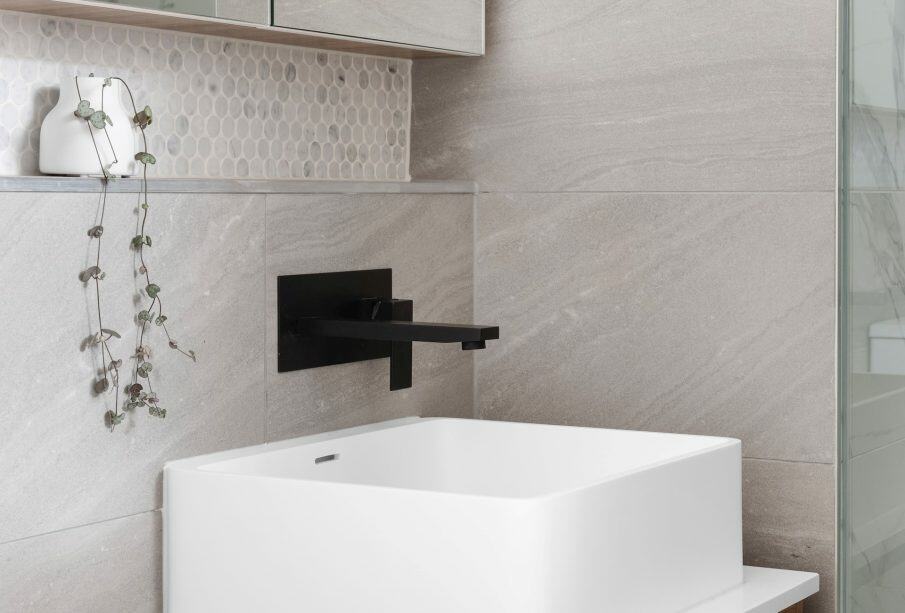 The market abounds in a wide selection of tiles. But how to choose the best ones for a small bathroom? Check what to pay attention to when choosing them.
A few general rules
A small bathroom requires somewhat unusual solutions. First of all, it needs optical widening. When planning its decor, you should also be careful to avoid a feeling of overwhelm and chaos. This is the true art of minimalism. Above all, large, but simple tiles are recommended. Monochromatic, slightly shiny, but not too bold tiles will work best. They will give a fresh effect and provide visual airiness. They will be an unobtrusive background for the rest of the bathroom. Also try to sparingly put any accessories on the floor. They can minimize the desired effect and overwhelm already at the entrance to the room.
Take advantage of storage space
When planning your purchases, you may want to consider the possibility of a built-in toilet. Lined with ceramics will visually reduce the size of the interior.
Wood-like tiles
Tiles imitating wood are an ideal idea for decorating a small bathroom. Bright, large tiles will brighten the room. Thanks to them you will avoid a claustrophobic impression.
Pay attention to the size of the tiles
For floors in small rooms, it is recommended to choose large, square tiles with a minimum size of 60×60 cm. The walls, on the other hand, can be lined with ceramics of elongated proportions. In addition, it is recommended to connect tiles without grout or with only a narrow gap.
With or without gloss?
Caring for spaciousness also includes the choice between glossy and matte tiles. The former is recommended above all, due to the fact that the light reflected from them optically enlarges the room. They will work well primarily on the walls. For safety reasons, semi-polished stoneware is recommended primarily for floors.
What colors to bet on?
The best choice will be bright white tiles. However, if you prefer to go in a slightly different direction, we primarily recommend cool colors, such as blue or light shades of gray. In addition, beige or cream tiles will fit perfectly into small bathrooms.
Do not tile the entire wall
Laying tiles up to 2/3 or half of the wall will optically lengthen it. The bathroom will look slightly taller, again gaining a valuable impression of spaciousness. However, in the area around the shower stall and behind the sink, it is a good idea to tile the wall up to the ceiling. This is because these places are particularly prone to flooding. Excessive moisture in their vicinity can result in stains and fungal growth.
A few words about decorations
Decorations are not always the best idea in small bathrooms. You need to be very careful not to overdo the amount of them. They can easily overwhelm and cancel out the impression of spaciousness. However, it is a good idea to skillfully arrange them in such a way as to optically elevate or widen the room.
main photo: unsplash.com/R ARCHITECTURE