Roomswalk
>
Bathroom
>
What size tile for the bathroom should I choose?
What size tile for the bathroom should I choose?
You need about 3 minutes to read this article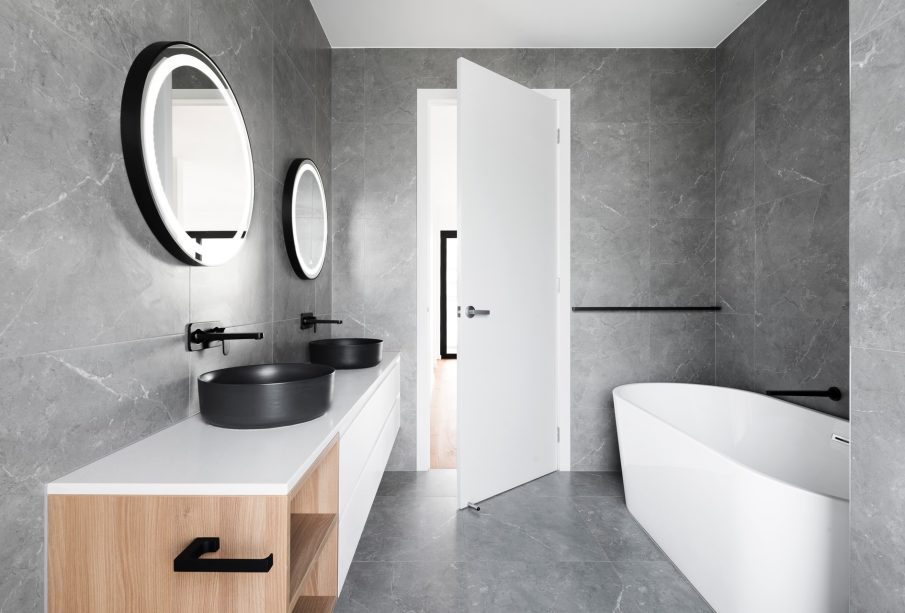 When we are in the process of renovating our bathroom, we realize that the choices we have made will be with us for many years. That is why renovating or decorating this room often causes psychological discomfort
With the small space that we usually have assigned to this interior, when choosing tiles we must additionally take into account not only such aspects as aesthetics and pragmatism, but also optics. Does the size of the tiles matter in this case? How to choose the best?
Does size matter?
In the case of choosing the size of tiles for the bathroom – yes. In this particular case, the optics are definitely on our side. If you own a small bathroom, you should remember that not only bright colors optically enlarge the room. The size of the tiles we have chosen also has its share in it. The bigger the tile, the bigger the space we have. This option will work perfectly not only on the floor, but also on the walls. Large rectangular tiles will make the interior seem wider. Avoid small decors, which will introduce unwanted chaos. It is also important to limit thick and contrasting grout, which can overwhelm the interior.
Replacing tiles in a bathroom means high costs and a lot of work, so it is worth betting on a fairly universal shade, which can be modified and "tweaked" with time by adding accessories. However, we must always remember about high quality – which does not always have to go hand in hand with a high price – and about practical considerations. Once upon a time, mosaic tiles were fashionable in bathrooms, but they were quite difficult to keep clean due to their size. There is no denying that the smaller the tiles, the more nooks and crannies there are to clean – dust may settle there or mould may appear, especially when we opt for light tiles combined with elegant, yet problematic white grout
Large format only for large interiors?
Recently, large format tiles in sizes such as: 50 × 100 cm, 90 × 180 cm, 120 × 120 cm or larger. They are perfect for spacious bath interiors, but not only. Carefully arranged they fit well in smaller bathrooms. They create an impressive, uniform surface, introduce order and harmony. However, they may cause minor problems during installation. It is also necessary to remember with them that the fewer cuts, the better
>> Check also: XXL tiles – where will large format tiles work?
Safe standard
Standard tiles in medium and large sizes: 25 × 40 cm, 20 × 60 cm, 30 × 60 cm, 40 × 40 cm, 20 × 40 cm or 60 × 60 cm are always a safe choice. They fit perfectly in both larger and smaller bathrooms. Another advantage is their quick and relatively trouble-free installation
Decorative detail
Small tiles in the formats 10 × 10 cm, 15 × 15 cm, 10 × 15 cm, or 20 × 20 cm work best as a decorative element enhancing the uniqueness of the interior. There are many possibilities. You can stay with traditional squares or rectangles, but recently also hexagons and small bricks are popular, which can be arranged in herringbone pattern or create imitation of brick wall. However, remember not to place them on all the walls, as they will optically reduce the bathroom.
Main photo: R ARCHITECTURE/unsplash.com