Roomswalk
>
Bathroom
>
How to decorate an elegant bathroom with two sinks?
How to decorate an elegant bathroom with two sinks?
You need about 3 minutes to read this article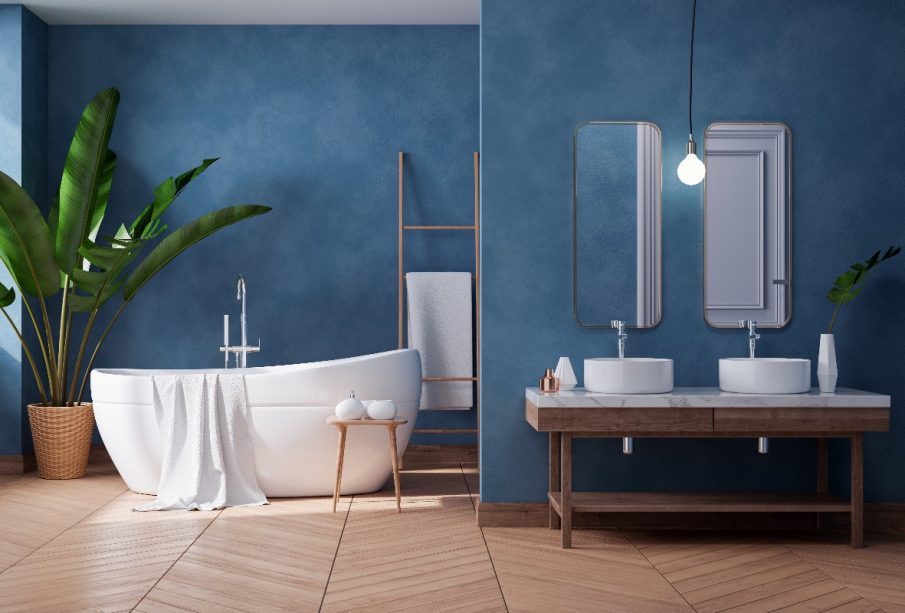 The bathroom is a place where we end and begin each day, washing away the hardships of everyday life and getting ready to leave home.
Therefore, the arrangement of this interior should be primarily functional, but also aesthetic, so that staying there is a pleasure. So how to combine functionality and elegance in one and create a striking bathroom with two sinks?
What are the characteristics of a modern, elegant bathroom?
It is really easy to furnish a modern, elegant bathroom. Just remember a few rules and stick to one style
What features should a modern bathroom have? The ideal recipe is
functionality,
simple forms,
attention to detail,
high quality materials,
bright colors,
minimalism.
Thanks to them you can get a somewhat austere, but at the same time elegant and tastefully decorated interior
How to arrange an elegant bathroom with two washbasins?
When decorating a bathroom, no matter what effect we want to achieve, we should first of all remember about functionality. That is why at the very beginning it is best to plan its layout on a piece of paper or in free design applications. There should be no lack of space for basic elements of equipment, such as
bathtub and/or shower cubicle,
toilet seat,
a long countertop for two wash basins,
cabinets for storing bathroom accessories.
While there shouldn't be too many problems with placing a bathtub or a shower and a toilet, finding space for a double washbasin can be quite a challenge.
It is best if it is planned in the narrowest part of the room, where you can use it freely, while having all kinds of cosmetics at hand. Installing two washbasins in the countertop instead of on the wall, however, will provide additional space for storing bathroom accessories, setting up a soap dispenser or toothbrush cups.This solution will also work perfectly in small bathrooms.
When choosing the washbasins themselves, you should pay attention to their shape, which should match the shapes of the other sanitary units. So, if we have a bathtub with rounded edges, washbasins should be characterized by the same detail
However, be wary of square bowls, as their inner walls can collect much more dirt and soap residue than round models, and this in turn can be a nuisance when cleaning them
Advantages of a bathroom with two wash basins
Do you know the problem when you want to wash your face in the morning, but can't because your partner or child is occupying the sink? Two wash basins effectively solve this problem. They allow two people to use the bathroom at the same time without disturbing each other's beauty or hygiene routines
Double washbasins will also be useful in case of manual washing of clothes. After washing your clothes, you will be able to put them in the other sink, without splashing water all over the bathroom. In addition, such bathroom equipment looks extremely elegant and modern, especially if it is combined with a mirror stretching across the entire width and height of the wall.
To arrange a bathroom with two washbasins, you do not need to have a lot of space at your disposal. It is enough to replace standard models hanging on the wall with those recessed in the countertop or adjustable ones. Thanks to that we will obtain an elegant and interesting effect, as well as additional storage space for bathroom accessories. The choice of the countertop itself is only a matter of your preferences and the arrangement used in bathrooms. They may be made of wood, stone or plastic.