Roomswalk
>
Bathroom
>
Concealed mixers – advantages and disadvantages
Concealed mixers – advantages and disadvantages
You need about 4 minutes to read this article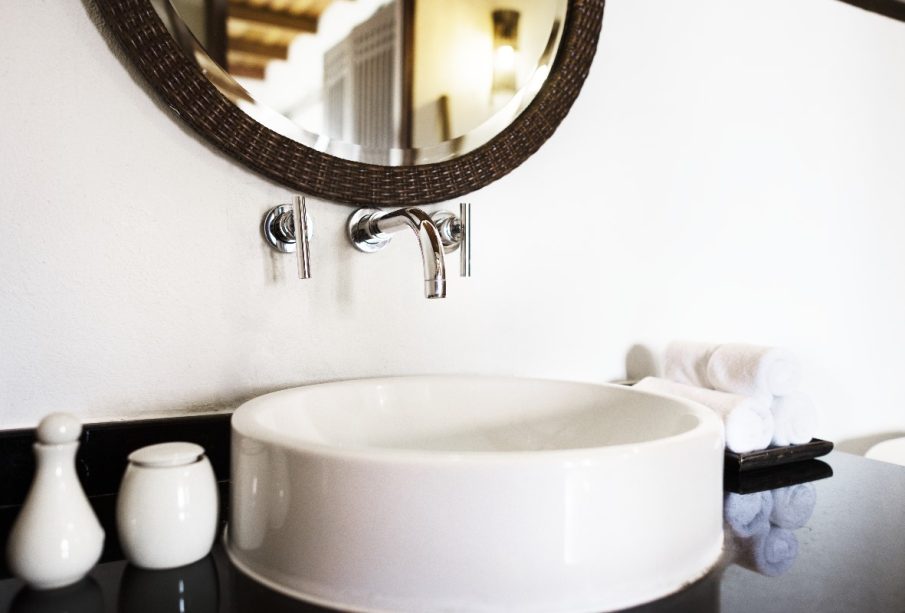 Concealed faucets are a great choice if you want to save some space and make your bathroom look stylish, elegant, and minimalist at the same time. When deciding to install such a faucet, it's worth checking out what they are and what their general advantages and disadvantages are.
What is a built-in mixer?
At first, it is necessary to explain what a concealed mixer is and how it differs from the most popular, surface mounted one. The main feature is the place of installation of the body, to which we connect cold and hot water. It is hidden in a prepared hole in the wall, and after the installation is completed, it remains hidden. On top there are only elements that are used to regulate the flow and temperature of water and the spout, from which the water flows. Let's take a look at the different types of concealed mixers to see which mixer suits us best and what kind of look we want for our bathroom
Ecological solutions mean economic benefits
There are several installations that can be divided by different features and factors. If you are going green, you should take a closer look at your water consumption. Here let's pay attention to push-button and thermostatic faucets. The first variant is most often found in a self-closing version, which means that when a certain amount of water is consumed or a period of time has passed, the water will stop flowing. A thermostatic mixer has a system thanks to which we are able to control the temperature, so we will not have to waste water and wait for it to heat up. It is also common to use an aerator, thanks to which 3 liters of air are mixed with a liter of water, which increases the volume of the stream and results in lower consumption
Some faucets have a two-stage handle lever, which allows the handle to be raised so that only 50% of the maximum water flow is released at first. Only after some time and after overcoming the resistance of the lever does the stream flow at full power. This way we can save water if we only need small amounts. If you will be shopping, pay attention to the marking of the mixers. Those marked with the letter Z are the most eco-friendly, using a maximum of 9 liters of water per minute.
Single lever, double lever and handleless mixers
If we want our bathroom to reflect the retro style, it is worth getting acquainted with two-handle mixers, which, unlike single-handle mixers, do not have a water mixer. In practice, this means that we will have to use two knobs to regulate the temperature and strength of the stream. With single-lever mixers, we can adjust the temperature and the water flow we want with just one handle, which of course means more convenience, faster adjustment to our needs and lower consumption
There are also no-handle faucets that can be operated by touch, a button or a photocell (this solution is most common in public places).
Advantages of concealed installation
The most striking advantage is, of course, space saving thanks to hiding the body of concealed mixer taps. This will fit in perfectly with the current trend for minimalist design and will give your bathroom an elegant, aesthetic and modern look. Due to the constant development of this type of fittings on the market, we will gain access to the most ecological and economical solutions, taking care not only of the planet, but also of our wallet. In addition, we have access to hundreds of variants of external elements, so we can choose at will in shapes and colors. There are also additional elements available on the market, such as side jets or rain showers.
Disadvantages of concealed faucets
The biggest disadvantage and concern for people who want to buy this type of concealed faucets is the possible failure. First of all, this is associated with forging the wall, and secondly with high costs. It is worth paying attention to the high quality of workmanship of the mixer and the warranty period provided by the manufacturer. In addition, you can not save on equipment to eliminate the risk of potential faults. Some models may also require the purchase of additional plumbing components, which will further increase our costs.