Roomswalk
>
SEE TRENDS!
>
A makeover of your boho-style apartment!
A makeover of your boho-style apartment!
You need about 3 minutes to read this article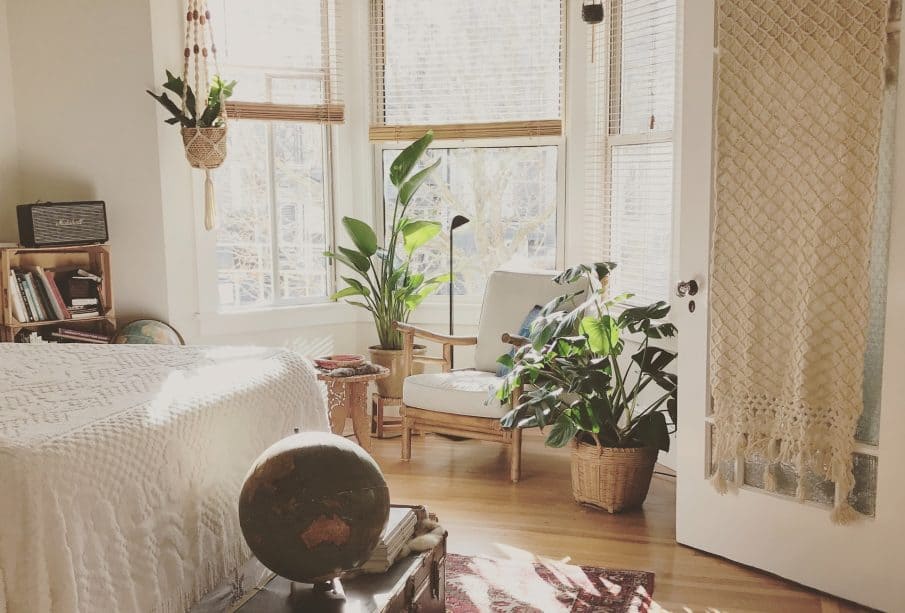 If you want to give your boho-style apartment a makeover then monnarita has the perfect solution for you! Monnarita offers beautiful, handmade products from around the world. From bright, colorful textiles and unique furniture pieces to hand-crafted accessories. It has everything you need to transform your boho-style apartment into a monnarita paradise.
Defining bohemianism
Bohemianism is a lifestyle that emphasizes personal freedom and living unconventional lifestyle. It is often associated with art, music, literature, and other creative pursuits. Bohemian style is all about expressing yourself with vibrant colors and eclectic, vintage pieces. Bohemian decor often features layers of patterned rugs, colorful fabrics, and handmade accessories, giving it a relaxed, cozy feel. The use of natural materials like wood and wicker is also common in the bohemian style. Bohemian-style decor embraces imperfection and encourages mixing and matching furniture and accessories to create unique spaces. Bohemian design values comfort over trends and encourages creating a space that feels personal, warm, and inviting.
The elements of boho chic
The elements of boho chic are an important part of creating a monnarita—that is, a stylish, bohemian-inspired living space. Boho chic, or bohemian style, is characterized by an eclectic, artful, and sometimes eclectic blend of furniture and home decor items. It's a fun and creative way to express your unique style and create a personalized look for your home.
When it comes to the elements of boho chic, there are a few key pieces you should look out for. The first is layers of colorful textiles. Whether it's in the form of pillows, blankets, curtains, or rugs, layering these textures will give your space a cozy, eclectic vibe. Add some bright colors, patterns, and textures to create visual interest.
Natural materials like wood and rattan are also essential elements of boho chic. Wooden furniture and accent pieces are key, as well as natural elements like plants, flowers, and rattan baskets and chairs. Rattan can also be used to create furniture such as coffee tables, armchairs, and shelves.
Another key element of boho chic is the artwork. Choose art that is bold and colorful, with abstract shapes and lines. Hang pieces on the wall, place them on, shelves, or lean them against the wall for an effortless touch. No boho-style apartment would be complete without plenty of cozy throws and pillows. Choose bold colors and patterns, or go for more subtle tones if you prefer. These little touches add warmth and comfort to any room and will complete your boho-chic look.
Main photo: Timothy Buck/unsplash.com
Sponsored text