Roomswalk
>
Other
>
Minimalist dressing table in the hallway – inspirations
Minimalist dressing table in the hallway – inspirations
You need about 3 minutes to read this article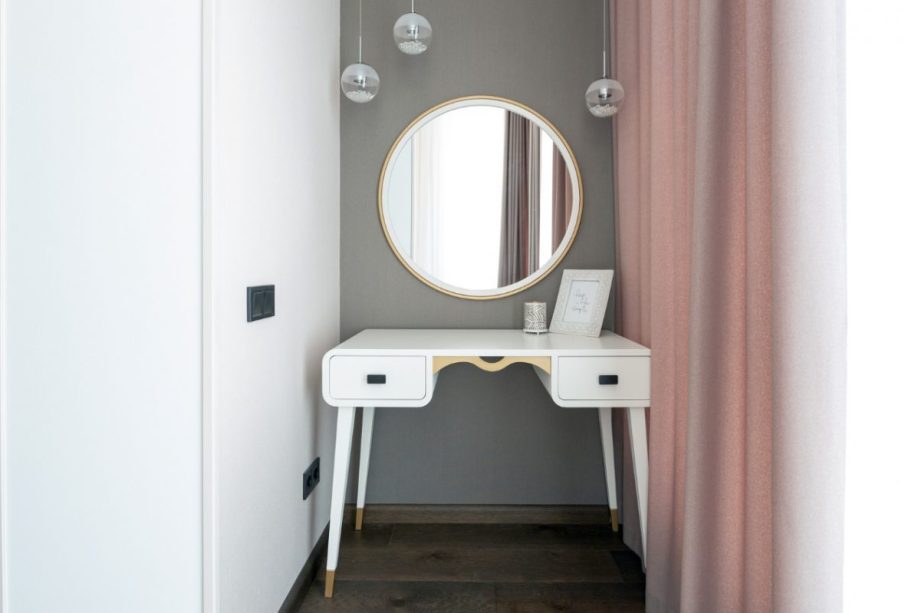 The dressing table is one of women's favorite pieces of furniture. For many of them is a must have interior design. What is a dressing table?
What is a dressing table?
The dressing table comes from the 18th century from France. It is a timeless piece of interior design, which should be found in every home. Over nearly three centuries the shape and appearance of the dressing table has changed. From rich, beautiful decorations to a simple minimalist look. What has remained the same is its form, which is a table with a chair over which hangs a mirror.
Toilet in minimalist style
The minimalist style toilette is very simple. It has a modern and balanced form. Smooth finish, without unnecessary decorations. The dressing table will work well as a minimalist desk with an adjustable mirror in a metal frame. If the dressing table will be in the hall, it is worth taking care of its additional lighting. A decorative element of this furniture should be a metal rack for jewelry.
An essential addition to any dressing table is a chair, which must match the color and form of the interior design. For a console in a minimalist style, a stool or pouffe will work best.
White or colored dressing table?
Minimalist dressing table looks best in white color. Thanks to this furniture becomes subtle and elegant. The best choice is a modern dressing table on slender legs with a lightweight design.
Modern dressing tables are more than just a place to apply makeup. If this piece of furniture is placed in the hallway, it will perfectly replace the console. You can also put a decorative vase with flowers on it. If the dressing table has a wide top, it can replace the desk
A white piece of furniture perfectly harmonizes with bright walls. If you want to introduce some color to the interior, it is worth to opt for a colorful minimalist dressing table. A dark top with a solid metal structure without decorations looks very nice.
Mirror in the minimalist dressing table
If the dressing table will be placed in the hall, it is worth considering hanging a mirror above it. Models in a simple metal frame will work best. This way you can save space on the dressing table top.
What accessories to add to the dressing table?
A great complement to the interior are accessories. Their selection determines the look of the furniture. But accessories can also be practical. You can put various containers and boxes on the console
A minimalist interior is best suited with metal hangers for jewelry or glowing cotton balls wrapped around the mirror frame. Souvenirs such as vacation photos will look interesting on the dressing table. The most important thing is that the accessories match the interior
A dressing table with a mirror should be in every apartment. Such a piece of furniture gives the interior a chic look and becomes a small beauty center at home. Drawers in the console are a great place to store cosmetics and other necessary accessories. Such a place should be tailored to the individual needs of the owner.