Roomswalk
>
Other
>
How to finish a small hallway? About colors, lighting and doors
How to finish a small hallway? About colors, lighting and doors
You need about 4 minutes to read this article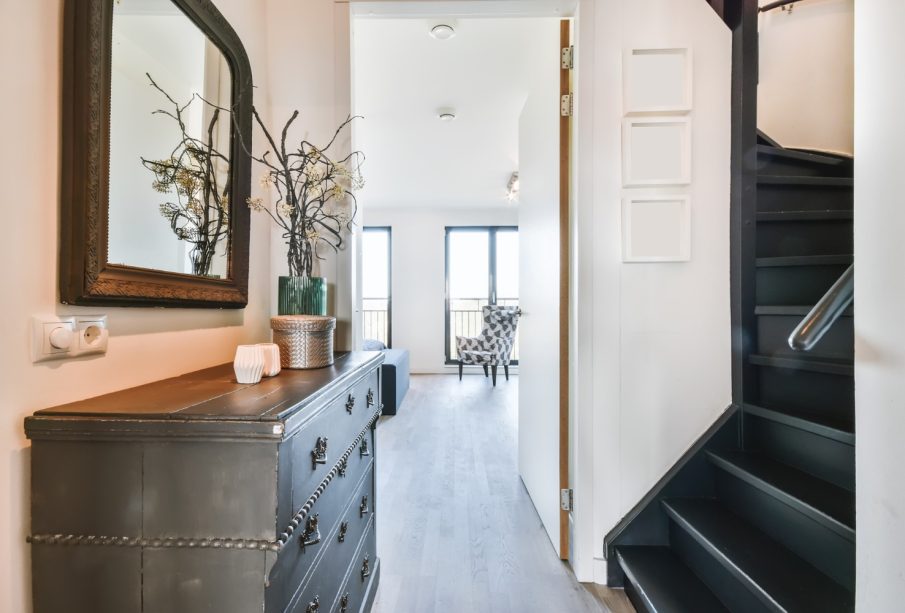 The hallway is usually the smallest room in the entire house, so it is difficult to arrange. What colors to choose for walls to optically enlarge the interior? How to arrange a hallway?
Small anteroom – the bane of most apartments
The anteroom in many houses and apartments is very small. There is a misconception that it is a passageway room, for which one does not have to waste precious space. Despite appearances, the hallway plays a very important role in any apartment. How can you arrange a small hallway, so that it becomes optically larger?
What color of walls will be the best?
To make the hallway seem optically larger, paint it in a light and cool color such as: white, cold light blue, light gray or dove . Do not worry that cold color cools the room. Appropriate lighting and well-chosen furniture will optically warm up the interior. When painting a hallway, it is worth choosing ceramic or latex paint. Thanks to that it will be possible to quickly wash off dirt from the wall.
Bright and warm colors will also work well here.
Is wallpaper or wall mural a good solution?
In arrangement of a small anteroom it is worth to apply "tailor-made" solutions, i.e. properly adjusted. Instead of cutting wallpaper, it is worth buying wallpaper on dimension, which optically enlarges the interior. An interesting solution is a 3D wallpaper.
If you do not want a wallpaper, you can stick on one wall a cream or silver wallpaper with glitter particles, which reflect the light. An unusual solution is self-adhesive mirror wallpaper, which, reflecting the light, illuminates the room.
Which floor will be the best?
In a small anteroom, materials in light colors will work best. A great way to optically enlarge the anteroom is to merge the floor, so the floor in the anteroom is the same as in e.g. the living room
Lighting for a small anteroom
Lighting in a small hallway has a very important function. In such a hallway, wall lamps and spot lighting will work best. In order to optically enlarge the anteroom, it is worth to apply bulbs of a cold color of light. If you don't want the anteroom to look cold, choose light bulbs of neutral color.
Doors – small matter
Doors, especially in small rooms, are very important. That is why if the anteroom is small, doors to other rooms should be of bright color with glazing. Thanks to that the space will be optically enlarged. A great solution is a door with large panes of glass, which will illuminate the hallway.
What kind of furniture to choose?
A small anteroom forces the owners of an apartment to make big compromises – it is not always possible to find there the furniture of their dreams. A very interesting solution is a closet with a depth of a clothes hanger. Thanks to this, you can easily hide clothes in it, and store shoes at the bottom. If you can allocate little space for a closet, then you should consider modern storage systems. Shoes can be stored at a slant, so more pairs can fit. In such a closet, it is essential to install fronts with mirrors. This allows you to optically enlarge the hallway.
If in the anteroom you need a place to store small things, for example, keys, then hanging shelves in bright colors are the best solution.
Additions to a small anteroom
In the anteroom, one of the most important additions is a mirror, which perfectly enlarges the space. If it is additionally illuminated by a lamp, then you can intensify the effect of optical enlargement of the interior. In a small hall we should follow the rule "less is more" and choose accessories that will not overwhelm it.