Roomswalk
>
Living room
>
How to separate the kitchen from the living room?
How to separate the kitchen from the living room?
You need about 3 minutes to read this article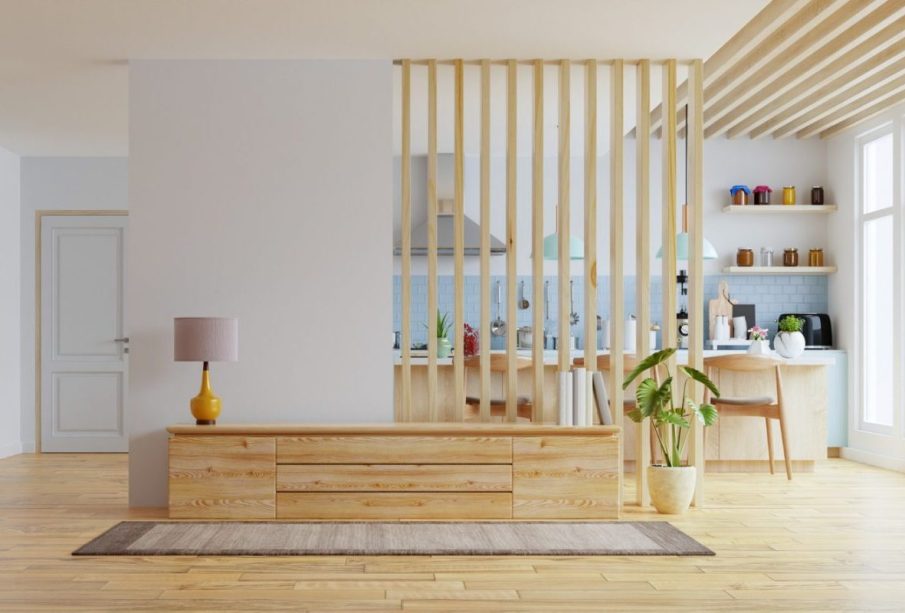 An open kitchen has many advantages. However, interior designers recommend even contractual separation of the kitchen from the living room. How to do it?
13 ways to separate the kitchen from the living room
1. Table
One of the most popular solutions in separating the kitchen from the living room is a table with chairs. In this way, the kitchen area will become the dining area at the same time, and the living room is a place of rest. A very practical solution is to arrange an island combined with a table. You can then get additional working space, and the kitchen is more isolated.
2. An island à la bar
An island à la bar is a very practical solution. It allows you to increase your storage space. The island's countertop is very often the place to eat and prepare meals. This is a great solution for those without children. A decorative bar can be a focal point in the kitchen.
3. A designer wall that does not exist
In modern interiors, a wall consisting of steel frames filled with glass will be perfect. Such development is very impressive. It gives the interior a loft character. If the area is smaller, then it is worth placing only a metal structure.
4. Retro sideboard
Tall furniture is a great way to quickly divide the space. In stylized interiors, sideboards, in which there is additional storage space, will be perfect. If you are afraid that the furniture will overwhelm the room, then choose a sideboard with glass.
5. Peninsula or island
Peninsula or island is a great way to separate the interior. This solution will work only in spacious interiors.
6. Openwork wall
Openwork screen is a very interesting design element, which will come down mainly in modern interiors. Light passing through it enhances the effect of spaciousness. Lightweight construction is a great solution for small rooms.
7. Partition wall
A partition wall made of plasterboard is a solution dedicated to those who want to have privacy while cooking. It is also a clear division of space.
8. Low furniture wall
A low wall of furniture is another way to separate the kitchen from the living room. This solution is very functional – you can gain storage space.
9. Glass wall
A glass wall is a modern solution that gives lightness to the interior. It reflects sun rays. Thanks to this the room seems larger. The sheet can be transparent or with patterns.
10. Movable shade
A movable screen is a solution for those people who, depending on their needs, want to have a large space or partially covered.
11. Shelves
Shelves separating the kitchen from the living room are additional storage space. They also make a great screen
12. Sliding doors
Sliding doors mounted on rails are a good way to quickly change the arrangement. Such an element must be matched in color to the entire room.
13. Sofa and TV
Proper placement of the sofa allows you to separate the living room from the kitchen. This way is very often used in interior design.