Roomswalk
>
Living room
>
How to paint a room? Inspirations
How to paint a room? Inspirations
You need about 3 minutes to read this article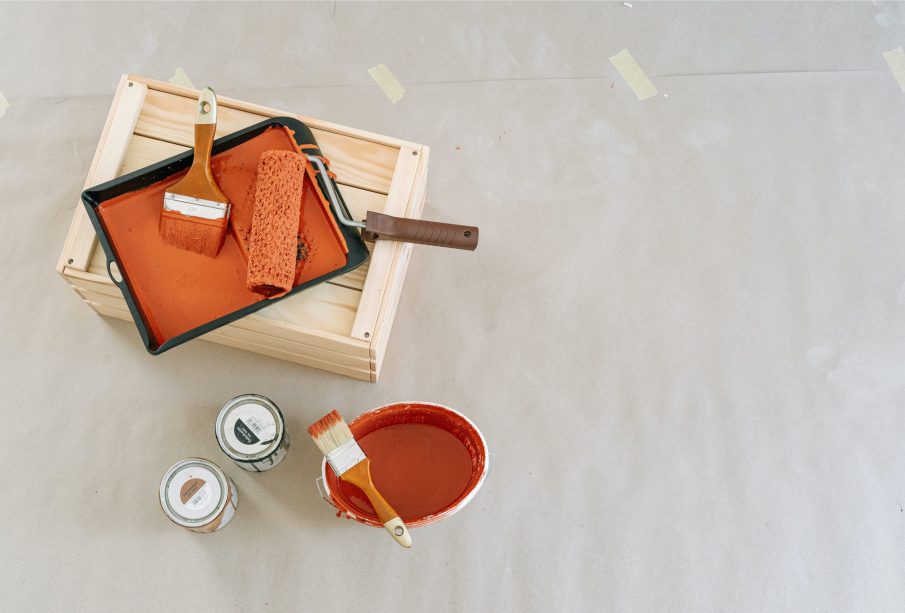 Painting a room can turn out to be great fun, but also a form of artistic expression. Walls in the apartment do not have to be boring anymore, just pour your painting vision on their surface! Here are creative ways to change the color of the walls in your home!
How to paint a room in two colors?
This option is one of the easiest. Combine two color variations in one room. Best of all, it does not require special manual skills. Just instead of one color of paint, use two. It is worth remembering that depending on the color you choose, you can optically enlarge or reduce the room. An excellent result can be obtained, for example, by painting an alcove with a stronger color. Choose colors freely, but if you lack specific inspiration, you can use combinations that occur in paintings or in nature.
How to paint a living room – inspirations
Ceiling in color
Not only walls can take on bold colors. A new trend is to leave the walls white and accentuate the ceiling. This patent will work, especially if you own an apartment with high ceilings. In case of small rooms this option will rather not look favorable.
Geometric patterns
Geometric accents are a trend that has been used in interior design for several seasons now. Walls, on which there are various figures, will look good. To add variety, you can also separate them using an outline or make them overlap. As for the color, it can be strong to distinguish it from the rest of the room.
Room Colours – Inspirations
Ombre effect
How to creatively paint the walls? Apply ombre, which has been brought in the beauty industry for a long time. Transition of colors from dark to light should start from the ceiling, and end at the bottom. You can choose from basically all the colors of the rainbow. This method will work mainly in the children's room.
A return to the past – faux panelling
Many people associate oil paintings with school or staircases. Painted with oil paint, it was supposed to protect walls from dirt. Today it is back and very fashionable. It can take any form you can dream of and, best of all, it allows you to correct any room disproportions. Using latex paints will make cleaning easier.
Horizontal and vertical stripes
Stripes made of paint can widen or slim a room. Painting stripes is another proven idea for finishing the walls in a room. However, this option requires masses of patience. The lines that you will paint must be separately delineated. There are two options to choose from – irregular or symmetrical stripes.
Room, colors, inspiration – planned streaks
Do you dream of walls as if from a painting? Here's an idea: with sweeping motions apply paint, combine several contrasting colors, for example, orange, blue and yellow. You can also make more delicate patterns by simply cutting tufts of paint from a wide brush to create a fork-like shape. Dip the brush in and paint the walls vertically or horizontally with it, then change the color. You will get a very interesting color composition this way.
Read also https://roomstour.pl/salon/dekoracje-z-wikliny-na-sciane-w-salonie-nasze-propozycje/
Main photo: Ivan Samkov/pexels.com