Roomswalk
>
Living room
>
Blinds, curtains, drapes – what to decorate the windows with?
Blinds, curtains, drapes – what to decorate the windows with?
You need about 5 minutes to read this article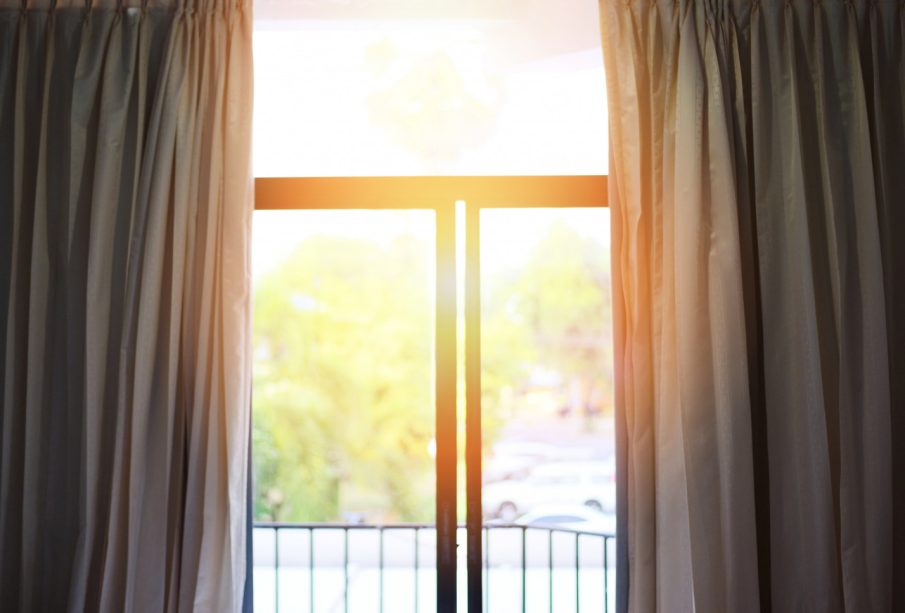 Window decoration should always match the rest of the interior. What to follow and how to choose a window arrangement?
What should be taken into consideration when choosing a window arrangement?
Window decoration should be complementary to the interior design and it must be useful, i.e. helpful in maintaining privacy and serving as protection from excessive sunlight. Well chosen window decorations will perfectly emphasize the interior style and will be functional.
What is hung in the window should be determined by what is behind it. If the window is in a very sunny place, it is worth choosing curtains or roller blinds, which will prevent the room from overheating.
Hanging dense curtains in the window will help to avoid prying eyes of neighbors.
When choosing a decoration for the window at home, it is worth sticking to several rules:
long and heavy curtains should be hung only in large and high rooms. If hung in small interiors they may overwhelm them;
window decorations draped, with frills or with bows fit only to retro style;
in modern interiors simple window decorations are best;
intense colors in window decorations catch the eye and become the main decor element
light openwork curtains and curtains give the interior spaciousness and lightness;
the arrangement must correspond to the needs of the room, for example, in bathrooms it is worth choosing minimal window decorations, as drapes absorb moisture.
Curtains and curtains, the classic solution
In many apartments classic window decorations, that is curtains and drapes, still reign supreme. When choosing them for the interior, you should be guided by the color of the walls, the style of the room arrangement, and even its insolation.
Selection of curtains and curtains according to the color of the walls
More and more interior decorators are moving away from the classic solution, that is, the color of the curtains matched to the walls. For bright, neutral walls, more and more often other colors are chosen that match the rest of the interior. For people who prefer a soft decor, the best choice will be curtains in the color of beige, pastel pink or white. It is worth choosing structured fabrics of glossy material.
Download the embedding code
Selection of curtains and drapes according to interior style
Curtains and curtains should harmonize with the entire interior design, or even be one of its elements. The luxurious nature of the room is emphasized by curtains and drapes made of shiny fabric. For the interior in the style of glamour will work best curtains and curtains with a lot of decoration.
If in the room there are already strong accents, such as furniture or carpet in a distinctive color, the window decoration should be a natural background for them. Then it is worth choosing curtains in neutral colors and white curtains.
Choose curtains according to the size of the room
Color can optically shape the surface of the room, for example enlarging and exposing its assets, or optically reducing them.
Curtains without curtains
Curtains without curtains are an option for those people who do not like classic solutions, and want to have privacy in their apartment. During the day, the windows with such curtains can be uncovered and thus the room gains more light.
For several seasons very fashionable are curtains in the form of heavy curtains, which effectively protect against excessive sunlight and against prying eyes of neighbors. A very interesting and fashionable solution are thin voile curtains, which add lightness to the room.
Roller blinds
When there is no curtain rod, a great solution are the roller blinds. They fulfill the same function as curtains – protect against prying eyes of neighbors and excessive sunlight. In stores there is a very large selection of different colors and designs. Last year the interior design hit were roller blinds with bold floral prints, roller blinds made of natural fabrics and Roman blinds.
Roman blinds
Roman blinds have been continuously popular for several years. With the right mechanisms, you can enjoy the view outside the window to cover it at the right time.
Roman blinds come in different patterns and colors, so you can easily match them to the interior.
Aluminium or wooden blinds
Aluminum blinds are less and less used, being replaced by an ecological version, namely bamboo blinds. Although they provide privacy and protect against excessive sun radiation, dust settles on them very easily and they are difficult to clean.
Fabric window panels
Window panels, also known as window screens, are a very modern solution. Wide strips of fabric are becoming increasingly popular as an alternative to regular curtains and drapes. The panels are available in many different colors. They resemble Roman blinds, but lack the possibility of regulation.
Unusual decorations
When the roller blinds have been installed on the window, it is worth taking care of its appropriate decoration. Live flowers planted in pots matching the interior style will look best on a windowsill. On the windowsill you can place family photos in frames or decorative figurines