Roomswalk
>
Kitchen and dining room
>
What is the best hood for your home kitchen? We help you choose!
What is the best hood for your home kitchen? We help you choose!
You need about 4 minutes to read this article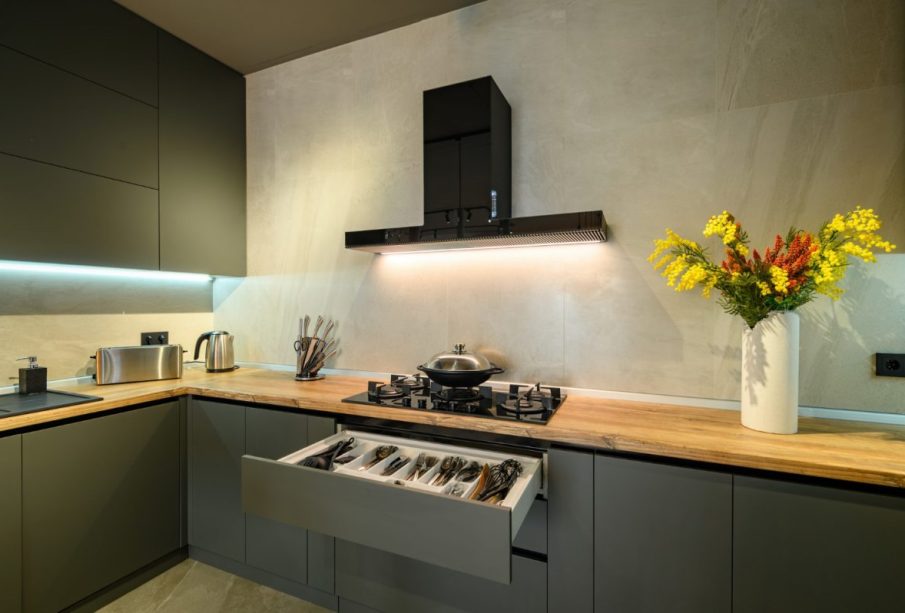 With so many hood solutions on the market, you have no idea which one to choose? Do you want to know what to look for when choosing a hood? Here we explain everything.
Is a cooker hood necessary?
The short and definite answer to this question is yes. If you want to cook and eat in a hygienic environment, installing a cooker hood is an absolute must. The most important task of a hood is to filter the air in the kitchen. The purpose of a hood is to absorb any unpleasant odours and grease vapours generated by cooking and frying. The hood is also a weapon in the fight against grease that builds up on walls and furniture
These are its main tasks, but nowadays hoods can also perform another function – decorative. The market offers some really designer, eye-pleasing hoods that can also beautify your kitchen
>> See also: Built-in appliances – what should I include in my kitchen?
What should I look for when choosing a cooker hood?
When choosing a hood, the most important thing to consider is access to the ventilation duct. We divide cooker hoods into two categories: extractor hoods and absorber hoods. The former operate in the so-called closed circuit, i.e. without a pipe. They are equipped only with an additional carbon filter. This solution is usually used in kitchens in blocks
Hoods operating in the exhaust mode, on the other hand, are connected to the ventilation duct by a pipe, and all the pollution and odors are carried outside the building. It's worth knowing that exhaust hoods are more efficient than absorption hoods by about 20%. They are also certainly quieter and you do not have to remember to replace carbon filters, as is the case with absorption hoods, which translates into low operating costs. Therefore, for kitchens at home, experts rather recommend this type of hoods. Of course, however, everything depends on your preferences.
The second equally important thing when choosing the right hood for your home should be to estimate the size of the room. This is because the cooker hood has to be efficient enough to meet your daily needs. Estimating the right size for you is easy. Just multiply the cubic metres of space by 9 and the result will be the efficiency of the hood in the so-called medium gear. The result is the efficiency of the hood in the so-called medium gear. To calculate the required maximum efficiency, just multiply the square metres by 12.
>> See also: 3 ideas for a modern kitchen arrangement
A well-chosen device is able to filter out impurities about 6 times. Another important issue is where we want to place the hood. Below we present the types of equipment in terms of its location.
Undermounted hoods
Under-cabinet hoods are a solution for those who don't have a lot of space in their kitchen. This device can be mounted under the kitchen cabinet or on the wall. The downside of this solution is its efficiency – it is quite poor. Under-cabinet hoods are a solution dedicated to kitchens in blocks, but it happens that the owners of small houses with small kitchens decide on them.
Chimney hoods
This solution is definitely better for kitchens at home. Chimney hoods are a type of hoods called self-hanging. They are usually mounted above the stove, against the wall. They have a long chimney which masks the pipe carrying away debris. This type of hoods, due to its simple form and steel finish, fits perfectly into modern, industrial kitchens
Corner hoods are also an interesting alternative. They are a great space saver, as they can be placed in the corner of the kitchen.
Ceiling hoods
This type will appeal to all those who do not want to interfere with the design of their kitchen. They are installed in the ceiling (also suspended). It is true that they occupy a large area, but their simple appearance does not stand out so much
Island hoods
This type of hood is usually installed in kitchens where the stove or hob is located in the middle of the room. Like ceiling hoods, these units are mounted on the ceiling, above the kitchen island. They are equipped with a pipe carrying odors and dirt, and a base.
However, this solution requires a lot of space – the kitchen must be at least 20 square meters, as the hood itself is usually 90 centimeters wide. It is also the most expensive of all the solutions presented in this article