Roomswalk
>
Bedroom
>
Types of fabric, or the perfect curtains for the bedroom
Types of fabric, or the perfect curtains for the bedroom
You need about 3 minutes to read this article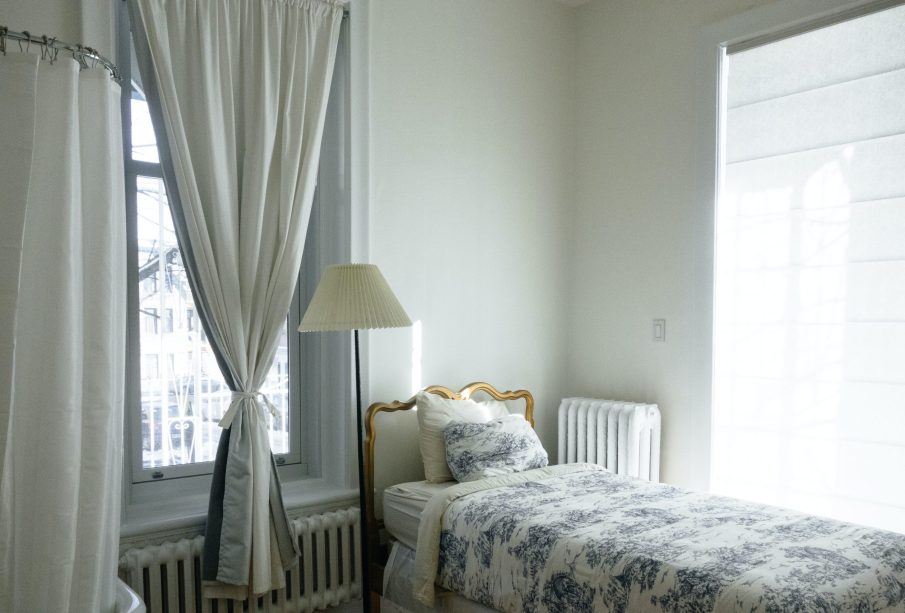 It is worthwhile to learn about the characteristics of curtains and popular materials used to create them. Thanks to this, you will choose them according to your needs, which will make them perfectly fit into a particular interior design
Basic types of curtains
Curtains can have a decorative or blackout function. This is the basic division that you should be familiar with before buying them. The fabric you choose will also largely depend on this. The third type is panel curtains
Choose the material, taking into account the location of the bedroom. Blackout curtains will work better for southern or western windows. Choose decorative curtains for rooms facing north or east and for very small interiors.
Blackout curtains are usually made of thicker fabrics that do not let the light through. They protect against too much sunlight and give you more privacy. They also often add coziness to the rooms they are placed in
Decorative curtains are usually thin and are only meant to decorate a given interior. They are often made of transparent materials. They are also useful for darker rooms, then they let in more natural light. They also allow to gently cover a window, for example at dusk, so that the room is not visible from outside
Panel curtains have become an interesting alternative to traditional options. They have a stable construction, you can cover even a large, glazed area with them. They fit into minimalist and modern interiors.
The most frequently used fabrics
Frequently chosen fabrics are primarily cotton, taffeta, satin and various artificial materials. Most often you will meet them in popular stores. Cotton curtains have a variety of thicknesses, textures and finishes. In addition, they often contain an admixture of polyester fibers. This is a very versatile material. Many companies offer curtains made of artificial raw materials. They are practical, durable, so they remain unchanged for a long time.
If you need a blackout effect, take into account the grammage, that is, the density of the fabric. For this purpose, you can buy curtains made of taffeta, velvet, velour or jacquard, for example. A special blackout fabric, called blackout, is also often used. It is suitable for both private bedrooms and hotel rooms. It has a high level of light imperviousness
To achieve a decorative effect, light fabrics such as tulle, voile, linen or chiffon are used. They are extremely delicate and look very good indeed. They are suitable for smaller rooms, because then they are not too overwhelming. They also provide comfort and ward off the outside world.
Choosing curtains to match the interior
It is also worth choosing curtains, matching them to the character of a given room. Such made, for example, from linen, will look good in the interior in the Scandinavian style. For a large, modern bedroom with lots of light, blackout curtains will do
Or choose curtains made of another thick fabric with an interesting pattern. You can choose from various color versions. Satin and taffeta are fabrics that are ideal for elegant rooms because they are slippery and shiny. For this reason they fit for example into classic and glamour style.
In turn, airy, decorative curtains will give the interior a romantic and casual character. It is good if they are in pastel and subdued color, then they better maintain this climate.
Main photo: Ali Inay/unsplash.com