Roomswalk
>
Bedroom
>
How to light up a bedroom?
How to light up a bedroom?
You need about 3 minutes to read this article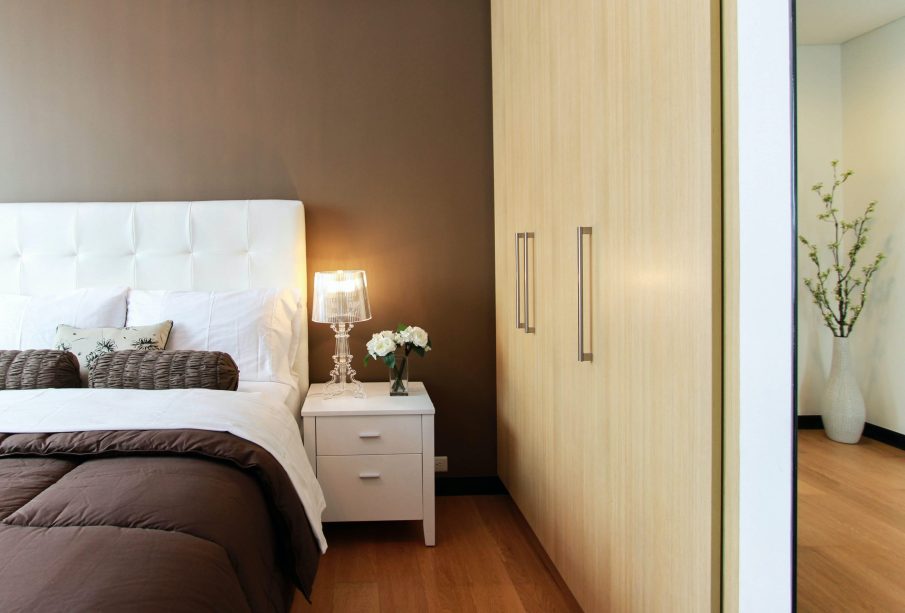 The bedroom acts as a place where you can relax and unwind after a long day. Did you know that you spend as much as about 25 years of your life just sleeping? That's why you should make spending time in bed as pleasant as possible. You can do that by choosing the right lighting.
Natural light and atmospheric character of the interior
The bedroom is undoubtedly the most private place in any home. So it's important to make it cozy and atmospheric. You can achieve this by choosing the right lighting. But what kind will it be? First of all, it will be close to natural light. This is because natural light helps us to relax, does not strain our eyes and is the most comfortable. A bedroom cannot be too overexposed and too bright. Additional points of subtle light will also be a nice accent giving a more sensual atmosphere.
What kind of lamps should you choose?
When choosing lighting for a bedroom it is worth to bet on lamps which will not overwhelm the room and will not optically divide it. Modern ceiling lamps are the best choice. They will illuminate the room in an even way without taking up too much space. It will be the main source of light in your bedroom. You can choose the more classic one, but there are also ceiling lamps in interesting geometric shapes available on the market. If your bedroom is decorated in glamour style or you like vintage atmosphere, then a beautiful and impressive crystal chandelier will be a great solution. Remember, however, that it can only be used in large rooms with high ceiling – in smaller and lower ones, it may be too overwhelming. In small bedrooms, it is best to use led light points installed just under the ceiling or plafonds.
Apart from such a ceiling lamp, a bedside lamp placed on a chest of drawers or a bedside table can also be useful. You can't skip it when you are arranging your bedroom because it is not only an inherent part of its aesthetics but it is also extremely functional. A bedside table or dresser is a great way to make your bedroom more comfortable
It is also worth thinking about various types of lighting. An illuminated bed or closet will look exceptionally impressive. If you want your bedroom to have a unique atmosphere and character, you can illuminate this furniture with LED lights in different colors. To introduce a sensual atmosphere will choose those shades of red.
Color and intensity of light
Another important issue that should be taken into account when choosing the light is its color and intensity. When buying a classic lamp with incandescent bulbs, you do not have to accept this – if the color of light or its strength does not suit you, you can simply replace the bulb. However, in the case of led lamps, which are very popular on the market today, this is an issue that should be considered even before making a purchase. So think about whether you prefer hot or cold light and what power you expect. Remember also that the shade of light should be chosen according to the color of the walls. Warm color makes the colors cozier, more pleasant and deeper. Cold color breaks warm wall colors and emphasizes cooler ones. It looks very good with pastel shades, which appear slightly bleached thanks to it. To be able to fully relax, however, we recommend a combination of bright walls and warm light.
Main photo: M&W Studios/pexels.com