Roomswalk
>
Bedroom
>
Bedroom wallpaper in a romantic style
Bedroom wallpaper in a romantic style
You need about 3 minutes to read this article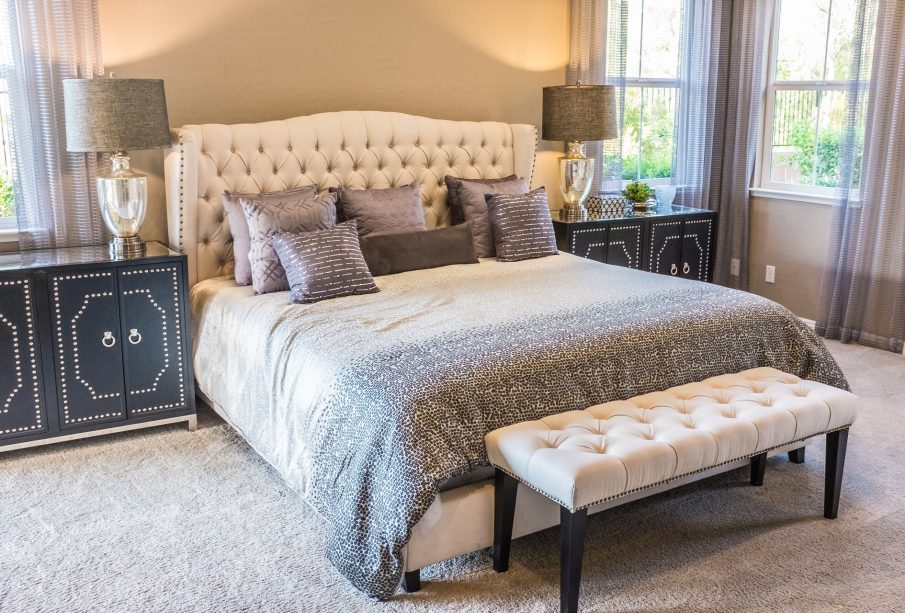 Despite appearances, a bedroom in the romantic style can look luxurious. With the right solutions, the room will gain an elegant character. An ingenious way to achieve this effect is to use wallpapers.
Romantic style is most often associated with feminine interior design, because it is distinguished by pastel colors, floral motifs, delicate laces, soft fabrics and such accessories as candles, caskets, mirrors in gilded frames or porcelain cups and figurines.
However, romantic arrangement does not have to be too bland and sweet. Expressive accents and color contrasts will make the room gain individual character and will look tastefully. It is worth deciding on wallpapering the room. A good wallpaper does not only emphasize the dominant style of the interior, but it is also a background for furniture and a bed, or it is a decoration in itself. What kind of wallpaper to choose for a bedroom with a romantic atmosphere?
A floral twist
Flowers are the motif that dominates romantic arrangements. White wallpapers with roses, violets, peonies or heather will look beautiful in a bedroom. It is a perfect background for Provencal style furniture and bedclothes maintained in shades of pink, blue, beige or gray
If you want to break such soft colors, place pots and vases with live flowers on the windowsill or bedside table. Green stems and leaves create an unobtrusive contrast in a subtle setting.
Romantic Exquisiteness
Bright colors don't have to dominate the bedroom. You can opt for dark walls, which you can break with textiles in vivid, but not bright colors. Wallpaper with a floral motif on a navy blue or dark green background can be a romantic accent. If you want the room to look sophisticated, wallpaper only half of the walls from the top, and further put elegant panels. Remember that they should be in the same shade as the wallpaper background, so that the arrangement will be harmonious.
To break the dark walls, decide on wooden furniture and bedding in a fashionable, mustard color. Precious antiques and trinkets found on the flea market will also look spectacular in this environment.
Greenery for calming and soothing
If you want to create a calm bedroom in a romantic atmosphere, choose wallpapers with a green background or with green patterns. They can have both floral and animal motifs, such as birds or the simple vertical stripes typical of the English style.
Green color has a calming effect and is associated with nature and harmony, so in its company you can easily relax and rest. For this reason this color is perfect for the bedroom. White furniture with simple forms looks fantastic against wallpapers with celadon, mint or emerald patterns. If you have a romantic bedroom you can add variety with a thick blanket, a woven rug and lamps with bright lampshades.
When choosing wallpaper for your bedroom, pay attention not only to its design but also to the material it is made of. Paper wallpapers – single or double-layered – are popular, but fleece or textile models are more durable. In turn, vinyl wallpapers are resistant to washing.
Main photo: NeONBRAND/unsplash.com