Roomswalk
>
Bedroom
>
Bed headboard – 9 design ideas
Bed headboard – 9 design ideas
You need about 5 minutes to read this article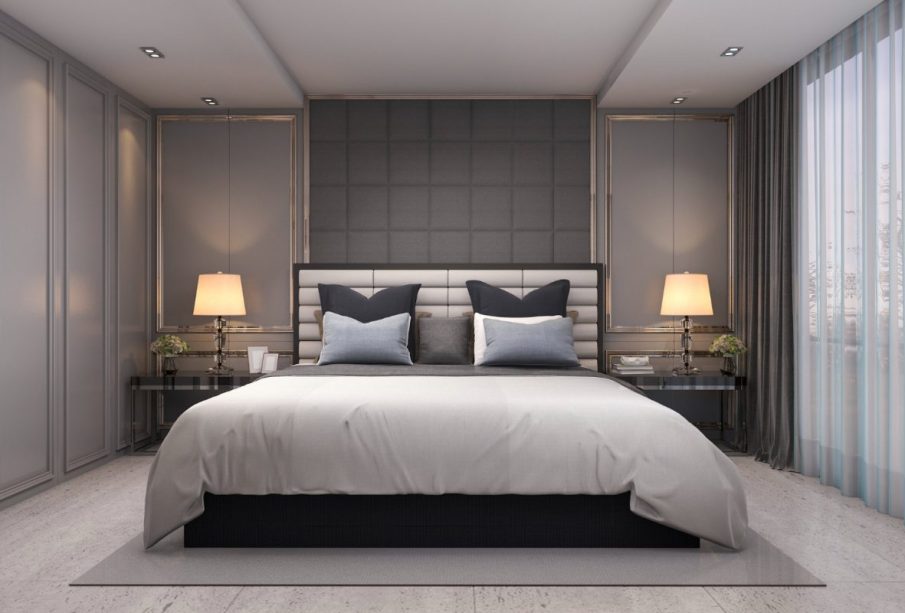 A bed headrest is rather associated with the old times, meanwhile, even today they turn out to be an unusual solution, perfect for our bedroom. You can buy a bed already with a ready-made headboard or get inspired by these nine ways to arrange them and choose one yourself, attach it permanently or have a mobile version. So let's get to work!
1. How about sticking something on? – wall panels
The easiest way to decorate the bed in an unusual way are three-dimensional wall panels that are now on the market in various forms, which can be simply glued to the wall. They are relatively cheap, we can install them ourselves and in the arrangement we want. The downside of such a solution is the lack of mobility – if we decide on such a decoration, we will not be able to change the location of the bed or decide to glue panels in another place.
2. Classic wood
Some people will bet on the classic beauty, namely wood. We can use it to cover the wall behind the bed, creating one big panel, minimalistic and simple, but emphasizing the modern design of the whole bedroom, especially when light wood is combined with white or its shades. But that's not the end of the uses for wood as we can also use carved forms or more stylized for old times with interesting and bold shapes or shades.
3. Simple and beautiful… curtains
An interesting idea for space arrangement by the bed is to use… ordinary curtains. Heavy material flowing down from a curtain rod fixed under the ceiling will fit here best, but we can also bet on lightness – airy fabric will surely work in a bedroom decorated in boho style, among others. This way is cheap and very functional.
4. Romantic bedroom – metal headrests
Nowadays the market offers many ready-made bed sets with headrests and this will also be a good choice. We will be able to adjust each one to our taste at a later time and make a few adjustments. Simple metal headrests have an unusual charm, especially if we attach lamps to them and take care of a bedspread in interesting patterns and a few pillows. The whole will be presented in a really romantic way.
5. Italian style – quilted headrests
Many producers offer beds already with a headrest, more or less decorative. Some offer a quilted headrest stylized in the Italian style. It can also perfectly fit into our decor, especially when we choose, for example, pouffes or pillows which harmonize with it or have a similar structure. As you can see, ready-made solutions do not have to be so bad.
6. Softness first of all – pillows or a frame
Such a headrest can also be made of pillows, upholstered or quilted, also to order. A good solution is also upholstering the frame with soft fabric, with patterns or colors corresponding to our taste. Such a frame can be made of various materials, without worrying about its aesthetic appearance (it will not be visible after all), but it is worth taking care that it is durable and of good quality.
>> See also: Wall decoration above the bed – how to arrange it?
7. Softness and minimalism
In the role of a headrest we do not need large and heavy forms, symbolic ones, delicately emphasizing the character of the whole decor, will suffice. Paintings, drawings (maybe a family photo in a large format?), as well as elements painted on the wall (e.g. imitating a metal frame from a distance) will be perfect. A space behind the bed, partially covered with wallpaper will also be a good solution.
8. An alcove will also come in handy
A room intended for a bedroom often provides us with ideas for the arrangement itself – also for the headrest. After inserting a bed, an alcove may be created, and if the room is located in the attic, we have to take into account the walls running into a slant. This can be used. Such a wall is enough to appropriately develop, and if the niche is significant, insert for example some furniture.
9. Handmade headrest
So … a completely free option. This is an ideal option for people with an artistic disposition, always choosing unusual solutions. With the help of ingenuity, you can create something of your own, for example by using braid, metal elements attached to the wall in the space behind the bed, wooden slats, pillows, curtains or the use of wallpaper scraps. This way gives you many possibilities.
Ideal ideas
Not every bed will fit the headrest of your choice, which is worth realizing from the beginning. However, you can always choose a classic bed frame, such as wooden, and choose a headrest later, already on your own, especially if you have a model or an initial idea. On the market there are thousands of ways to arrange the bedside space, which will help us to realize our plans.