Roomswalk
>
Bathroom
>
Countertop washbasin – design of small and large bathrooms
Countertop washbasin – design of small and large bathrooms
You need about 4 minutes to read this article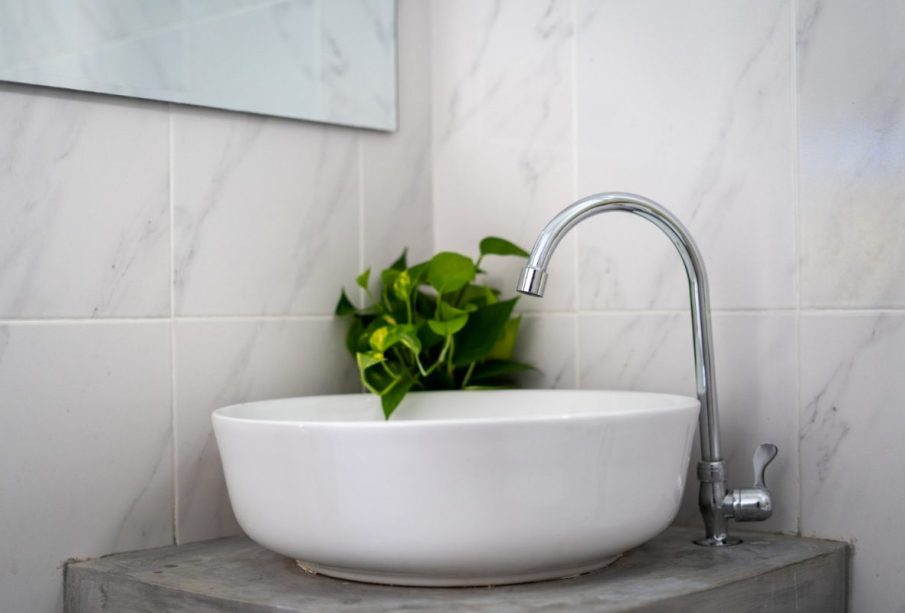 Are you planning a bathroom renovation? Are you thinking about decorating your interior with a countertop washbasin? Here is a collection of information you should read before making your purchasing decision!
Countertop washbasin – what are its characteristics?
Countertop washbasins are usually mounted directly onto the bathroom cabinet. Manufacturers offer many shapes, colors and types of countertop washbasins. On the market you can buy products in oval and square shapes. Some companies also produce special bowls that are incredibly original, aesthetic and exclusive. They are usually created from such materials as natural stone or ceramics. Countertop washbasins are suitable for both small and large bathrooms. This is because they do not take up more space than standard washbasins. The size of them can and should be adjusted to our needs
In terms of functionality, countertop washbasins do not differ much from the traditional ones. However, it is worth considering their purchase, because they look much more impressive than standard washbasins. The interior equipped with such a washbasin is definitely nicer
The character of the interior and the choice of countertop washbasin
When choosing a washbasin for our bathroom, it is essential to take into account several factors. It is important that the size of the room does not disqualify the installation of countertop washbasin. Unfortunately, small rooms limit our options. The larger the space, the larger the countertop, and thus the opportunity to purchase fancy, unique and original washbasins. In the case of large rooms, arrangements and ideas are limited only by our imagination. In addition, with a smaller area of the room you should pay special attention to the compactness of the model we choose
Small and round washbasins are perfect here. They do not always have to be unique, it is important that they fulfill their basic function and make the bathroom more modern
Quality or material
When deciding to buy a countertop washbasin, in addition to the size and shape, we should choose a material that meets our expectations.
The most popular washbasins, which are sold by manufacturers, are those made of ceramic. Their unquestionable advantage is that they are difficult to scratch. Unfortunately, they can easily break – whether during transport or installation. The acrylic washbasins are not expensive
Acrylic washbasins are made of plastic. Their advantages are low price and resistance to dirt. The disadvantages definitely include possible bending, which can occur due to too much pressure
>> See also: 6 mistakes to avoid when decorating your bathroom
The last group of materials from which countertop sinks are built are conglomerate materials. This is a natural stone. It is the most expensive option, but its durability is impressive. The advantage of basins made of this material is that they are the easiest to maintain and do not deteriorate quickly. So we can treat their purchase as an investment for many years
Faucet installation
The last and one of the most important issues we should consider when choosing our countertop washbasin is how to mount the faucet. If the basin will take up all the space on the countertop, it would be a good idea to choose a model with a factory hole for mounting the faucet. There are also freestanding versions that have no holes. The latter will certainly work well with a large countertop if, of course, the mixer tap is mounted in the wall. Think about this very carefully and plan ahead so that the purchase does not turn out to be a mistake. You can consult how the faucet will fit in your bathroom with the fitter or store assistant. If you are one hundred percent sure about how the installation of the countertop washbasin will be arranged, then study the other aforementioned issues and make the purchase – you will be delighted with the result!