Roomswalk
>
Around the house
>
Get your patio ready for summer – refresh your front space!
Get your patio ready for summer – refresh your front space!
You need about 4 minutes to read this article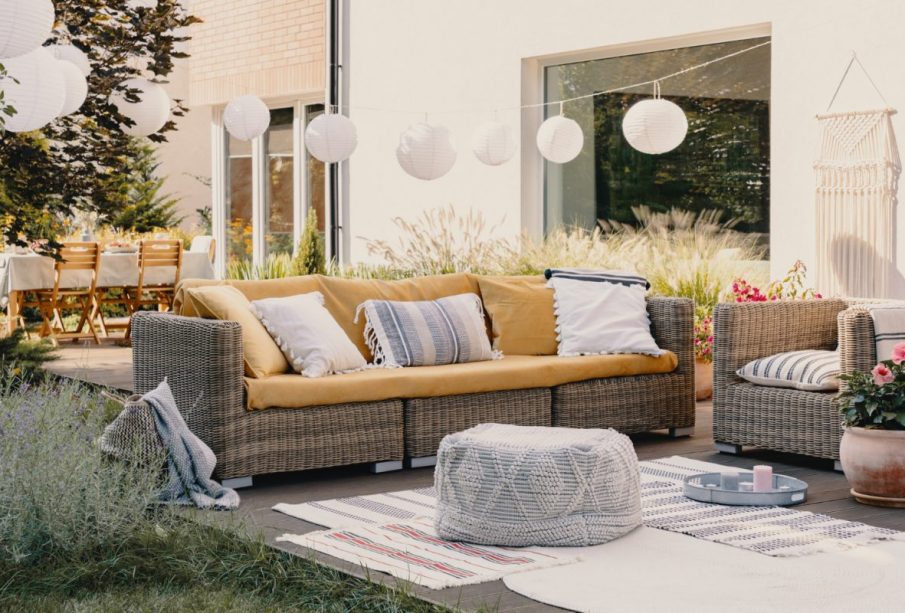 A properly prepared terrace will be the center of our lives – a place to relax, enjoy common meals and Saturday barbecues
But how, after a long period of winter neglect, can we bring the backyard space to an ideal state that will encourage family members and potential guests to stay longer? It's not difficult!
Work systematically
If you start tidying up your patio early enough, you can open it up in time for summer. As well as checking the condition of the entire patio (e.g. whether the roof is leaking, whether the decking is in need of repair or even replacement) and the furnishings, it is time to consider whether your patio could use a makeover
Maybe we want to completely change the whole style or only partially, by purchasing new accessories such as an umbrella. It may also turn out that the backyard wall needs refreshing – we should also think about that in advance.
>> See also: What kind of patio roofing to choose?
The big clean-up
When preparing your patio for summer, don't forget to do some basic cleaning. After inspecting the entire patio and before placing all furniture and accessories on it, it should first be thoroughly vacuumed and cleaned. The floor is first cleaned of all dirt, dust, leaves and any debris. Then we use a support in the form of a sponge and soap. However, the traditional way is long-lasting, so our work will be perfectly improved by a special cleaner and water under pressure.
Wooden elements
Wood has been very popular among terrace owners for years. It is classic, even timeless, and perfectly fits in with the décor of the entire space. Unfortunately, it is also demanding. We should take proper care of the wood so that it does not lose its appearance. We should not only clean the boards that cover our terrace and all furniture, but also impregnate them with a special preparation, so that the surface retains its shine as long as possible. Not so with materials that only imitate wood.
Terrace furnishings
No matter what material your terrace furniture is made of, it should be refreshed again after the winter
In addition to proper care of the wooden furniture (complete care, such as oiling and impregnation), we need to protect it from the weather conditions that it will be exposed to on our terrace. Do not forget that all metal parts also require appropriate treatment, otherwise rust may appear on them. Enamels are a good solution here.
How about… refreshing the style?
Preparing the terrace for summer is also the time to think about its arrangement. Does the current arrangement meet our requirements? Do you need to replace the furnishings? This is the perfect time for a change!
If you want your terrace to look cosy and trendy at the same time, it is a good idea to use this moment to make some improvements. Recently, the boho style, known for its vibrant colors, natural materials and subtle hammocks, has become very popular. In the evening, a few lamps should be placed on the terrace to emphasize the romantic mood of a summer night.
Take care of the surroundings too
A beautiful and well-maintained terrace is not everything. If you have a garden, you need to at least mow it, to say nothing of flowers and general landscaping
Small lawns and other backyard spaces also need proper treatment. How about laying out stones here? Clean up debris from recent renovations? Cover up the ugly view of the street with something? If we're thinking about enjoying our terrace, we should keep these things in mind, too.
A piece of paradise on our doorstep
A terrace can be a substitute for a vacation, with its blissful beaches and plants, and imitate a vacation in nature. It is there that we can regenerate our energy for the next day, even if we have no free time. It is an ideal place to relax, but don't forget to refresh it properly, so that during the summer it doesn't turn out that we are not able to spend even a moment on it.