Roomswalk
>
SEE TRENDS!
>
Trendy decorations for children's room – check out the trends!
Trendy decorations for children's room – check out the trends!
You need about 4 minutes to read this article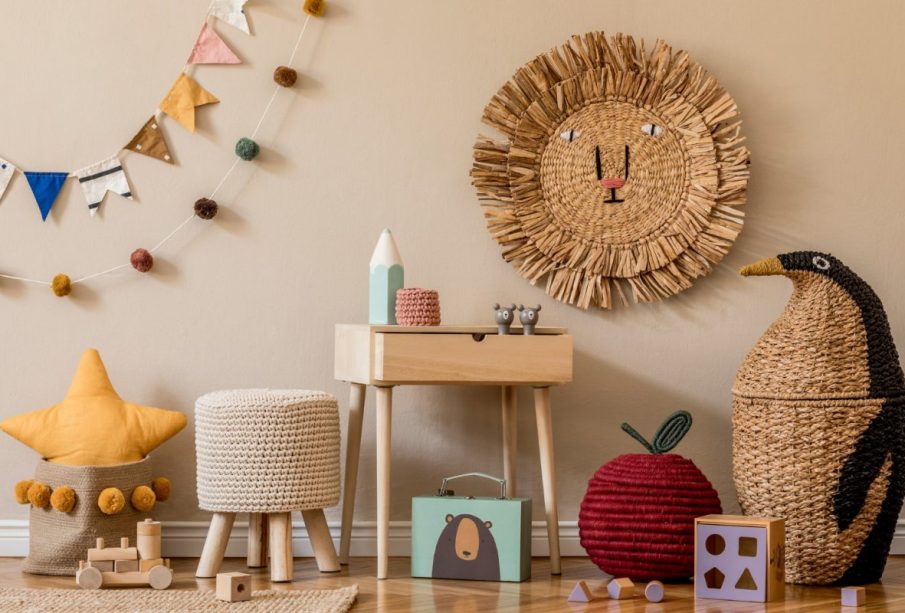 Trendy children's room decorations don't have to be expensive. Using the right colors, wallpaper and even old wooden crates, you can create a unique styling that will appeal to both young children and later – teenagers. Keep in mind that your little one will grow up eventually and their preferences will change with it.
Keep things tidy with open shelves
Open storage is a great way to keep your bedroom looking neat and tidy, while allowing kids to find exactly the toy they're looking for without calling for help. Choose simple shelves, box shelves and deep boxes to keep clutter in check
Add fairy lights to create a cozy atmosphere
Hanging wall lights as an alternative to a bedside lamp will be perfect for creating a cozy atmosphere as you get your baby ready for bed. You can get them in different designs and types – from copper to paper lanterns. They are sure to brighten up any child's bedroom.
Plan a smart storage system
Help kids get dressed independently each morning by labeling drawers and garbage cans with each day of the week. Put an outfit in each one at the beginning of the week, and they can grab everything they need and then organize everything.
Add stars and other decorations
Choose bedding and accessories with stars in bright colors, and liven up plain white walls with star stickers and decals. Keep the background bright and add textiles and other decorations in stripes or checks.
Turn old crates into shelves
Attach some old wooden crates to the wall for the perfect storage space for books and toys. Paint them yourself in colors that match the room, or make a project and let the kids paint them. This is an inexpensive room refresh that should keep them occupied for at least a day during the summer vacations.
Adopt a theme
A jungle theme is perfect for kids – from toddlers to early teens. To create a rainforest background, paint the wall a green base color, then draw a straight line of trees along a third of the length of the wall. Paint the wall below with the next color. Repeat two more times, moving the tree line lower and using a darker paint. Allow each coat to dry before applying the next coat.
Make room for a desk
Make sure young students have the right environment for homework or repetition by creating plenty of desk space. Wallpaper or paint behind shelves and lockers to create a fun but stimulating place to work
Add a splash of color with blinds
Rainbow blinds will instantly brighten up your little one's room. If you already have them, consider getting creative with your color choices – colored blinds are a great alternative to regular ones because they make it easier to control light levels during nap time. Blinds, however, are easier to clean of dust and lint than curtains or blinds.
Cover the walls with bright colors
Play along with your kids with neon flashes in a playroom or bedroom for all ages. If you're worried about painting an entire wall neon green, improvise by creating random geometric shapes on a white wall with strips of masking tape, then fill each shape with bright and vibrant hues
Choose a wallpaper pattern that will be versatile
When choosing the right wallpaper for a child's room, it can be tempting to go straight for a cute animal pattern or an elaborate floral print. While these graphics will still look great, teenagers will most likely want a change. A mint green and white plaid will serve your child from the time they are in the crib until they leave for university.