Roomswalk
>
SEE TRENDS!
>
Inflatable Jacuzzi – how does it work and is it worth it?
Inflatable Jacuzzi – how does it work and is it worth it?
You need about 4 minutes to read this article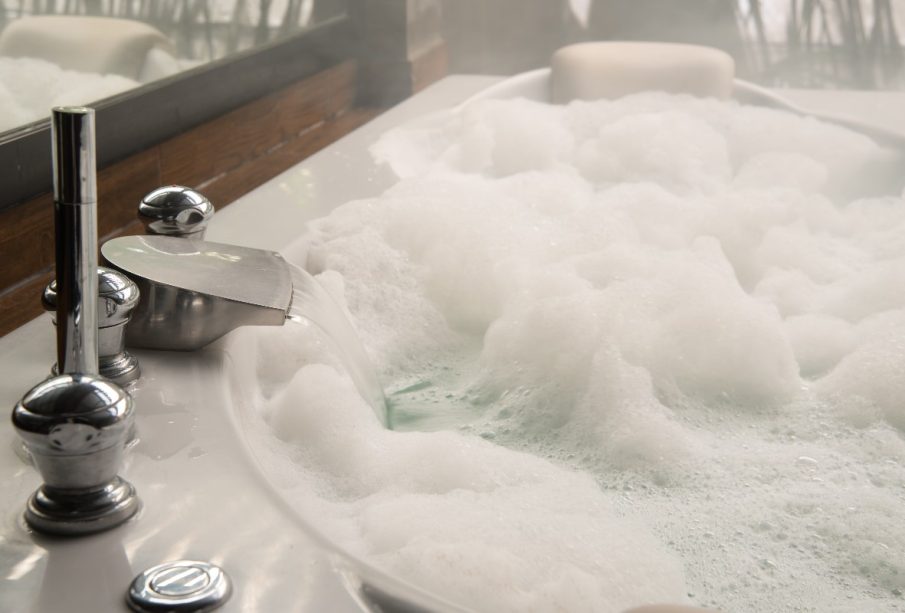 Inflatable Jacuzzi is a rather unusual solution, and in Poland rather not heard much about it. However, it is worth looking at this interesting solution and possibly consider its purchase.
What kind of pool to buy?
Remember that the brand matters. In connection with the increased popularity of inflatable hot tubs, their production has also increased and they are constantly being improved. Many manufacturers rely on fast and cheap production, which translates into a cheaper end product, but also a lower quality pool, so focus on well-known and trusted companies.
You also need to choose a hot tub of the right size. For two people the best diameter will be 1.8 m – 1.9 m, for three or four 1.9 m – 1.95 m, and for more than four 1.95 m – 2.15 m. These are the dimensions for round pools, but there are also quadrangular or octagonal ones. Also, think about providing adequate depth. The deeper the pool, the smaller the space will be, as the deeper variants don't need a large area for the water to cover your shoulders.
Price
Buying a cheap variant is not bad, however, you need to keep in mind that such a pool will be less durable and poorer in features. Mid-range and higher-end Jacuzzis are made of more durable material, come with seats, additional accessories and have more powerful massage.
So if you want to buy a Jacuzzi just for your family or friends to put in your garden in the summer, the cheaper version will be ideal for this. More elegant, more durable and suitable even for interiors, will be the more expensive model.
Prices of inflatable hot tubs range from about 1 700,00 zł to 6 000,00 zł.
Maintenance costs
In addition to buying a pool, you need to take into account the cost of its maintenance, which will consist of water and electricity, of course, but also filters and chemicals that will allow you to keep the jacuzzi clean.
Massage system
The massage system consists of numerous holes, located at the bottom of the wall inside the pool. Turning on the unit will blow air through the small holes, which will massage your body. In addition, some models are also equipped with hydromassage.
Often, people who want to purchase a hot tub determine the quality of the massage system by the number of holes, but it mainly depends on the strength of the device that blows the air. Therefore, when choosing the right equipment, pay attention to both factors, i.e. the number of holes and the strength of the machine that pumps air.
Additional features, accessories
Most mid-range pools will come with features such as:
A water conditioner – this will make your spa water soft, preventing limescale build-up. Such water is also healthier for your skin.
Water heating system/thermostat.
Filter pumps – thanks to them less impurities will get into the pool.
Electronic control panel – allows you to control the temperature, usually between 10 and 40 degrees.
Mat – protects the bottom of the jacuzzi from damage.
Cover – ensures that dirt from the air does not get into the pool.
Headrests, drink holders.
Keeping the water clean, maintenance and care
Some of the impurities will be eliminated by filtering systems, which need to be changed once every few months or depending on the use. In addition, you should add treatment chemicals to the water, such as chlorine, which will prevent the multiplication of microorganisms. If you do not forget to cover the pool with a cover, the water will remain clean longer.
Is it worth buying an inflatable Jacuzzi? Advantages and disadvantages
Undoubtedly, a positive aspect of the inflatable Jacuzzi is that it can be transported. So there is no problem to take the pool on vacation, especially since it is easy to disassemble, and changing filters, or connecting the water conditioner and the machine to create bubbles is not complicated
The disadvantage is the size and depth of the hot tub. At first glance it seems large, but when there will be several people in it, such as 4, which makes 8 legs, for some it may be uncomfortable. In addition, the water in the inflatable version can take a very long time to heat up, and this involves increased money for electricity