Roomswalk
>
SEE TRENDS!
>
Fashionable tableware – the latest trends
Fashionable tableware – the latest trends
You need about 3 minutes to read this article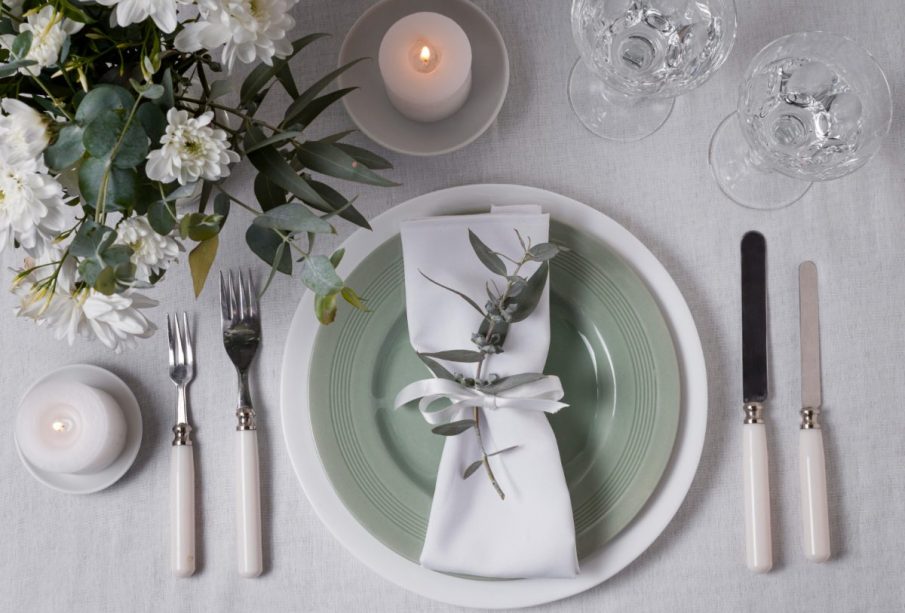 Although we use tableware every day, we don't always realize how the aesthetics of utilitarian objects affect our psyche. Pretty objects that we surround ourselves with enhance our mood and sense of well-being. It is no different with plates, bowls or your favorite mug for aromatic coffee. Discover the latest trends that apply to tableware.
Timeless classics
We cannot imagine a family celebration without a beautifully set table, polished plates and platters. For many seasons kitchen trends have included classic white porcelain breakfast, coffee and dinner sets, sometimes with delicate decoration. It is worth buying such a universal set in white, will allow us to prepare an elegant lunch or dinner
With such a color of dishes we can freely choose accessories, the effect will always be excellent. Classic models – dinner and coffee sets consisting of 18 or even 30 elements – can be found in DUKA or Agata Meble stores offer. What if not white porcelain? You can also opt for elegant white broken with a subtle pattern (e.g. leaves on a side of a plate or a cup).
>> See also: Living room trends 2021 – 5 proposals
Ceramics – its great comeback
In trends of 2021 we can see a great return of ceramics on our tables. Single-colour sets of plates and bowls sometimes surprise with their irregular form, which gives them character and originality. Mugs, cups, plates and bowls beautifully present their texture on every table. Apart from plain color, the latest collections include dishes decorated with delicate accents or expressive elements (dots, flowers, etc.)
The ceramic collections are clearly inspired by the rustic trend, references to the surrounding nature and its elements – birds, leaves, twigs. Doesn't oatmeal taste better in the morning, served in an impressive ceramic bowl?
What colors are dominating the 2021 trends?
The ceramics offered in the stores are distinguished by a wide range of colors. The latest trends are dominated by earthy tones – beige, brown, green, olive, sand, graphite and combinations of classic white with colorful flowers or one contrasting element
The table sets amaze with classic elegance on the one hand, and on the other are characterized by originality and modern approach to the subject, which is tableware. A light green cup with a subtle golden rim or a set in a black and white modern pattern will look great on every table.
In presented breakfast or dinner sets we can also find proposals in stronger colors, intense black or rich cobalt color. For those who appreciate subdued colors there is also something for them, the tableware is offered in neutral colors, shades of beige broken with delicate brown. In an interesting combination of glossy/matt textures.
What shapes can we find in tableware?
The richest is of course the classic offer, round plates and dessert plates. Small cups and larger, capacious mugs. The design of some of them has been enriched with irregular edges, which gives them additional charm.
An interesting variety of classic tableware can be sets consisting of square or rectangular plates
Which tableware should I choose?
The answer to this question is always the same: high quality tableware, made of elegant porcelain or hand-made ceramics. It guarantees long use of plates, cups or bowls. The tableware will serve us for many years, both during our everyday life and on important family occasions.