Roomswalk
>
Other
>
Closet under the stairs – arrangements
Closet under the stairs – arrangements
You need about 4 minutes to read this article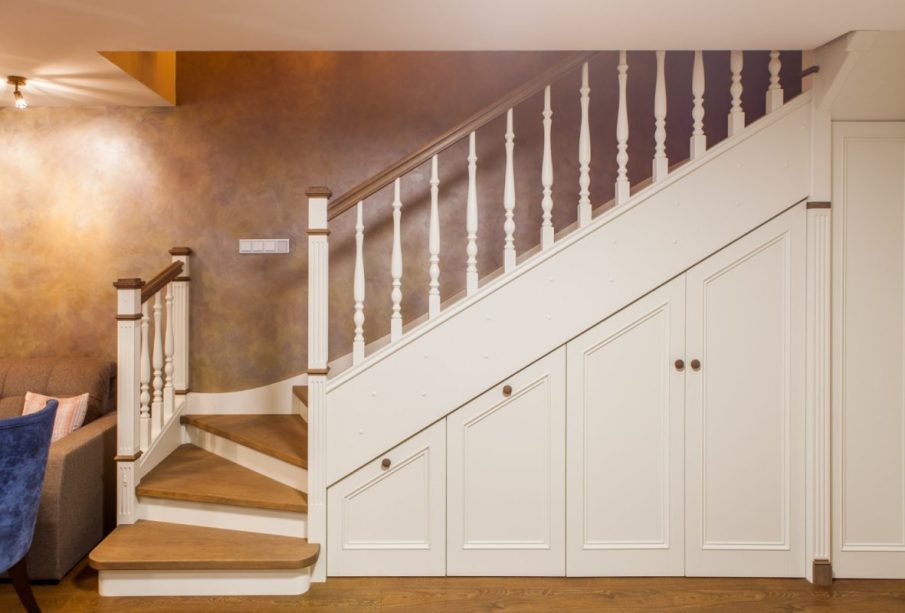 In many homes, the space under the stairs can be a difficult place to arrange. Usually it remains empty. And it's a pity, because the additional space can be used, for example as a closet. A handful of inspirations can be found below.
Custom or ready-made closet?
This decision depends on how much space you have under the stairs and what your budget is. Ready made shelves bought in a furniture store will of course be cheaper than a custom made closet from a carpenter. This does not mean that the ready made ones will look worse.
The closet on dimension will work perfectly in places where the space and its dimensions are unusual. Then the furniture can be designed so that it uses the entire space under the stairs. Of course, you need to keep in mind that such a solution can be expensive. However, with unusual dimensions of the space under the stairs it may be the only solution.
The choice of the closet door is also an important aspect. This also depends on the space you have. You can choose opening doors, sliding doors or drawers that extend out from your closet.
What can you store in a closet under the stairs?
Actually, it all depends on what your needs are. Usually, we decide to build up the stairs, which are located on the porch or in the hallway. Then the matter is simple and such a piece of furniture we can use to hide jackets and coats, as well as hats and scarves in the autumn and winter.
The closet under the stairs will also be a great storage for sports accessories, for example. It's also a good idea to keep a vacuum cleaner, mop or ironing board in it. In small houses and apartments, where every centimeter counts, you can also keep a supply of chemicals in the cupboard under the stairs. It's also great as a storage for all sorts of gadgets and car accessories.
Closet with sliding doors
This solution will be perfect for apartments or houses with little space to manage. This is because sliding doors do not take up any space when using the closet and can be installed from the floor to the stairs. This gives great possibilities to use all the possible space. With more space under the stairs the closet may even turn into a mini dressing room with sliding doors
Behind the sliding door, it is also possible to "stuff" a lot of clothes or daily necessities, without the fear that they shall unexpectedly open, spitting out all our treasures ;). Mirrors may be stuck on the fronts of the closet, which shall additionally optically enlarge the space
Opening doors
For this solution you need a bit more space. A closet may not only look, it must also be comfortable in use. However, those with opening doors are much easier to access than those with sliding doors. In this case you can also use mirrored fronts. Such a solution will work great, for example, on the porch or in the hallway.
Drawers
This solution is gaining popularity, it will work if you don't have enough space for doors. It is also a great idea for storing, for example, shoes or sports accessories. A closet with pull-out drawers will then be a hit. It's easy to put your shoes inside and saves space and comfort
Each of the drawers can be used for something else, so you'll know exactly where what is, thus saving time searching for a hat or scarf, for example.
Open shelves
This solution will work well in the living room or hallway. In small spaces there is often no room for ornaments and trinkets. An open closet under the stairs can be a great option. In addition, it can be done independently and at a low cost. Just a few boards, painted according to your choice, fixed for example to the wall – and done. The role of open closet can be played by simple, very popular bookcases, for example from IKEA. The space under the stairs with open shelves can be used as a reading corner or a small home library.