Roomswalk
>
Living room
>
How to set a cozy mood in the living room?
How to set a cozy mood in the living room?
You need about 3 minutes to read this article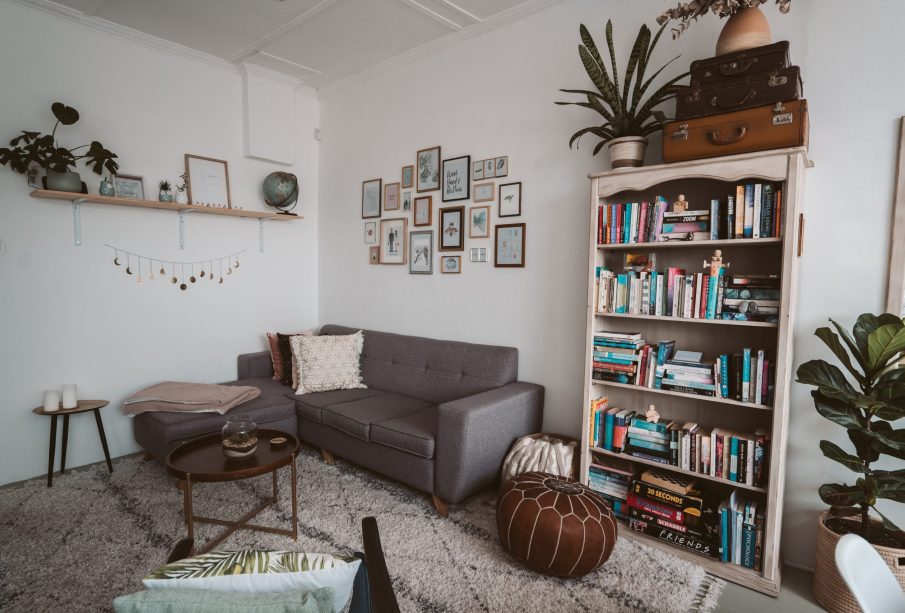 Autumn and winter are seasons when definitely more time is spent at home. The weather outside is not conducive to long walks or recreation outside, but an evening with tea in front of the TV seems to be an attractive option. Autumn and winter activities are definitely more enjoyable in a cozy and atmospheric apartment. We suggest how to achieve this effect in the living room
Textiles, textiles and more textiles
The key to creating a cozy and atmospheric interior is to use lots of textiles. Carpets make an interior feel more inviting, as they soften the harshness of wood panelling or parquet and make such interiors much more pleasant to be in. A rug can also be used as a place to sit if, for example, there aren't enough seats around a table. A soft, tactile rug can then be an ideal seat for several extra people. The sofa, on the other hand, shouldn't be short of blankets and cushions. The more of them in one space, the cosier and more intimate it is. Textile stores usually have whole collections of fabric decoration, so you can order a set of cushions, curtains and bedspreads all with the same motif to keep your living space cozy and cozy.
Seasonal decor
A great way to keep your interior moody, is to swap out your decor seasonally. Depending on the time of year, upcoming holidays or changes in nature, the decorations in your living room should change. In autumn, warm colors should dominate, similar to those that are present outside the window now. Additionally, pumpkin and rowan fruit decorations, characteristic for this season, will warm up the decor and make it very autumnal. Winter, on the other hand, is mainly associated with Christmas, so holiday fabrics should be dominant, for example with a snowflake or Christmas tree motif. In addition, dried citrus fruit, wonderful smelling oranges and tangerines stuffed with cloves and sprigs of coniferous trees will make the whole house not only look festive but also smell unique
Atmospheric lighting
To create a cozy interior, you need soft and warm lighting that will create a romantic aura throughout the room. A slightly diffused sidelight is best for this as it gives a pleasant glow to the space rather than a bright and harsh pillar of light as is sometimes the case with ceiling lights. In order for the light in the living room to really give off its full charm, it is also necessary to properly shade the room. Both during the day and at night, to ensure your privacy, use blackout blinds, which create a twilight effect in the house, which is very easy to disperse just by the side light. Extremely atmospheric are also all kinds of lights and candles, which make the entire decor of the living room more romantic and intimate
Every home should be a cozy and inviting to relax, a safe space for household members. To always look forward to your living room when you return from work, take care of its decor and make it the most atmospheric room in the entire house. This will make you happy to be at home, and its design and atmosphere will put a smile on your face and that of the other household members.
Main photo: Taryn Elliott/pexels.com