Roomswalk
>
Living room
>
How to paint a living room? 4 suggestions
How to paint a living room? 4 suggestions
You need about 4 minutes to read this article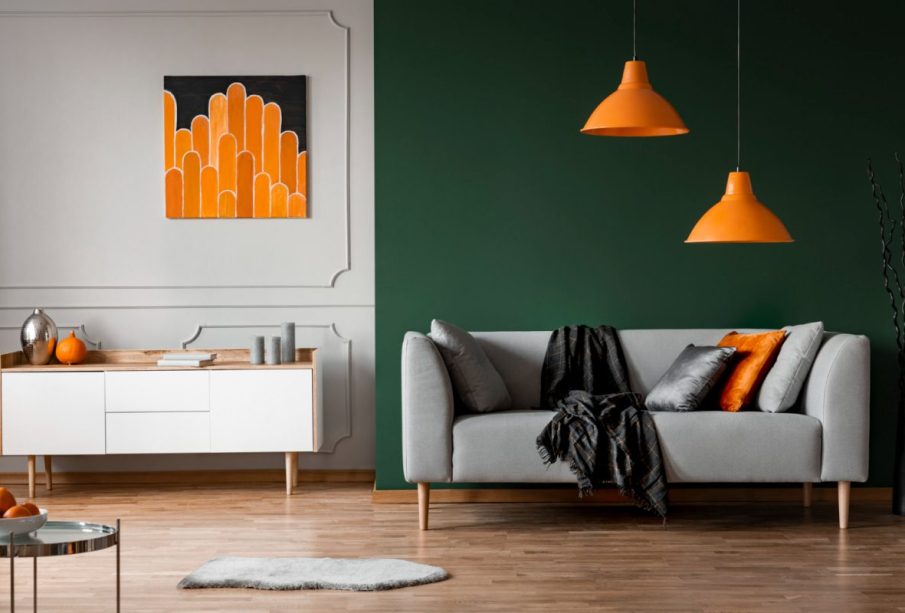 Spring is the perfect time to "refresh" four corners. It is worth to start with living room, because it is a place where we spend a lot of time. How to paint it to give it more life? We suggest!
What color you paint your living room walls depends only on your preferences. Remember that in a well arranged room almost any color will stand for itself. Do you want to bet on classic white, this season's trendy grays, or maybe go more extravagant and bet on more daring colors like red or bottle green? Remember that the only limitations you may encounter along the way are limits of your own imagination.
These colors work great in the living room
The living room is called the heart of the home, so it's no surprise that the wall color we decide to give it will have a huge impact, if only on our mood, when we want to relax there after a hard day. Choosing a wall color is not easy, because most of us want the color to harmonize with the whole arrangement, the style in which we have arranged the apartment. On the other hand, unconventional solutions are the most interesting and it is worth to be inspired by interior design novelties.
1. White – a timeless color
Do you think that white went out of fashion long time ago? Nothing more mistaken! It is a color that will always pass the test and optically enlarge small rooms. White walls affect the perspective of light, it seems that the living room is more insolated. White is also a color that calms, soothes, allows you to relax
This color works well in the minimalist style, which does not like excess, and is characterized by such an arrangement of furniture and decorative and practical accessories, so that the room retains as much functionality as possible. White can also be broken with different variations of this color. This does not necessarily have to be a shade as pure as snowflakes, it can be slightly falling into the blue or mixed with powder pink.
2. Gray on the wallpaper – is the most popular color for several years
Trendy shades of gray are currently a hit when it comes to choosing paints to paint the walls in the living room. Many interior decorators constantly emphasize that grays are versatile and go well with living rooms decorated in different styles. Shades of gray will look good both in classic interiors, those decorated in a minimalist or rustic style, where they go well with wooden accents, but also in modern and loft spaces.
When we will choose a shade of grey for our living room, it is worth to suggest e.g. the color of curtains, and if we want to lighten our living room by its color, a delicate grey – so called mouse grey – will be perfect for this purpose. On the other hand, a darker, so called dove gray will darken the living room and give it character. We can also choose the option of gradation of color on the walls. So paint one wall a darker shade of gray, and the rest in lighter tones.
3. Living room in colors of amaranth
A strong, but very apt accent will be to paint the walls in amaranth color. What color, exactly? Amaranth is a hue similar to red, which, if you look closely, slightly turns into violet (this shade is also sometimes called fuchsia)
It is a very intensive and expressive color, so if we decide to paint the walls in the living room with it, we have to choose furnishings in more subdued shades, to avoid overcolored final effect. Amaranth perfectly combines with the previously mentioned grays, which perfectly tone down its depth.
4. Green walls in a living room. Why not? It's worth it!
Green is also one of those colors that we most willingly choose to paint the walls in our living room. It is a natural and noble shade. This year, especially its saturated shades – such as bottle green – are dominating. We gladly reach for this color because it can be combined with neutral colors, including trendy gray. We can paint one of the walls in the living room in a shade of bottle green, the rest in gray, and on one of them give, for example, a leafy wallpaper – such an interior will gain clarity and depth