Roomswalk
>
Kitchen and dining room
>
Open or closed kitchen – what to opt for?
Open or closed kitchen – what to opt for?
You need about 4 minutes to read this article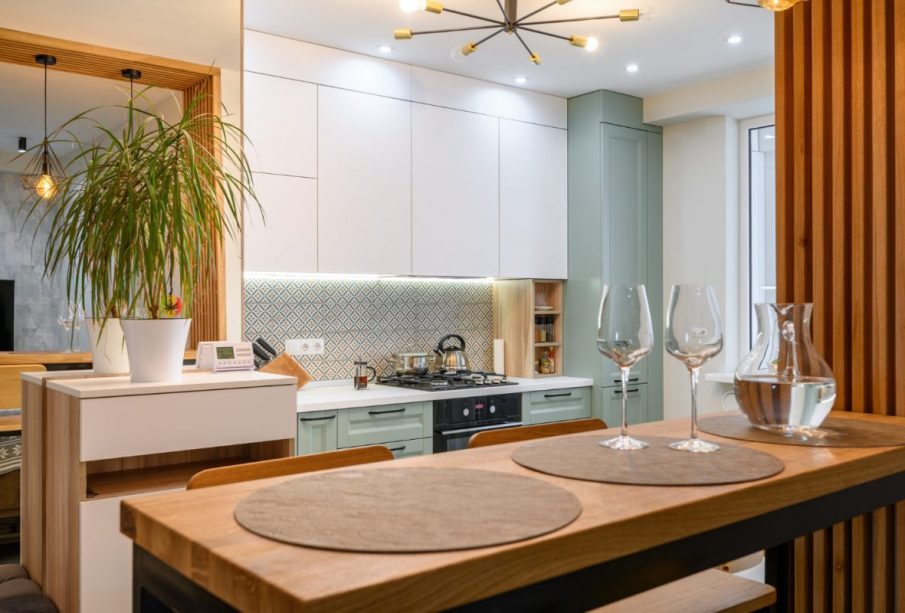 Many people are faced with the dilemma of what type of kitchen to choose: open or closed? What are the advantages and disadvantages of each solution? What should guide you when choosing a kitchen?
What should guide you when choosing a kitchen?
If you are wondering what kind of kitchen to choose, you should take into consideration:
culinary preferences,
your social interests,
your love of order.
If you don't like smells spreading around the house, then you should opt for a closed kitchen. However, if you want an open kitchen, then you need to buy a better hood that will absorb all the smells.
If you don't have or intend to have children, then an open kitchen with an island that is also a bar is a great option. An open kitchen should also be chosen by the love of family parties. If you decide on an open kitchen, you need to take care of proper ventilation and a hood.
>> See also: Taupe kitchen – natural and trendy
Advantages and disadvantages of an open kitchen
Open kitchen is a very fashionable solution used in modern construction. It is a must-have in small apartments, where the functionality of rooms should be emphasized. In such interiors, an open kitchen is often combined with a living room or hallway. Thanks to this the interior becomes more spacious.
An open kitchen is a solution for people, who during home parties want to have constant contact with the household members and guests, while cooking or preparing drinks at the same time.
If the open kitchen is small, it must be arranged very functionally without unnecessary additions that can create chaos. Lamps in such a kitchen can illuminate the living room or the hallway at the same time – depending on which room the kitchen is connected to.
In an open kitchen, the placement of cabinets should be very well thought out. Because there is less space for storage. The kitchen must be stylistically connected with another room, e.g. the living room – creating one room with separate zones for cooking and rest.
The disadvantage of open kitchens is that there is no possibility to store too many household appliances. In such a kitchen you can't install a long worktop and a large island. Another disadvantage of this solution is the spreading of smells throughout the room.
Having an open kitchen requires more discipline from household members when it comes to tidiness. A full sink or a mess in the dining area can cause discomfort.
Advantages and disadvantages of a closed kitchen
This type of kitchen is not as popular as it was a few years ago. It seems that the closed kitchen has more disadvantages than advantages, but the opposite can also be true. It very much depends on the tastes of the whole family.
A closed kitchen is a conscious choice for many people. This type will work well for people who like to cook, but do not want to be seen by others while doing so
Another advantage of a closed kitchen is that smells do not spread throughout the house. A final advantage is that it is much easier to arrange the work triangle.
In order for a closed kitchen to be fully functional and comfortable to use, it must have an area of about 10m2. Although the arrangement possibilities will be limited, the room will be functional. A closed kitchen with a window is the optimal solution. If there is no window in the kitchen, it is worth opting for an open option.
Closed kitchen with an island
If the closed kitchen has a surface area of about 15m2, it is worth opting for a kitchen island. This will provide additional storage space. If you want to design such a kitchen, the minimum length and width of such a room should be 3.8 m.
Which kitchen is better?
The kitchen should be tailored to individual preferences and the size of the room. A small open kitchen is suitable even for a small area, if the owners only occasionally cook in it. Such a solution will also work if there are few people living in the apartment. A closed kitchen is a good solution if there are many people living at home who cook every day.