Roomswalk
>
Kitchen and dining room
>
Laminate worktop – everything you need to know about it
Laminate worktop – everything you need to know about it
You need about 3 minutes to read this article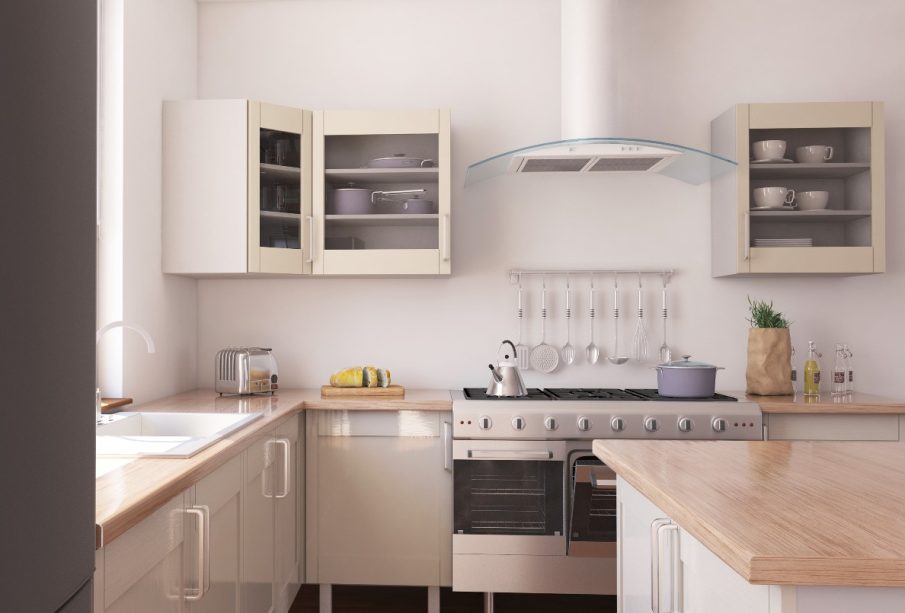 When decorating a kitchen, there is always the problem of choosing the right countertop. One of the most popular solutions is a laminate countertop. It can be easily adjusted to the budget and style of the kitchen.
What is a laminated countertop?
Laminate countertops are kitchen countertops made of MDF, which is covered with laminate – that's why they are treated as a wood-like material. Many people think that the thin veneer, which is covered by MDF, is easy to scratch or damage. However, laminate countertops are most often made from HPL laminates.
HPL laminates are created from several layers of plastic and synthetic resin pressed together. Thanks to pressing in high temperature, laminate creates uniform, compact surface with high hardness.
The outer layer of the tabletop has a decorative and protective function. It is available in different patterns and colors. The most popular are laminates imitating wood or stone.
What are the advantages of laminated countertops?
The main advantages of laminated countertops are:
easy to keep clean;
increased resistance to temperature – they can withstand temperatures up to 170°C;
resistance to sunlight;
resistance to discoloration;
simple and intuitive assembly;
imitation of other materials – the most popular are countertops imitating stone or wood;
wide range of patterns and colors – recently black countertops have become very popular;
the possibility of the decorative finishing of the edges by milling;
the possibility of matching to every style of kitchen;
low price – laminated worktops can be purchased from 60 PLN/mb;
cheap and quick way to change the look of kitchen.
Disadvantages of laminated worktops
The main disadvantages of laminate countertops are:
lack of resistance to water – prolonged contact with water can damage laminate, so even a small amount of water must be quickly wiped off the countertop;
no possibility of renovation;
low resistance to mechanical damage.
3 important rules of buying laminate countertop
Pay attention to the finish of the front edge of the board. The most durable are postformed laminate countertops, which have a rounded edge. When the work surface and the edge are made of one type of material, the risk of water getting into the particle board, which is under the laminate, is reduced.
The most practical solution are countertops in light colors – scratches, abrasions, smudges and other shortcomings are less visible.
In the kitchen the best are structural laminates, which perfectly imitate the varied structure of natural materials.
How to take care of laminated countertop?
Cleaning of laminated countertop is very simple and quick. All that is needed to remove dirt is a damp cloth with the addition of detergent. The surface should then be dried with a paper towel. The worktop should not be cleaned with caustic cleaners as this can damage the structure.