Roomswalk
>
Kitchen and dining room
>
Ceiling hood – where will it work and what do you need to know?
Ceiling hood – where will it work and what do you need to know?
You need about 3 minutes to read this article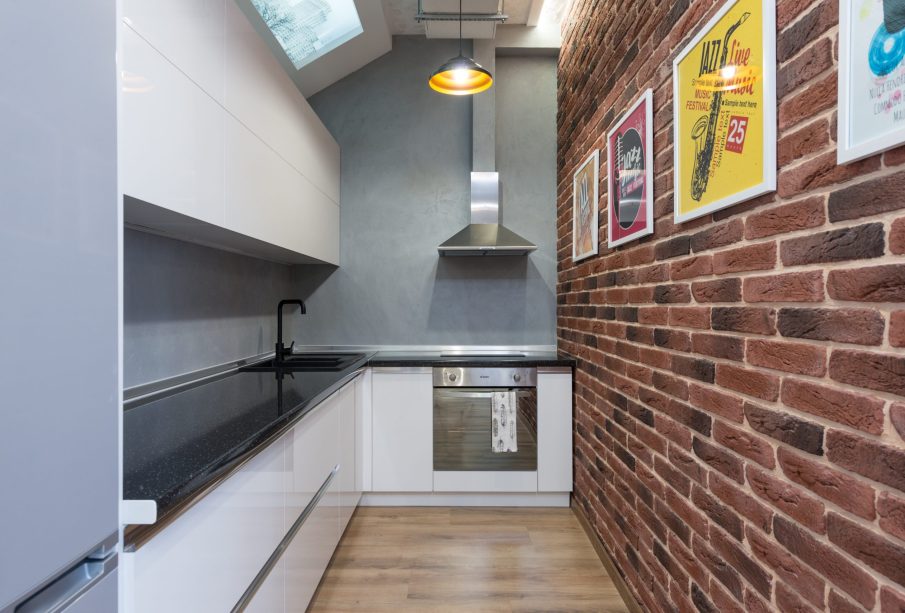 For years, hoods have been mounted on the kitchen wall, but they still take up a lot of space. Often island hoods do not fit into modern kitchens, spoiling the interior design. A great alternative are ceiling hoods, which are practically invisible, and in addition perform their function very well. It is worth knowing all the good points of this modern solution.
Unusual kitchen arrangement
Currently, more and more often you can find a kitchen combined with a living room – that is, a kitchenette. A perfect element connecting these two rooms will be a kitchen island, on which the kitchen is usually located. It is in this situation that a ceiling hood will come in handy. This model effectively and quickly gets rid of unwanted odors and moisture. It is mounted directly on the ceiling. In addition, its appearance perfectly complements the modern, minimalist interior.
Visually interesting hood
Ceiling hoods are modern devices made of high-quality stainless steel, available in several color variants, with the addition of tempered glass. Thanks to high-quality materials, the equipment is very durable. In addition, it delights with its elegant and stylish appearance. This hood comes in two variants – an invisible ceiling panel and a large plafond. In combination with small led lights installed creates a kind of decorative element of the kitchen. Interestingly, the ceiling variants are available in many models and shapes, which allows you to easily fit them into your kitchen.
For those who want the hood to be practically invisible, there is a model that is only a few centimeters thick. In addition, some ceiling hoods also have a built-in turbine, which reduces the noise of the hood. This is a great solution, especially for a living room with a kitchenette. It eliminates annoying noises, which can be tiring for people staying in the living room.
Two faces of the ceiling hood
Ceiling hood can perform two functions, one of them is the role of absorber and the other – extraction. The canopy hood mode allows you to remove excess moisture and unpleasant odors left over from cooking. In addition, for this mode, the hood does not require connection to the ventilation system. In the case of extraction, however, such a connection is necessary. It allows air to be discharged outside the building. Modern models of hoods have two filters – a carbon filter, which neutralizes unpleasant odors, and an aluminum filter allowing the retention of fat particles.
Choosing a good hood
When choosing a ceiling hood, the efficiency of the equipment is very important – it is best to choose those withm3/h markings. LED lighting will be the most economical and energy efficient. A good quality ceiling hood has several built-in gears and a timer, which can be set to a specific operating time.
Interestingly, the control of this type of hood is carried out with the help of remote controls. With high efficiency, this equipment protects furniture from moisture. This is especially important for kitchenettes. At the same time, it minimizes condensation on the glass and allergic reactions. All these advantages of the ceiling hood make the air in the kitchen and in the living room healthier and cleaner, and in addition, the equipment impresses with its aesthetics and elegance.
Main photo: Max Vakhtbovych/pexels.com