Roomswalk
>
Children's room
>
Decorations for children's room as a gift idea
Decorations for children's room as a gift idea
You need about 4 minutes to read this article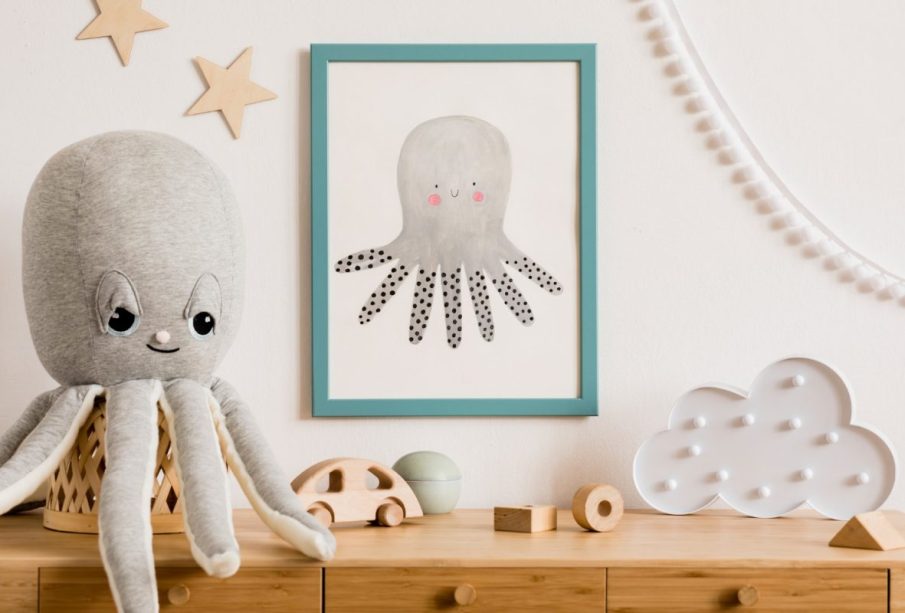 Are you a mom of a sweet little one and their birthday is coming up? Or maybe you've been invited to your nephew or niece's birthday party? Are you wondering what gift to buy? Rest assured that while this is always a cause for "he already has everything," we can help you make the best choice. Your gift will appeal to every child. Choose from a wide range of decorative items for your child's room.
Personalised accessories
Personalized gifts are always a great choice. They show our commitment. What can we buy?
Personalised cushionsin different shapes, with your favourite fairytale characters, your child's name and date of birth or any other dedication. Look for pillows made of safe materials, preferably pure cotton, printed with ecological paints, especially if the pillow is to be used for a newborn or baby;
aplaster frame with the child's name, in which you can imprint a foot or a hand of the child. Such a frame will be a sentimental souvenir for parents and the child itself;
apersonalized moneybox for an older child, who already receives pocket money. It is a good idea for saving money and learning how to manage one's own finances.
Plush toys – mascots
Children love mascots and this is unlikely to ever change. Buying an original stuffed animal will always bring a smile to your child's face and will be a nice decoration for his room. It is worth betting on a bunny with long ears – for a girl in a dress, for a boy in shorts. A sweet, fluffy teddy bear will comfort during every sad moment.
Colorful wall decorations
A rich selection of decorations for the children's room also includes wall decorations
Among them you will find:
stickers with fairy tale motifs – they will enliven the walls in the room. The choice of designs is very large – sweet bunnies, cats, forest animals, princesses for girls, planes for boys and many others;
lamps in the shape of colorful balls, in the form of animals, hearts. Lights will beautifully illuminate the room in the evening, making it a magical and cozy kingdom of the child;
growth measures – easy to install on the wall stickers will be a source of pride for each growing child. Measures are available in options up to 170 cm of height;
poster in a decorative frame – with a meaningful quote, image of a favorite hero or child's name.
Decorative lamps
A practical gift, which at the same time will enliven the child's room, will be an impressive lamp to be placed on a windowsill, a dresser or a desk. The classic shape, with a colorful lampshade or in the shape of a funny teddy bear or a cat. Make sure the lamp gives a warm light. Many stores also offer lamps with adjustable intensity or color of light.
Containers, pouffes, etc.
Looking for a gift for a child, we often miss the fact that in every room you need to hide toys somewhere, and every parent knows that there are a lot of them. Interesting containers can also become a nice, practical gift. It's worth buying a decorative pouffe that will fit all the blocks or figurines that reside on the floor every day.
How to choose the perfect gift?
When choosing a gift for a child, follow a few simple rules
First of all, the age of a child is important and you should look for a gift with this in mind. It will be different for a baby and for a 5 year old
Look for toys that are safe and have the appropriate certificates.
Match the toy or decoration to the décor of the child's room, the color scheme of the walls, furniture and the general character of the room, so that the decorations are stylistically consistent.
Relyon your intuition, buy something that is nice, safe and will bring a smile to your child's face.