Roomswalk
>
Bathroom
>
Free-standing bathtub – advantages and disadvantages of this solution
Free-standing bathtub – advantages and disadvantages of this solution
You need about 4 minutes to read this article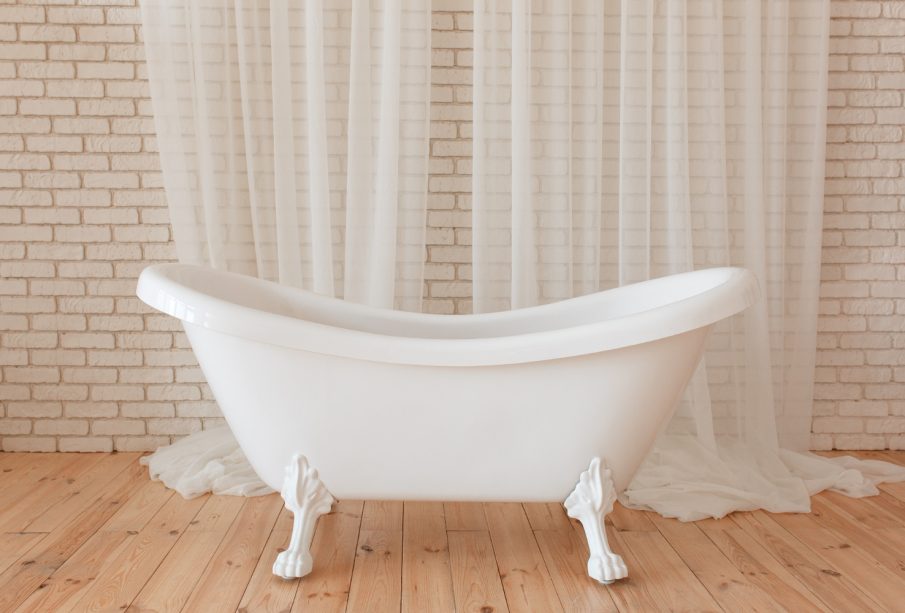 Freestanding bathtub for several seasons is one of the most fashionable elements of bathroom equipment. In stores you can find various models of bathtubs that will turn the interior into a comfortable bathing room. What are the advantages and disadvantages of this solution?
Why choose a free-standing bathtub?
A free-standing bathtub gives your bathroom an elegant look. If you dream of relaxing in a spa, then thanks to the bathtub you can have it in your bathroom. Many women will enjoy being able to relax in a bathtub full of bubbles.
Advantages of a freestanding bathtub
A freestanding bathtub fits perfectly into any style of bathroom. It will perfectly highlight the bright tiles in a Scandinavian-style bathroom, giving the interior a unique character. The bathtub in modern style bathrooms emphasizes dark colors and high gloss tiles.
A freestanding bathtub is very elegant, thus giving the bathroom a refined look. It is worth installing it in medium and large bathrooms, because in such arrangements you can bring out its beauty and elegance. A bathtub in a small bathroom may optically reduce the interior.
Free-standing bathtubs are available in many different shapes and colors. There are models with adjustable feet, which is a practical solution if the bathtub is used by children or elderly people.
Drawbacks of a free-standing bathtub
The biggest drawback of a free-standing bathtub is that it should not be used in small spaces, as it overwhelms them. Another disadvantage is that it is prone to damage and requires time-consuming cleaning with the right products.
Another disadvantage may also be the installation method and the often occurring problem with the installation of a bathtub faucet. In cheaper models the problem is squeaky legs. Many people pay attention to dust and dirt collecting in inaccessible places under the bathtub. Often, in order to clean the floor under the bathtub, you have to work hard.
What shape should I choose for my free-standing bathtub?
Manufacturers of bathtubs offer many interesting solutions that can be matched with the style of the interior. In classic bathrooms, an oval bathtub on legs will work best. For a retro-style bathroom an oval bathtub on lion's feet; stylized on bathtubs from the 19th century will be the best.
A popular classic rectangular bathtub will be perfect for minimalist and classical interiors. An asymmetrical bathtub is a great choice for lovers of original bathrooms.
Wall-mounted freestanding bathtub
Wall mounted bathtubs, which do not differ from free-standing models in appearance, have recently become very popular. With the appropriate profiling, it can be placed directly against the wall.
A wall mounted freestanding bathtub is a solution which can be used in any bathroom, regardless of the size. This type of bathtub is available in three variants: oval, rectangular and asymmetrical. This solution is very convenient and will work in any bathroom arrangement.
What size of a bathtub should I choose?
The size of a bathtub is one of the most important parameters during its purchase. Dimensions should be chosen according to the size of the room and the individual preferences of users. A standard bathtub is 170 cm long and 70 cm wide. There are also models with other dimensions, so the size of the bathtub can be adjusted to individual needs.
In smaller bathrooms, it is advisable to install a wall mounted bathtub. In large bathrooms, a freestanding bathtub of classic dimensions will be the best solution.
How much does a free-standing bathtub cost?
Many different models of free-standing bathtubs are available in stores. The simplest and cheapest models can be purchased for about 1500 PLN. A good quality freestanding bathtub of classic dimensions cost from 3 to 5 thousand zł. Models of asymmetrical shape is the cost of even 10 thousand