Roomswalk
>
Around the house
>
Arranging a balcony with wooden accents
Arranging a balcony with wooden accents
You need about 3 minutes to read this article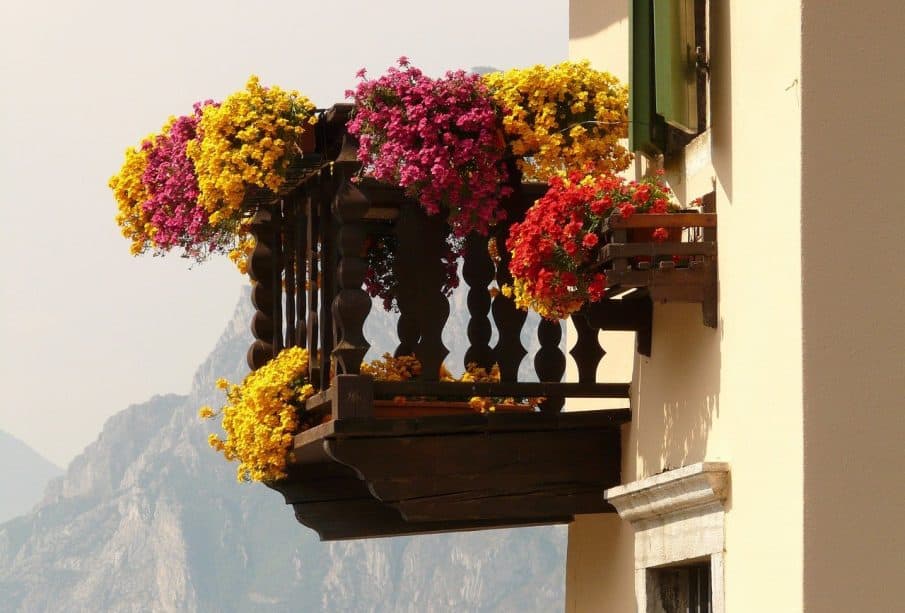 If your balcony has wooden accents, it is worth using this material when arranging it. This will make the decor not only consistent, but also very impressive.
Balcony with wooden accents – a class of its own
Balconies with wooden accents are definitely easier to find in detached houses than in blocks of flats. A wooden balcony balustrade adds a chic touch, but to keep it in good condition for years, you need to remember to maintain it regularly. A well-kept balcony with a wooden balustrade is a big decoration of the house. So how to arrange a balcony with a wooden accent?
Wood looks good in the company of wood
Arranging a balcony with a wooden railing does not have to be difficult. You just need to choose the right accessories to make the whole thing look good. It will probably not come as a surprise to you that it is worth taking care of consistency in the decor. Therefore, wooden balustrades will go well with wooden pots set on the floor of the balcony. The pots can be the same color as the balustrade, but in our opinion, pots in a contrasting color will look even better (for example, if you have a brown balustrade, buy wooden pots protected with white stain). In such matched pots you only need to plant your favorite plants.
If you have a large balcony, you may also be tempted to set up at least two wooden chairs and a table. On the table you can put a small pot with a flower or a small lantern. Such a relaxation corner on the balcony will be a great place to rest after a day at work.
Metal accents on the balcony
Metal and wood are two materials whose combination gives a very interesting effect. So, if you have a balcony with a wooden railing, then you can opt for metal wrought iron pot hangers. Flower pots, which are placed on the balustrade, are an excellent solution for small balconies. Thanks to them, we have the opportunity to hang flower boxes on the railing, while not losing valuable space on the balcony.
If you decide on metal accessories for a balcony with a wooden railing, it is also worth choosing chairs that are made of wood and metal. In stores you will find many designs of chairs made of just these materials. You might also be tempted to set up a metal candle lantern (to avoid taking up space on the floor or table, you can set it on the windowsill)? Such small accents decorate beautifully and give a homely atmosphere.
Plastic accessories for the balcony
Wooden and metal accents on the balcony look beautiful, but they are usually expensive. If you can't afford such an expense, you should consider buying furniture and flower boxes made of plastic. It's a good idea to do some discernment in the offer of popular stores, which often in spring have considerable promotions on balcony accessories made of technorattan. This material is not only durable, but also looks very good and is easy to keep clean. It is an excellent budget version for elegant balcony furnishings. Technorattan pots and even balcony furniture can often be bought at very affordable prices. So it's worth keeping your hand in and taking advantage of promotions.
main photo: pixabay.com/Hans