Roomswalk
>
Living room
>
Where to place a mirror in the living room?
Where to place a mirror in the living room?
You need about 4 minutes to read this article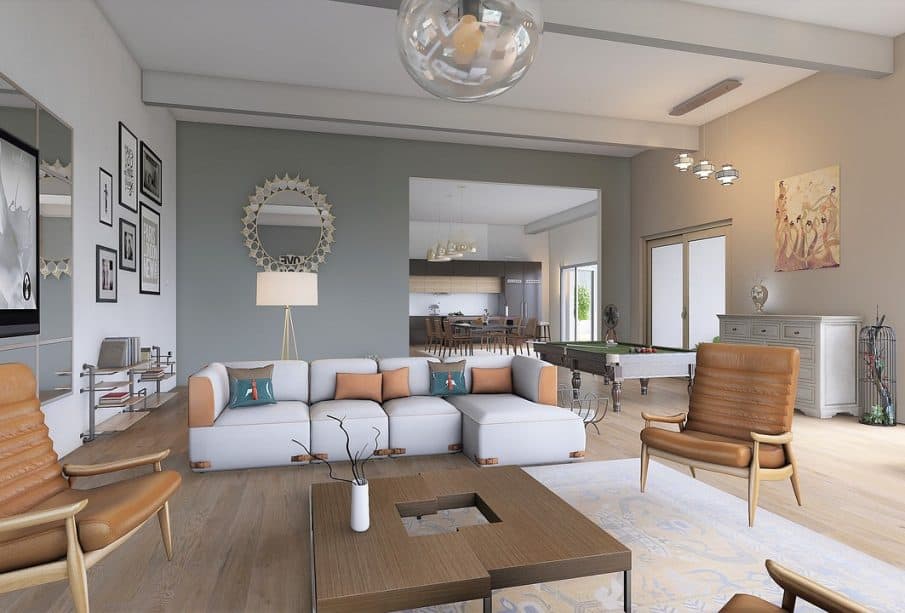 Do you have a small living room and are wondering how to optically enlarge it? Or maybe you are looking for a wall decoration that will be functional and aesthetic? Hang a mirror – the effect will positively surprise you!
Mirror in the living room – a fashionable accessory that will optically enlarge the room!
Hanging a mirror in the living room is an excellent design idea for small rooms. The mirror reflects light well, and thus optically enlarges a small living room. However, we can use the mirror not only for small interiors. It will also work perfectly if we have a spacious living room. Properly selected, it will then be a very stylish addition, which serves both an aesthetic and functional function.
Before you decide to buy a mirror, consider whether you want it to be the focal point of the living room. Mirrors are eye-catching, so if you bet on a large piece, it will most likely be the main decoration and the element that will steal the attention of your guests.
Where to hang a mirror in the living room?
Wondering where to hang a mirror in the living room? If you like classic solutions, you will probably choose the wall above the sofa or dresser. These are the most popular places to hang mirrors in the living room. Feel like going a little crazy with your space arrangement? Consider hanging a mirror over the living room fireplace or over the table where you sit with family and friends during gatherings. In the first case, the mirror will beautifully reflect the flames from the wood burning in the fireplace. This will be extremely atmospheric and will make the living room more cozy.
It is also very interesting to place small mirrors on shelves with flowers or on a bookcase with trinkets and books. Several smaller mirrors spaced at different points in the living room will add originality to it.
How to match the mirror frame with the living room design?
When choosing a mirror for the living room, it is essential to think about its size, location and type of finish. If you like a minimalist style, then you can choose to hang a mirror without a frame. This is an interesting solution, especially if you decide on an arrangement of several small mirrors. However, most people opt for framed mirrors. Remember to match the color and style of the frame to the style of the entire room. In stores you will find a lot of different mirror frames and you will certainly choose one that suits you.
If your living room is decorated in a rustic style, then go for a mirror in a wide wooden frame. Be sure to check out the offer of frames with an aged effect – they fit perfectly into such interiors.
In stores you will also find many mirrors in gold frames. This is a very classic solution, which will suit interiors decorated in glamour, art déco or eclectic style.
Equally popular are mirrors in silver frames, which are most often chosen for living rooms decorated in classic, glamour, but also (in the case of delicate frames) modern style.
If you are looking for a mirror for a living room decorated in Scandinavian style, then you should definitely bet on white frames, which further fuel the effect of reflecting light, so they brighten the room even more.
As you can see, the use of a mirror in the living room has many advantages. Just choosing a mirror should not cause you much difficulty, since the offer of mirrors for the living room or dining room is very wide.
main photo: pixabay.com/Inactive account – ID 5460160