Roomswalk
>
Living room
>
Resin table – interesting design ideas
Resin table – interesting design ideas
You need about 3 minutes to read this article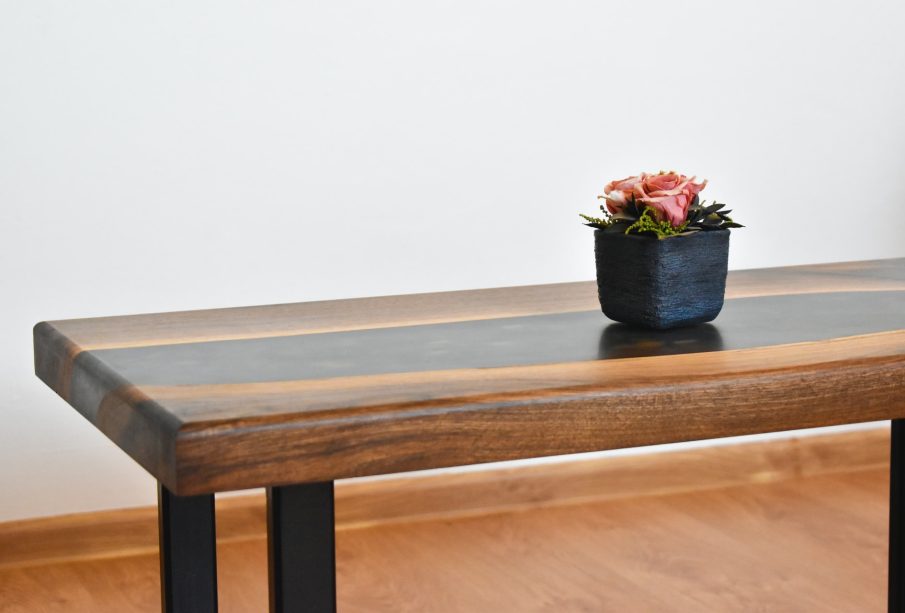 The table is the most important piece of furniture in the dining room, kitchen and also in many cases in the living room. It should be solid, practical, but also beautiful
Recently designers more and more often propose us to place tables made of resin, mostly epoxy, in interiors. Thanks to its use you can bring out the inner beauty of wood and make it look fresh and modern. How to arrange an interior with a resin table in an interesting way?
A few questions to start with
When choosing a table, we need to ask ourselves a few basic questions, such as: how many people will usually eat at it? Do we need an unfolding option? Are we more concerned with the pragmatic or aesthetic aspect? What shape should we bet on? Does our chosen model need special treatment and maintenance, and if so, will it not pose a problem for us in later use? And also, will such a table simply fit into our interior design? The answers to these questions must be known, even before the final decision to buy a new piece of furniture
Design different from all others
We must admit that tables or coffee tables made with epoxy resin are one of a kind. Combining wood with synthetic resin allows to highlight its structure, to bring out its true, unique beauty. This method makes it possible to fill small cavities in the treated board, so it creates a striking advantage from potential drawbacks. This technique also means that you will never find another piece of furniture the same, and the table you buy will be the only one in the world. In addition, thanks to its properties, epoxy resin provides resistance to damage and scratches, and the risk of cracking or chipping is negligible. The top will also be resistant to moisture, so we can be sure that even if something spills on it, it will not damage the surface. Tables that are made of resin are a great choice for those who appreciate great looks combined with durability.
A breath of modernity
Tables combining wood and resin look best in modern interiors, where they can shine. They will perfectly complement the arrangement of a minimalist living room or dining room. Thanks to the possibility to choose the shade of wood or the color of resin, buying a table on request, we can adjust it to our needs and preferences. If we opt for dark wood combined with black or white, we can easily incorporate the piece of furniture into more classic arrangements, which will be given a fresh touch by the resin table.
The irregular form of the tabletop placed on metal legs, for example, bringing to mind the rawness of loft style, makes the whole thing a designer addition to minimalist interiors. For the brave ones, such proposals will also work well in glamour style, catching the eye and mesmerizing everyone who looks at them
Wood, which comes to the fore in this type of tables, can also play first fiddle in arrangements in boho or Scandinavian style. In combination with light, pastel colors, it will warm up the interior, creating a cozy, family atmosphere in it.
Main photo: Veronika FitArt/unsplash.com