Roomswalk
>
Kitchen and dining room
>
Zoning in the kitchen – a guide
Zoning in the kitchen – a guide
You need about 4 minutes to read this article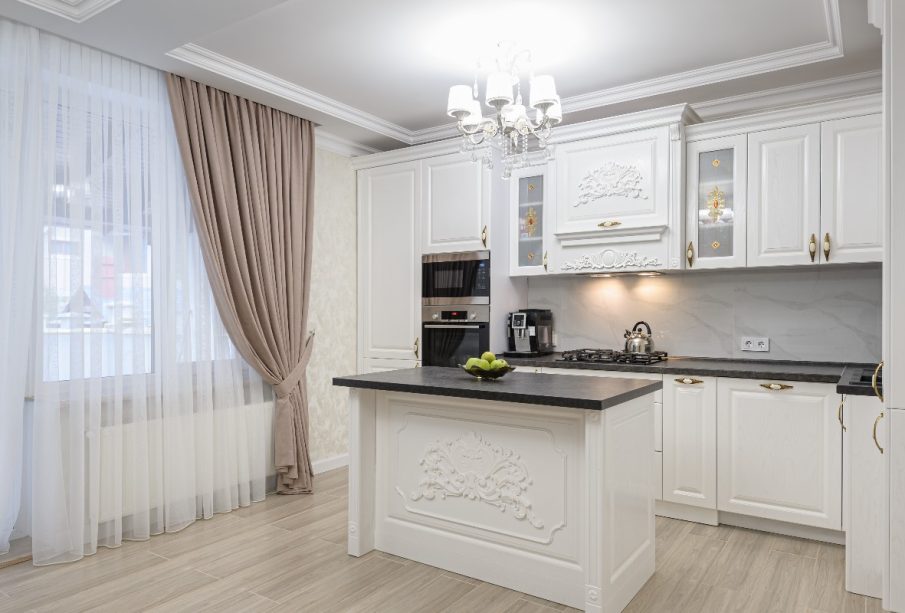 A perfectly designed kitchen is one that is functional and allows you to prepare and eat in it without any problems. All the necessary things should be close at hand to avoid having to search all over the room for pots, pans and other accessories. So how do you zone your kitchen in an efficient way?
Divide your kitchen into 5 basic zones and enjoy ergonomics
Interior designers dealing with professional design of these rooms have long used the division of the kitchen into 5 functional zones, in which the elements of equipment are located. This makes it easier to move around the kitchen and prepare meals in it. So what are the 5 functional kitchen zones? It is nothing more than the proper arrangement of furniture and appliances in the space, thanks to which the areas will be separated
storage,
supplies,
washing up,
preparing meals,
cooking, frying and baking
Each of these zones has different features, about which more in the following paragraphs
Stock zone
The first zone is the supply zone, which should be located as close as possible to the entrance of the kitchen because this is where the shopping is unpacked. It should also not lack even a small countertop where you can take the groceries out in the future.
The kitchen should have a place for all kinds of loose products such as groats, flours or rice. Therefore, it will be necessary to equip it with suitably capacious cabinets. A refrigerator and freezer should also be located in the stock zone.
Storage zone
Although the name of this zone is confusingly similar to the previous one, it serves a completely different purpose. This is where all kinds of kitchen accessories, such as ladles, cutlery, crockery and all kinds of containers should be stored. In order to maintain order in it, it is essential that each of the stored items has its fixed, fixed place
Washing zone
As the name suggests, this is where the washing of dishes after eating and preparing meals will take place. Therefore, the main element is the sink and optionally the dishwasher. Due to the fact that food products are also pre-cleaned here, a countertop should not be missing in this zone.
The washing zone is also the perfect place to locate the waste garbage can and all kinds of detergents, sponges or dishwashers and cloths
The preparation zone
This part of the kitchen is primarily the work surfaces, where the food will be prepared before thermal processing. In addition, it is also worth taking care of accessories such as knives, salad spoons, etc. In this place you can also locate a coffee maker or small appliances used during cooking. To maintain order in the preparation zone, there should also be cabinets, preferably with drawers, where everything will always be at hand.
The cooking zone
The last zone is the heart of the kitchen! This is where the stove and oven should be located and the worktop should be placed next to them. There should also be plenty of room for storing all kinds of pots, pans and spatulas for frying. The upper part of this zone will be occupied by a hood which will remove unpleasant smells and steam from cooking
A kitchen designed and arranged in such a way guarantees pleasure in its use and will reduce the number of steps taken in it when preparing meals
When arranging foodstuffs and accessories in each zone, it's a good idea to keep in mind a simple rule of thumb: The highest shelves should be occupied by products or items that are rarely used, such as food processors, heatproof dishes or baking trays, while the most frequently used items, such as tableware, flour, coffee and tea, should be within easy reach.