Roomswalk
>
Kitchen and dining room
>
What tiles for the kitchen will be best? A brief overview
What tiles for the kitchen will be best? A brief overview
You need about 4 minutes to read this article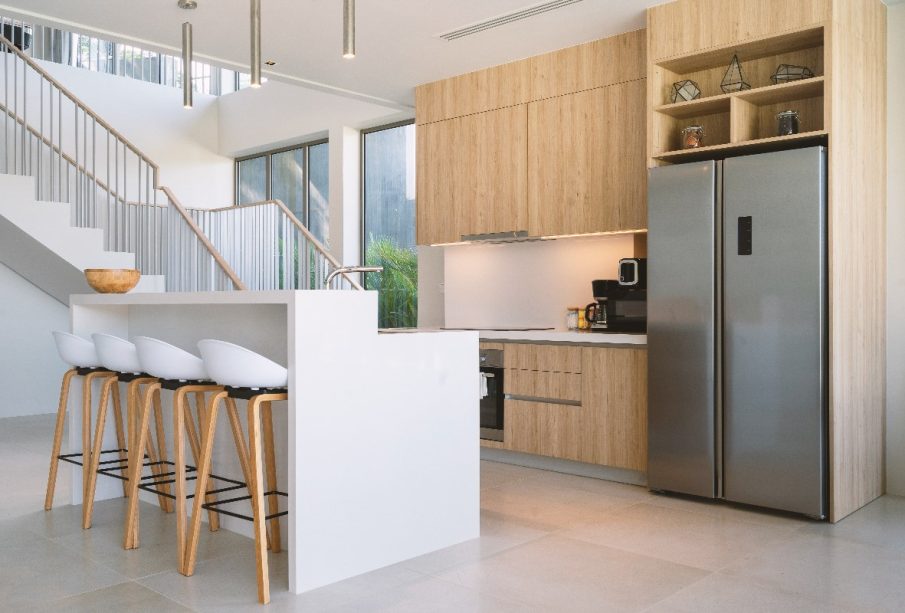 Kitchen space is an obligatory element of every home. Above all, it's about convenience – preparing meals takes place every day, so it's important that nothing restricts us in this activity. When designing a kitchen, we pay attention to the colors and quality of finishing materials. Today we want to pay special attention to tiles. What tiles should we choose and what should guide us in this decision?
Tiles for kitchen and annex – what should I consider when choosing?
Before deciding which tiles to put on the wall or floor in the kitchen, we must pay attention to a key issue. Are we dealing with a separate room or an annex, separated in a part of the living room. If in our apartment there is an independent kitchen, nothing limits us in its decorating. If, however, it is connected with the living room, it's worth taking care that the colors of tiles don't differ much from the interior climate
In case of an annex, we also have to ask ourselves whether we want to put tiles on the floor in the kitchen, or whether we will opt for a uniform finish of the surface. More and more often in such situations, instead of tiles in the kitchen part of the room, on the floor there are panels
, the same as in the living room. However, if you want to ensure the durability of the material, it is worth thinking about a compromise. Stoneware turns out to be visually similar to laminate and durable at the same time
Tiles for kitchen walls. Enduring popularity
Why are we so eager to choose tiles for kitchen walls? First of all, it is the ease of cleaning. There is no denying that ceramics can be washed quickly, and in addition, there are no stains left on it, which is likely in the case of wallpaper
. Although wallpaper is very popular in recent times, it is advisable to place it in the kitchen on a wall away from the gas stove or electric hob. If you want to avoid stains from boiling sauce or boiling porridge, you can place tiles between the worktop and the upper cabinets or shelves.
Kitchen tiles for 3d wall – what's trending in the kitchen
In recent years, we can often see spatial tiles on kitchen walls. This type of surface adds character to the interior. If we opt for high-gloss
tiles, they will reflect light, creating interesting patterns on the wall
Many people are afraid of this type of solution because of the way of cleaning the spatial wall. We assure you, however, that it is not necessary – these types of tiles are washed in the same way as flat ones, and their texture will not prolong this process. Among the 3d tiles
, many times you can find an imitation of brick. This pattern is also popular in kitchens, but many people do not choose it for fear of grease stains, which will be difficult to get rid of. In such a situation, it is worth considering impregnating tiles. There are special preparations on the market that will avoid this kind of staining – especially near the stove! Download the embedding code
What tile colors to choose for your kitchen?
As we've already mentioned, it's a good idea to keep some consistency in your choice of tile colors and tones for your kitchen.
However, no one said it has to be boring! For colored furniture fronts, you can choose white or black tiles for the walls, and vice versa
Currently, bottled green and blue or navy shades of glazes beat records in popularity. More and more often we can also find non-uniform, decorative tiles for kitchens – for floors and walls. Oriental patterns are more popular every year. Shapes are also worth mentioning – boring squares are a thing of the past! Hexagons and hexalongs catch our eye, as well as narrow, longitudinal tiles that are laid in a herringbone
pattern. There's definitely no room for boredom in such a kitchen! Download embedding code
Choosing tiles for your kitchen is no easy task. It is usually a decision for years – no one feels like scraping them off after a few months. However, we can allow ourselves for a bit of madness in this area. Sometimes it's worth going for a brave solution, to feel proud of the final effect. So – to work!