Roomswalk
>
Kitchen and dining room
>
Black kitchen – quintessence of elegance or kitsch?
Black kitchen – quintessence of elegance or kitsch?
You need about 2 minutes to read this article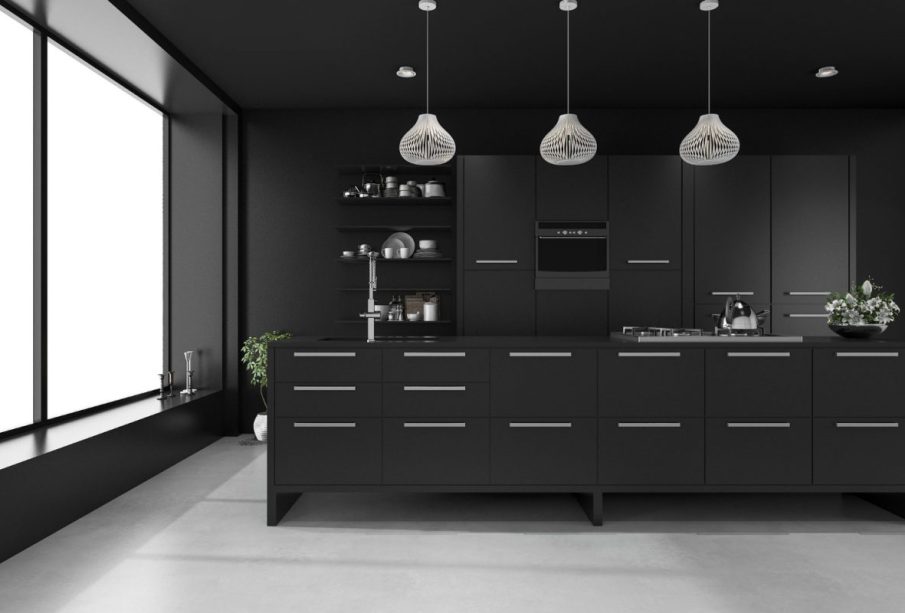 Black kitchen is becoming more and more popular. It looks very elegant especially when combined with wood
Is a black kitchen practical?
A black kitchen looks very stylish but dirt quickly shows on the fronts. Especially if the furniture is high-gloss. Stone is very visible on black fittings, so such a kitchen should be cleaned regularly.
If you do not want dirt to be visible on the fronts, then choose a matte finish. It looks equally exclusive.
Black kitchen – to which interior?
A black kitchen is best suited to a modern or loft style interior. Such a kitchen can also be used in colonial or retro style. All you have to do is choose the right accessories. It is worth remembering that black visually reduces the space
What accessories for a black kitchen?
Black looks best when combined with wood. Thanks to such elements, the interior becomes cozier. If you like white, it is worth choosing a combination of white and black. This combination will perfectly suit modern and pop art style.
In a black kitchen, green accessories look best, which enliven the space. To this color perfectly match accessories in gold, pink and silver color. Gold accessories will make the interior look very luxurious
Advantages and disadvantages of a black kitchen
Black kitchen fits only to large and spacious interiors. This color optically reduces the interior, so it can overwhelm the room. Black in the kitchen is synonymous with luxury in extravagant edition. Glossy fronts give the interior depth, but even the slightest dirt can be seen on them.
Is it worth opting for a black kitchen?
Black kitchen is one of the most popular interior trends. Such a room looks very elegant. Black furniture and black appliances are the most popular choices. This makes the kitchen look very stylish and elegant. An interesting solution is black flooring in the kitchen. For classic interiors, it is worth choosing panels or black tiles. For modern and loft interiors black concrete suits best.
If you do not want this color to dominate the interior, then decide only on black accents such as black tiles and cabinet handles.
Black kitchen inspirations