Roomswalk
>
Kitchen and dining room
>
Appliances in the post – how to place them in the kitchen?
Appliances in the post – how to place them in the kitchen?
You need about 3 minutes to read this article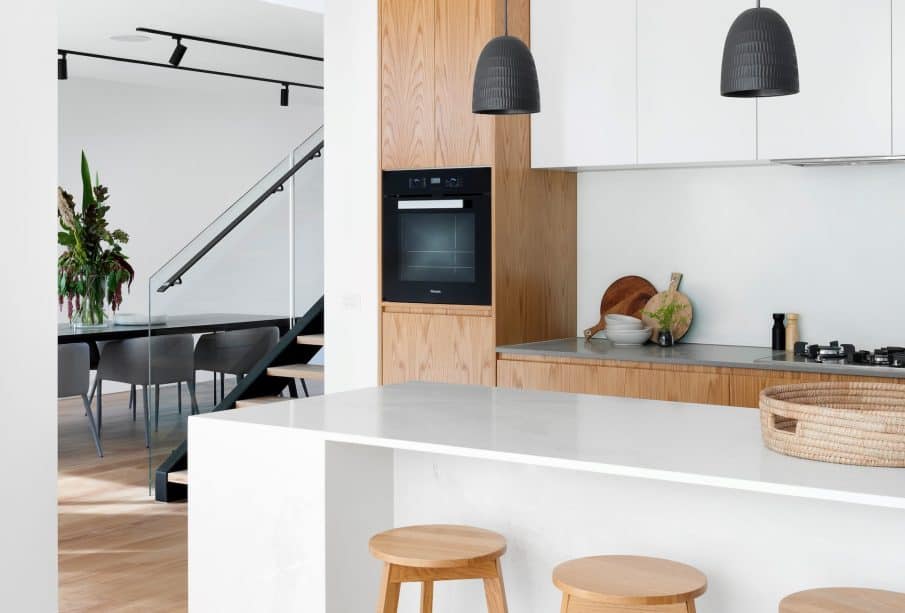 The kitchen should be characterized first and foremost by functionality. Without this, it will not adequately fulfill its purpose.
This room should contain all the most necessary household appliances, such as stove, oven, dishwasher, refrigerator and microwave. However, in order to make it more stylish, practical and, on top of that, convenient, it is a good idea to place these smaller items one on top of the other, in the so-called pole. This will make more countertop space even in a small kitchen.
Practical kitchen design – household appliances in the post
If you want your kitchen to be practical and functional, you will certainly like the arrangement of household appliances in a post. Then one is mounted above the other. Such a composition should be thought out so that you can use them comfortably. They can be placed in the build-up of the entire kitchen, so they will harmonize wonderfully with the space.
Such solutions can be found more and more often in modern homes, even if the kitchen allows you to arrange furniture and appliances in a large area. The columnar method is simply more convenient to use. However, how to use it well? What should go on top, and what should go on the bottom?
Post kitchen arrangement
When arranging the kitchen, it is worth bearing in mind whether we will not strain our backs while using them, and therefore whether we will be comfortable using them on a daily basis. It is therefore necessary at the outset to arrange household appliances in the right configuration. It turns out that it is not very convenient to place often heavy dishes low, as in the case of an oven placed under the stove.
It is worthwhile, first of all, to install a built-in refrigerator, which then remains invisible, but just as functional as a free-standing one. As for the dishwasher, you can mount it at the very bottom of the post. You can put individual dishes in it, so you won't put too much strain on your spine when unloading it. Above it should be located the oven. It is advisable for it to be at chest height or slightly below, so that you can comfortably place roasts, pies or other dishes in it.
Above the oven, install a microwave, which is useful for heating various dishes. It should be at eye level, so you can use it comfortably. Such an arrangement of household appliances also means more storage and worktop space. Under the stove you can then place a cabinet for pots or pans. And the place where the microwave usually stood on the countertop is worth using for a breadbox, knife rack or decorative element. It is worth remembering that in any kitchen, free space and practical spacing of individual appliances are very important. Then you can use it more efficiently, faster and definitely more pleasant.
main photo: unsplash.com/R ARCHITECTURE